Dining Out review: The Rose 'n' Bowl pub, carvery and restaurant in Newchurch Road, Stacksteads, Rossendale, OL13 0UG
For my latest Dining Out review I didn't travel very far at all, in fact you could say I was a stone's throw – or even a roast potato's throw – from my home, conveniently located near to the Rose 'n' Bowl in Rossendale.
Watch more of our videos on Shots! 
and live on Freeview channel 276
Visit Shots! now
The Rose 'n' Bowl in Newchurch Road, Stacksteads, really needs no introduction. This iconic venue – pub, restaurant and carvery – has built up a huge and dedicated following since it was opened in 1989 by Lords Caterers, the family business established in 1934 by the grandmother of the current partners and mother of the late Fred Lord.
In my humble opinion, I don't believe it's an exaggeration to say this is the greatest carvery in the area, with customers travelling not just from across the Valley, but further afield with many Burnley families in particular making the short trip over the A671 to roast heaven.
In more recent years, the Rose 'n' Bowl has also garnered international headlines for being the host of the World Gravy Wrestling Championships where competitors wrestle in a pool full of Lancashire gravy.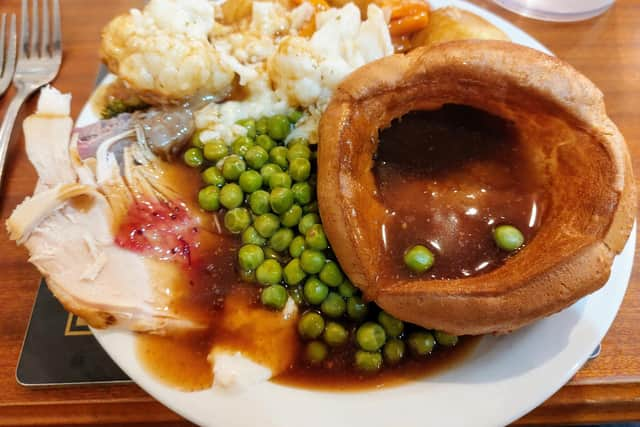 Which brings me nicely on to my reason for writing this review, the amazing home-cooked food visitors enjoy at the Rose 'n' Bowl.
Prepared by owner and head chef Jon Lowe, the pub features a bar and specials menu, and of course its real attraction, the carvery.
I arrived with my partner and mum on the pub's first opening of the week, Wednesday at 5pm, where we were showed to our table not far from the serving area where whole joints of roast gammon, turkey and beef were waiting, tantalisingly close.
As with all carveries, there are naturally also all the accompaniments you would expect – huge, perfectly cooked Yorkshire puddings, vegetables of varying kinds and condiments. But the star of the show is without a doubt the meat, sourced from all around.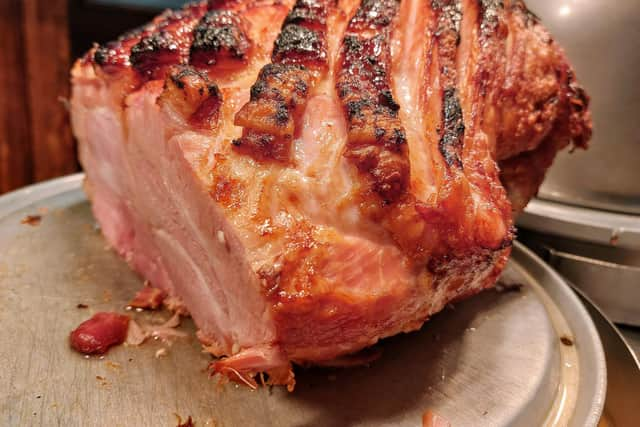 Glutton that I am, I opted for a slice of all three. I have been visiting the Rose 'n' Bowl for most of my adult life and the food never disappoints. The ham is my particular favourite, tasty, juicy and tender. Beef and turkey, often so difficult to get just right, are well, just right. Washed down in that famous Lancashire gravy, I opted not to wrestle but to wallow.
Such was the portion sizes there was enough beef left to take home to my very lucky dog Poppy.
Despite this being a Wednesday teatime, I was told 70 guests had booked just that evening with walk-ins also expected.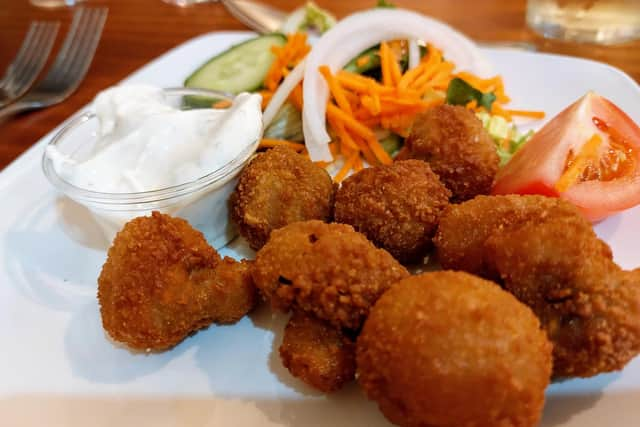 The early evening menu, which runs from 5-30pm to 6-45pm Wednesday to Saturday, comprises a two course carvery special with choice of starters including homemade soup of the day, potato and leek in my case this week, deep fried garlic mushrooms and garlic ciabatta bread, all for just £15.25 for adults or £6.95 for children under 12.
My soup was everythig you'd expect, warm and creamy with a warm buttered bread roll. My one and only disappointment was that it wasn't my favourite from the Rose 'n' Bowl which is their even more delicious vegetable soup.
Stuffed as were, my partner and I shared a delicious Ferrero Rocher cake and cream to finish a perfect meal.