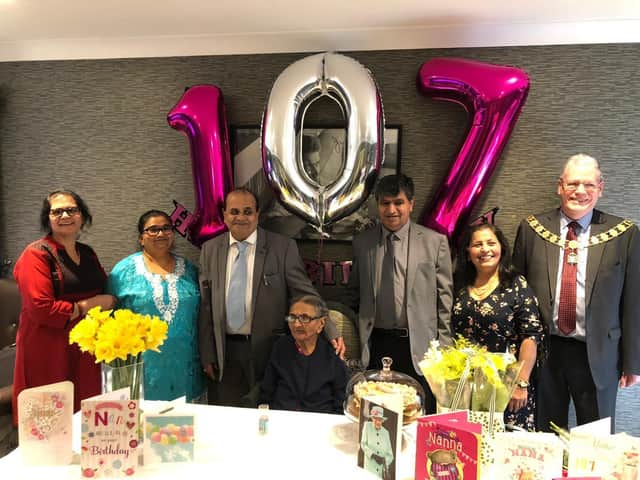 Surrounded by her family and friends, Santa Parekh tots up her years of life with an impressive 107th birthday party
Surrounded by family and friends, Santa Parekh celebrated a double bill of parties on her birthday on Wednesday, February 5.
Kay Parekh, 69, Santa's daughter-in-law said: "She's a wonderful woman.
"She's from India and she's 107 now."
Santa Parekh on her 107th birthday
Kay, who is married to one of Santa's two sons, Ramesh Parekh, continued: "Imagine that - that she has reached 107, especially with how people used to live.
"People used to go through quite a bit of suffering in the villages.
"She was quite active until she was about 102 or 103. She would always cook for big parties of 50 people. She would change her clothes herself and clean
"She could do everything but now it's harder for her and she's moved into a care home.
Santa Parekh with a friend on her birthday
"We go and look after her and see her everyday to take her food. She's a vegetarian.
"She's a very jolly person. She likes talking a lot, singing, praying, drawing and loves having people around her all the time."
Santa has four children, 14 grandchildren and six great grandchildren.
For her birthday Santa had friends and family visiting her at Finney House Luxury Care Residence in Preston.
Santa Parekh, pictured with Preston Mayor David Borrow
Her special day was even graced with a visit from Preston Mayor David Borrow.
"She came here with her husband in 1974," said Kay. "They came to live with us when they were retired.
"She's a wonderful lady. I really love having a mother-in-law like her. I wish I could have her forever and ever."
Kay went on: "The party was fantastic, she really enjoyed it. We had family round and the Mayor came as well.
"In the evening we had another party and we cut the cake.
"Everybody enjoyed themselves with a drink.
"She now has three cards from the Queen.
"She says the secrets to a long life are to work hard and be happy."