Assheton Arms: Former Dining Pub of The Year will reopen next month after 18 month closure
Award-winning gastropub the Assheton Arms is to reopen next month.
Watch more of our videos on Shots! 
and live on Freeview channel 276
Visit Shots! now
The historic venue near Clitheroe closed down suddenly in summer 2020 after its owners, the Seafood Pub Company, called in administrators.
Before it closed, the Assheton Arms had been awarded the Dining Pub of the Year by the 2020 guide.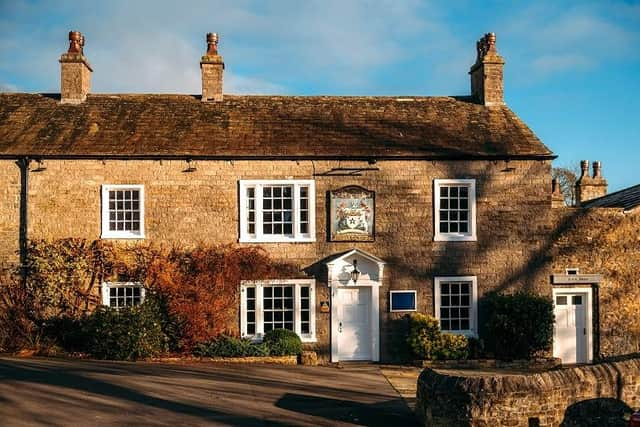 Now Bowland Inns & Hotels, the parent company behind Bowland Brewery and the James' Places collection of hotels, inns and restaurants has announced it has successfully reached a lease agreement with the Trustees of the Downham Estate.
Under the new leadership, the iconic country inn is set to re-open its doors in February.
James Warburton, the Bowland Inns & Hotels owner and chairman said: "We are absolutely delighted to announce that we have secured the Assheton Arms and will be bringing it into our family of local hotels and inns. As a big admirer and customer of this wonderful pub, and past resident of Downham itself I know just how fond of the pub people are."
"Thanks to the way Downham Estate manages its properties, the eighteen months closure has been kind to The Assheton Arms. We just need a few weeks to warm the building through, refresh one or two things and we will be on our way. February 2023 can't come soon enough."
"Essential repairs"
The Hon Ralph Assheton of the Downham Estate, said: "The business lease of the Assheton Arms came back into the ownership of Downham Estate at the beginning of this year. Since then, we have taken the opportunity to carry out a number of essential repairs to the main building and its 12 letting rooms, as well as redecorating the exterior and sprucing up the garden areas."
He added: "Our search to find the best way forward for the Assheton Arms as a business, a sustainable part of Downham Estate and a valued village and wider community hub has resulted in the lease being awarded to Bowland Inns & Hotels.
"We couldn't be more delighted and are confident that, with this local company's excellent reputation and track record, the Assheton Arms will become, once again, a bit of a draw and one of the Ribble Valley's major tourism assets."
The company
James' Places operates 10 businesses across the Ribble Valley, North Yorkshire and the South Lakes and provides jobs to over 450 people. The acquisition of the lease on The Assheton Arms is the first for the business in the post-pandemic period.
James Warburton added: "Bringing the Assheton Arms into the James' Places family is the first step of a much-delayed expansion plan.
"Hopefully there are one or two others that we can announce soon. There's no change of direction and no scaling up, just one or two pieces are falling into place. Great buildings, great locations that just need a bit of love and attention."
Rachel McQueen, chief executive of Marketing Lancashire said: "The Assheton Arms was one of Lancashire's most popular destination inns and I am delighted to hear that James' Places, one of the county's leading hospitality groups, will be re-opening this unique and historic gem in February this year."