Meet the new Christmas babies born in Lancashire
Despite this year proving difficult for many due to the Covid-19 pandemic, some Lancashire families were able to introduce their new bundles of joy to the world on Christmas day.
Tuesday, 29th December 2020, 3:45 pm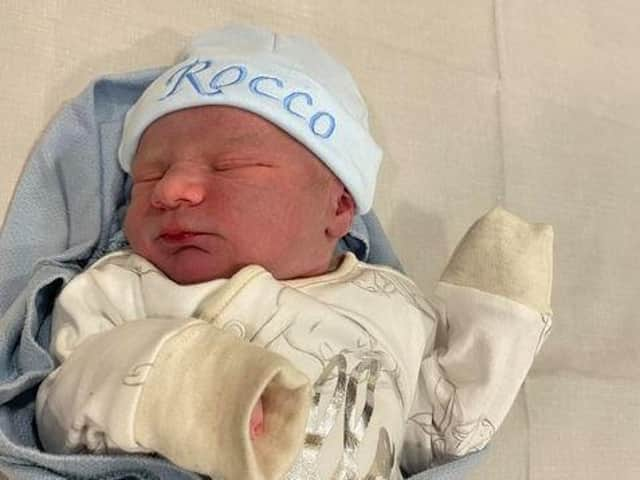 Rocco James Glynn Berry was born at 3:34 am on December 25
And just like any other day, the staff at Royal Preston Hospital's Birth Centre help to deliver new babies into the world.
But giving birth during a global pandemic brought with it some changes, meaning that the new mothers had to give birth in the company of two birthing partners.
Sarah Berry, 33, from Chorley, gave birth to Rocco James Glynn Berry at 3:34 am on December 25, weighing 7lb 13oz.
Elsie Mae Nelson was born at 3:10am to Blackpool-born mum Claire Nelson.
She said: "With it being Christmas time, the midwives wanted to get me home as soon as they could. I gave birth in the early hours and was home to see my other children open their presents by 10:30.
"I was allowed two birthing partners, but one had to go as soon as I had given birth, and then my partner James was allowed to stay with me until we could go.
"Rocco was due on the 20th and to be honest, Christmas day was the only day I didn't want, mainly for the sake of my other children and being away from them on Christmas day, but fortunately I was able to come home early.
"I love Christmas, and was worried about spending it in the hospital and really thought it would be awful, but the midwives were amazing and it all worked out in the end. I was able to spend Christmas day with my children and family which was important to me."
LittleElijah Marvin Campbell was brought into the world at 9.47 pm
Elsie Mae Nelson was born at 3:10am on Christmas day to Blackpool-born mum Claire Nelson.
And another Lancashire Christmas baby was born - little Elijah Marvin Campbell at 9.47pm and weighing in at 9lb 2oz.
The proud new mum said Kate Wynne, 18, spent her whole Christmas day at Royal Preston Hospital after first being induced on December 23.
She said: "Elijah was first due on December 18 and I didn't expect him to be born on Christmas day. I was excited about it and think it is cute that he was born at Christmas.
"I had my partner Connor with me, and nobody could visit because of the pandemic, but it meant the hospital wasn't too busy and it was a good experience.
"I missed my whole Christmas and really wasn't expecting it at all but it has completely made the year for us. All of my family said that Christmas day had been boring at home without us there."
Thanks for reading. If you value what we do and are able to support us, a digital subscription is just £1 per month for the first two months. Try us today by ​clicking here