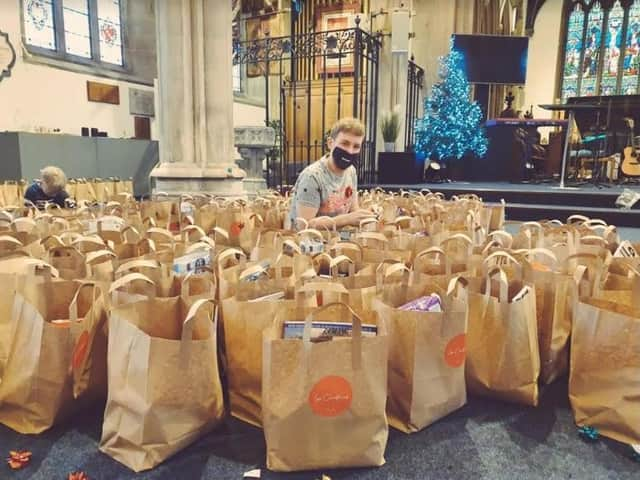 Ethan Noble helping to prepare the Christ,mas parcels at the Minster.
Now almost 700 needy households in the city will be made to feel like one in a million this Christmas at the end of a year like no other.
Preston Minster is handing out festive packages to those in need as part of a nationwide "Love Christmas" initiative aimed at shining a ray of Yuletide sunshine through the dark clouds of Covid.
Among those helped has been the desperate man who phoned the church's foodbank in tears to say he "thought he had been left to die alone."
"He was crying down the phone - it's been horrific," said one church official. "It has made us more aware of what was already there - what people are going through in communities around us in Preston.
"What Covid has done is make things that were bad, even worse. And it has made things that shine, shine even brighter."
The historic church has secured funding of £22,000 which it is sharing with 10 other places of worship in deprived urban areas across Lancashire to bring a bit of happiness to people who may otherwise have nothing.
Love Christmas is planning to supply one million "parcels of hope" across the UK during the 2020 festive season - the bleakest most people will ever have faced due to the global pandemic.
"The stories we hear of isolation and suffering are heart-breaking and almost endless," said the Vicar of Preston, Rev Sam Haigh, inset.
"We know that treats do not solve life's problems. We see them as small tokens of love.
"Our intention is that they will help reveal the peace Jesus brings at Christmas time and to shed a little joy and light in thousands of homes and to the homeless across Lancashire."
The parcels, which include a range of treats such as toys and food shopping vouchers, are being given to families or individuals who have been referred by agencies like the city council, the county council, the police, the Foxton Centre and local housing associations.
Initially Preston Minster had been looking to provide 160 of the Christmas boxes, but by yesterday that figure had mushroomed to 670.
Coming on top of the 90,000-plus meals the church has delivered across the city during Covid lockdown, this latest effort is another welcome relief to those in greatest need.
"This is an excellent outcome for the Minster and for these other Lancashire churches," said Rt Rev. Philip North, who is Bishop of Burnley and also chairman of the Archbishops' Estates Evangelism Task Force for the Church of England.
"After a dark and difficult year, being able to bring some light into the lives of people in communities served by these estates churches across the county is very encouraging.
"It is also encouraging to see the real difference our Preston Resourcing Parish can make when leading on initiatives such as this."
Half of the other churches benefiting from the Minster funding are also in Preston. They include Crossgate Church in St Mary's Street North, Freedom Church in Acregate Lane, Luv Preston in Ashton and Lea and the Parish of Ribbleton which links St Mary Magdalene's in Ribbleton and the Church of the Ascension in Brookfield.
Neville Hilton, who is the operations manager for the Minster, explained that the church is one of 43 hubs of the Love Your Neighbour network - the only one in Lancashire - and had been able to bid for funding nationally to help churches operating in areas of greatest need in the county.
"This year at the Minster we have had more than 70 volunteers helping us to put out 90,000 meals during the Covid lockdown," he said.
"What's been amazing is that the pandemic has brought out the best in people and we have realised what an amazing network there is in the Preston area.
"We started off by turning the whole church into a foodbank and we were shifting tons of food through during what you could say was the crisis phase.
"Now we have come to what could be seen as the recovery phase where demand from the food hut has dropped and so we have moved the foodbank into St James' Church in Avenham just behind the Minster.
"We have raised about £50,000 in that period and spent that on food.
"And in addition to that the business community has been incredibly generous.This latest £22,000 funding has already gone out to churches to be used for people in need in their areas.
"We are very flexible about what you can do with the money. One church, for instance, has been buying homeless pods. It's amazing that for £30 you can provide a shelter for a homeless person.
"Love Christmas is about hope for Christmas. It's about giving people that little bit of luxury at this time of year, which might be a box of chocolates or an Aldi shopping voucher they can spend on food. It's about giving people a little boost.
"This year has been horrific. The stories we have come across have been heartbreaking. Like the man who called us to say he was sucking on tea bags. He had nothing - and he wasn't that old.
"People have felt so isolated. We do pharmacy collections and we came across a gentleman who was self-isolating.
"He couldn't come downstairs, so we had to attach his prescription to a line and he reeled it up to his window."