Review: Volvo XC90 T8 Recharge Plug-in Hybrid
Volvo's seven-seater hybrid SUV cuts out range anxiety, writes Julie Marshall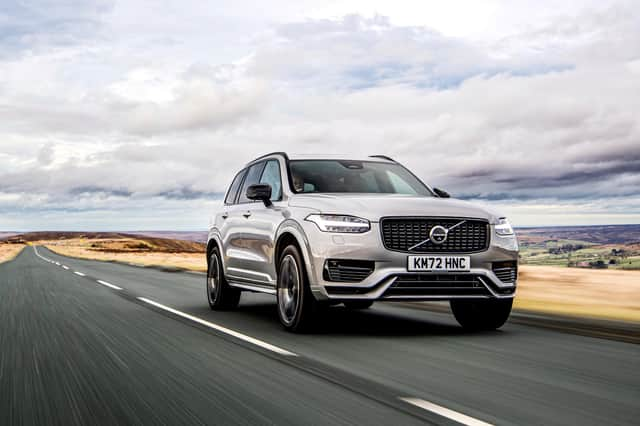 There has been a trend in recent years for manufacturers to move away from diesel-powered engines - even when they are mated with large SUVs that are expected to pull heavy loads over rough terrain.
Volvo has gone some way along that road but still retains some oil burners on its fleet - the XC90, the company's large seven-seater being one of them.
But I digress. The majority of Volvo XC90 are petrol-powered. The one we had was the most powerful T8 Recharge Plug in Hybrid with a two-litre engine and rechargeable battery that delivers a combined power output of 449bhp. When topped up the battery gives much better fuel economy and a reduction in emissions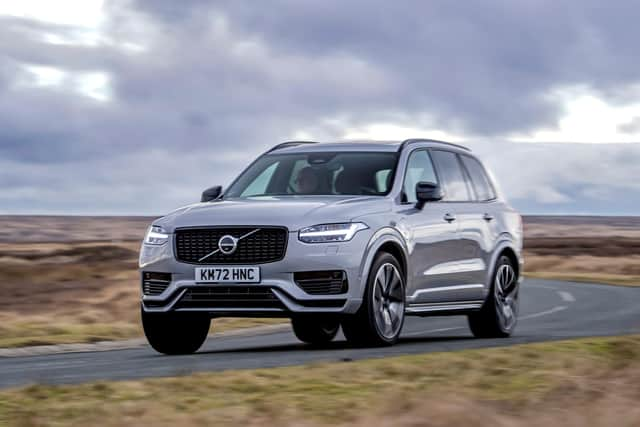 This example, like all the XC90s has automatic gears and is all-wheel drive.
Volvo claims 188 to 217mpg which is somewhat of an arbitrary figure as it all depends on how much you rely on the electric motor. A pure electric range of up to 42 miles is theoretically possible with a charging time of around five hours. And of course, with the petrol engine as a backup you need never suffer from range anxiety as you watch the battery deplete.
The best way to use a plug-in hybrid is, as you might expect, to plug it in as often as is practicable. If not, you'll see your fuel economy drop to around the 28mpg mark.
The XC90 is a very big car, though it manages to still look stunning, and only makes sense if you regularly carry more than five passengers or large, heavy loads. If that is not the case, other Volvos may well suit your needs better.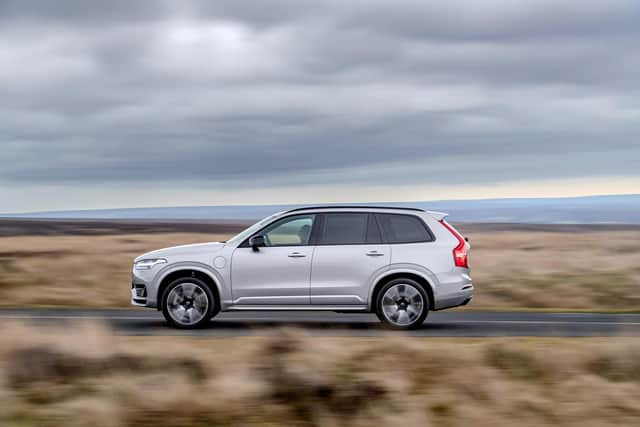 Our test car was in Plus trim - the middle one of the three on offer. On the road from £76,525, our specced up test car with retractable tow bar (£1,250), 21in alloys (£750), metallic paint £715) and dark-tinted windows bumped that up to £79,740.
The interior is as smart as Volvos usually are with top-notch materials: metal, wood and even a crystal-topped gear selector.
Connectivity and infotainment are impressive with a fast response touchscreen that controls navigation etc. There is smartphone integration via Apple CarPlay and Android Auto and full access to the Google range of services.
Despite its large footprint, the XC90 is easy to drive and manoeuvre thanks to the raft of safety aids and adaptations. Between them they keep you on the straight and narrow, detect pedestrians, animals and cyclists (the only system on the market to pick up all three) and the excellent cameras make parking a simple affair.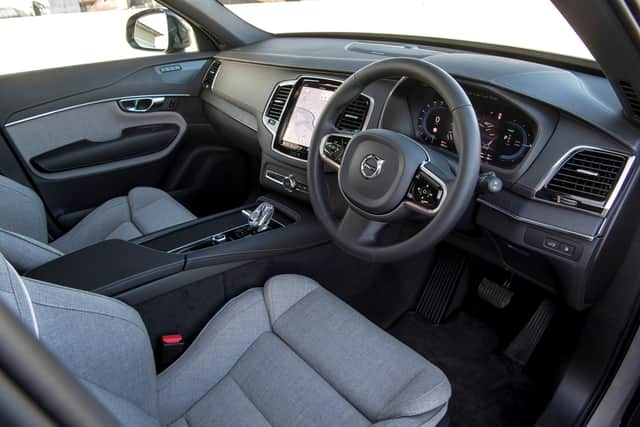 The comfortable contoured sports seats are clothed in a tailored wool blend and the front ones are electrically operated and heated.
The second row seats fold individually and move forwards and backwards. Individual heater controls and twin USB-C ports are available. The two seats on row three also fold and passengers have cupholders. The second and third seats are heavy and care should be taken when lifting them back into place.
Volvo XC90 T8 Recharge Plug-in Hybrid
Price: £76,525 (£79,740 as tested)
Engine: Two-litre petrol plus electric motor