Review: Mazda CX-60 3.3D
The diesel version of Mazda's CX-60 is impressively efficient, writes Julie Marshall
The Mazda CX-60 may loom large but it is surprisingly elegant with its long, sculptured front end, imposing grille, air scoops and slanted headlights.
The shortened back end is nicely balanced with two sets of double exhaust pipes: it cuts an imposing and impressive figure from every angle.
We drove the PHEV version last year and were mightily impressed. This time it is the turn of the most powerful of the 3.3 litre diesels which delivers 250bhp and 405lbft of torque as against the PHEV's 322bhp and 369lb/ft of torque. In short it pulls like a train.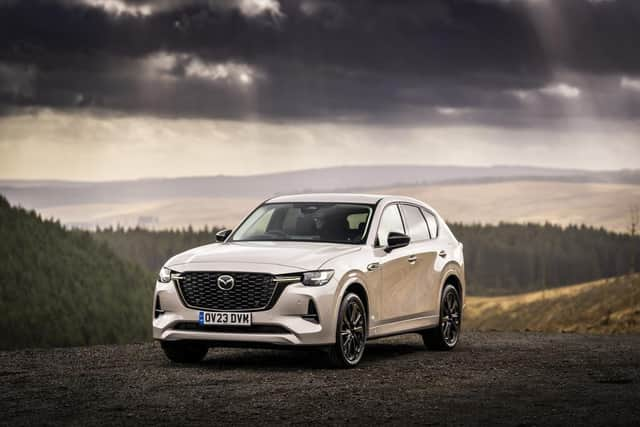 There are three trim levels: Exclusive-Line, Homura and Takumi. We had the all wheel drive Homura with automatic transmission.
It is priced at £48,405 but with a couple of additions, namely the soul red paint job (£900) and panoramic sunroof (£1,000) it came in at £50,305.
Although, as stated, the CX-60 is a large, heavy car, this powerplant is more than a match for it. Acceleration from 0-62mph is 7.4 seconds and combined CO2 emissions are 138g/km.
Many manufacturers are moving away from diesel engines and it is interesting that Maza has chosen to include two of them in the range.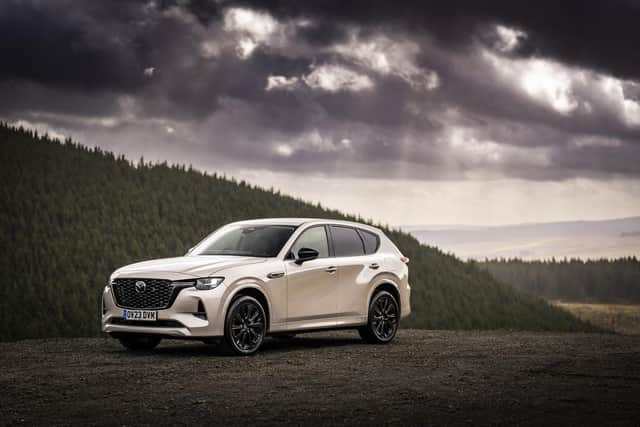 The 3.3-litre diesel is offered with two outputs 197bhp and the 250bhp we drove.
Both feature a tongue-twisting new technology called distribution-controlled partially premixed compression ignition or DCPC for ease.
It improves engine efficiency and therefore fuel economy and has class-leading emissions. These are boosted by the addition of Mazda's 48v mild hybrid system.
The eight-speed automatic transmission is faultless and skips through the gears without missing a beat. The lever is set high and is easy to operate.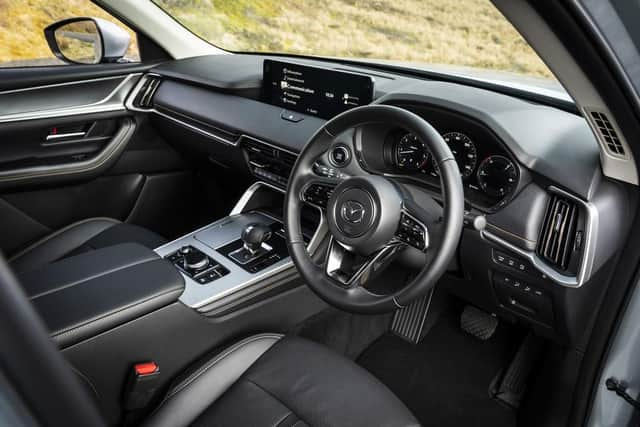 Standard equipment is pretty high across the range with front and rear parking sensors and reversing camera (most reassuring) heated front seats and steering wheel, automatic wipers,heated, auto-power folding wing mirrors and auto-dimming rear mirrors.
There's also a wireless Apple CarPlay and Android Auto system, cruise control, dual zone climate control and a raft of safety aids. All trim levels have a head-up display. A feature which is becoming more widespread and can only be a good thing as the driver's attention is focused on the road ahead.
Then infotainment and navigation comes by way of a large 12.3in screen which sits high above the dashboard, right in the driver's eyeline and can be controlled by a rotary dial. There are plenty of other physical switches for ease of control both underneath the screen and on the steering wheel.
Homura (which means, blaze or inferno in Japanese) adds a few refinements such as heated rear seats,front seat ventilation, electrically adjustable driver's seat, 20in metallic alloys and a 12-speaker Bose sound system. It also has electric steering wheel adjustment.
The CX-60 has a 2,870mm wheelbase and is wide enough so that rear seat passengers are not rubbing shoulders when they are three abreast.
There is loads of storage and with the seats down the boot capacity is 1,726 litres.
Price: £48,405 (£50,305 as tested)
Engine: 2.5 e-Skyactiv D MHEV
Transmission: Eight-speed automatic.