Review: Ford Ranger Raptor
The monster Ford Raptor is equipped for anything that's thrown at it, says Julie Marshall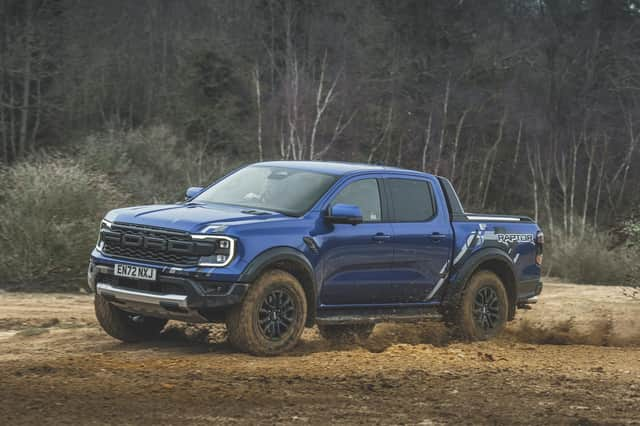 The five-seater Ford Ranger Raptor is a pickup truck with a whole lot of attitude.
In three-litre V6 Ecoboost 288bhp guise, O-62mph is accomplished in a blistering 7.9 seconds and a top speed is 111mph.
It stands tall, and is frankly quite menacing, with a wide stance, flared wheel arches and a massive Ford badge protruding from the front grille.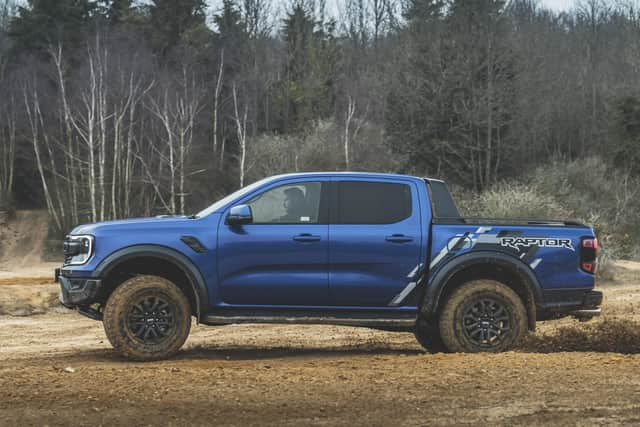 Put your foot down and it roars like the supercar it is. With four levels of volume from the twin exhausts, the loudest, Baja, bordering on the ridiculous, it gets you noticed.
The 10-speed auto gearbox can be controlled with paddles on the steering wheel for those who like to keep control of gear shifts.
Tootling around the city streets during the first few days of our week-long test, it was most definitely not in its element. It took up two parking bays in any of the car parks we ventured into and getting up and down the narrow road to our house was a nightmare and only tackled after a thorough reconnoitre of the neighbours' parked cars.
Off-road though it was a different matter. As expected it proved magnificent, never skipping a beat when we ventured up a couple of green lanes in the Yorkshire Dales - the only problem was the fear of coming to grief when squeezing through some of the narrow gates and scratching the lovely shiny paintwork.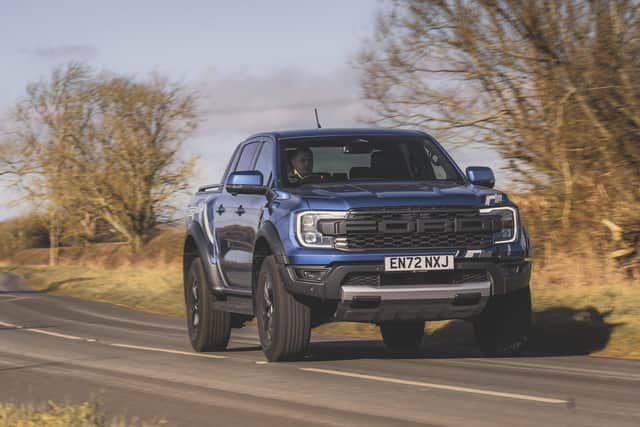 Our off-road experiment was relatively gentle but the Raptor is well-equipped for anything you can throw at it.
Low-range box, diff lock and seven different drive modes including sport, slippery and rock crawl make it a safe and competent vehicle to drive under the most extreme of circumstances.
The 360-degree camera coupled up to a 12in screen also makes it easier to pilot on and off-road.
It should come as no surprise that fuel economy is not one of the Raptor's strong points. The official figure of 20.4mpg is only achieved under exceptional and very careful driving - expect to get more like 13-15mpg in the real world as we did.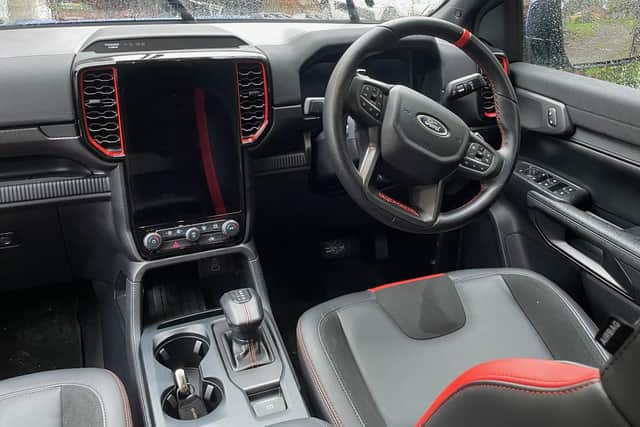 On-road driving, once you get over the length and width is remarkably comfortable and the turning circle comes as quite a pleasant surprise the first time you perform a tricky manoeuvre.
The interior is pure luxury with a whole array of high-end kit designed to make life on board as comfortable as can be.
The central display is crystal clear, the seats are cossetting and the B & O sound system is to die for.
As well as smartphone connectivity it has a navigation system, dual-zone, automatic climate control, heated steering wheel, wireless charger, adaptive cruise control and a whole host of safety aids - too many to mention.
It is a five-seater with a modest 625kg payload that can tow up to 2,500kg.
The standard on-the-road price of the Raptor is £58,900 but our test car came with a few choice extras including a £600 metallic paint job, a rather nice Raptor decal pack for a further £600 and a nifty electronic tonneau cover and roll bar for £1,860.
Price: £58,900 (£61,960 as tested)
Transmission: Ten-speed auto