Review: BYD Dolphin
Frederic Manby drives yet another affordable Chinese challenger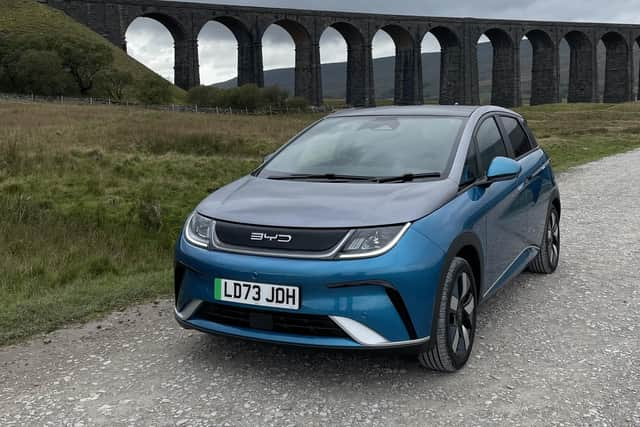 Seen a Dolphin yet? It is the name of a new electric hatchback from China. Soon it will be joined by a sleek electric sports saloon called Seal. The marine pairing from carmaker BYD follow a cross-over called Atto3: that name refers to a tiny fraction of a second.
BYD - Build Your Dreams - is one of the world's largest vehicle battery producers, starting with rechargeable batteries for phones 28 years ago. Apple and Nokia are big customers.
The Atto3 has some funky interior design and, in its class, a tempting price range from £37,000. The affordable Dolphin is smaller, matching a VW Golf, with a more conventional cabin than the Atto3, but that's not to say boring.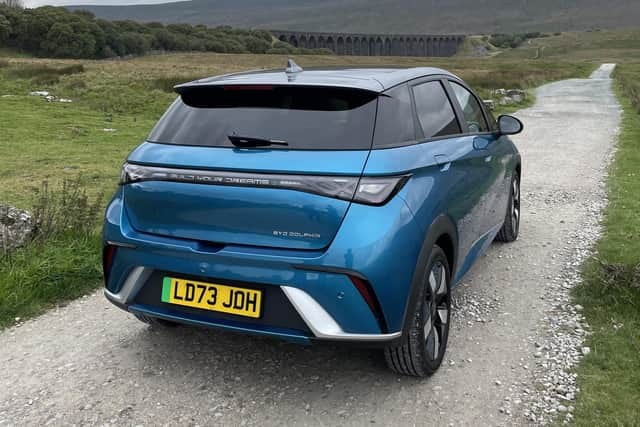 It has the rotating central information and mapping screen to view tall or wide. The front part of the interior is strewn with storage spaces, utilising parts often ignored.
Prices kick the rug from under almost all other electric cars and quite a lot of petrol cars. The 94bhp Active costs £26,195. The 174bhp Boost is £27,195. The 201bhp Comfort is £30,195 and the 201bhp Design is £31,695. Preliminary PCP plans at 6,000 miles a year are £299 for the Comfort and £329 for the Design.
The nominal ranges on a full battery are 265 miles for the Comfort and Design, 211 miles for the Active and 193 miles for the Boost.
All have heat pumps which scavenge warmth from the Dolphin's innards to increase range in cold weather. The flat lithium iron phosphate battery pack is in the floor of the car and is lighter and neater than lithium-ion and said to be more durable.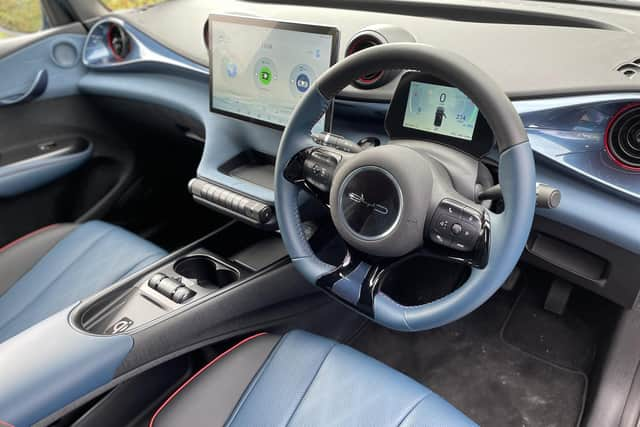 The cabins are free of animal products with soft vegan leather and quite a lot of hard plastic. The predominant decor is black, apparently because that's what customers want. Hmm: happily there are no-cost options. Our test car had smart black and dark blue furniture.
The dealer count in mid-October was just nine but another 14 are expected this year, from Inverness to Exeter, aiming for 100 in 2024.
A 90-minute drive in North Yorkshire chosen for a media event, flagged up no snags in the Design. It corners well, has pace and is less bouncy over undulating roads than the Atto3.
Many controls are unusual and fiddly but we got the hang of it and there is always an excellent voice control and request helper on hand: eg rotate the screen, turn up heater, etc. It gives a verbal warning if a speed limit is exceeded.
All models have a 360-degree camera, advanced safety and driving assistance, alloys and power front seats. The Boost adds multi-link rear suspension and larger wheels. The Comfort has front parking sensors, heated front seats, more audio speakers. The Design has a fixed glass roof, two-tone body paint, a wireless phone charger and a cable to take power from the battery to portable three-pin devices.
The rallying cry for the Dolphin's sales force is that it is fun, agile and versatile. The Seal promises much more, with up to 523bhp and a 0-62 time of 3.8 seconds.
Vehicle's full name BYD DolphinPrice: £31,695Engine: Electric 60.4 kWh patented blade batteryPower: 201bhpTorque: 228lb/ftTransmission: single speedTop speed: 99mph0-62mph: Seven secondsCO 2 emissions: zero