Review: Abarth 595C
Julie Marshall drives the diminutive and sporty Abarth 595C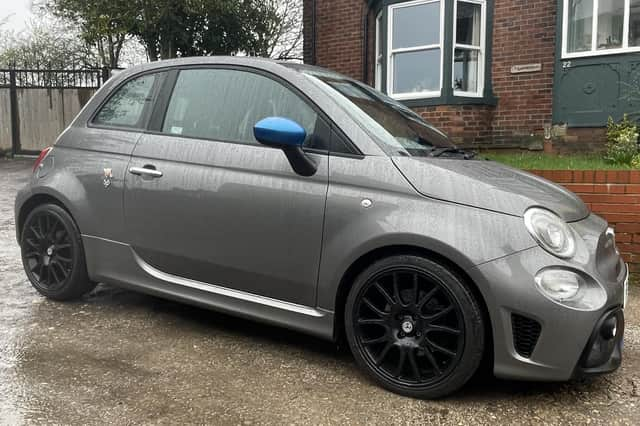 It might not be very practical as a family runabout but above all else the Abarth 595 C is a fun car to drive. By the way, the C refers to convertible as it has a full-length folding roof.
And, although it does pay more than a passing resemblance to the Fiat 500 on which it is based, you're in no doubt that this is a completely different animal indeed.
The massive front grille, oversized air intakes and matt black finish 17in alloys all point to a hot hatch that means business, as does the double chrome exhaust.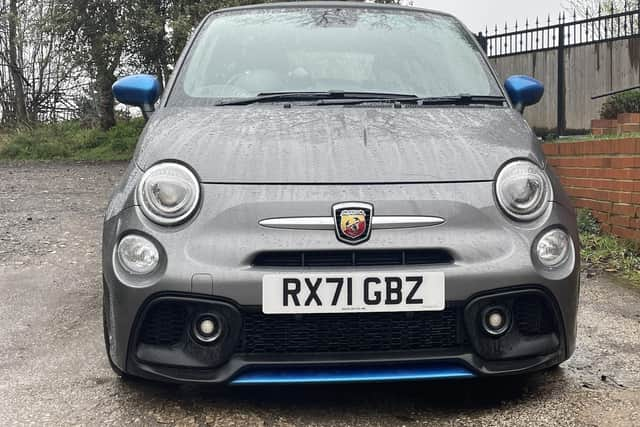 The sporty theme continues inside with a rev counter pod reminiscent of a racing car, figure-hugging seats, flat bottom steering wheel and stainless steel pedal caps.
Touches of satin chrome, a smart dashboard, black seats and leather steering wheel and gear knob finish off the look.
The interior, however is a bit cramped and, weather permitting, tall drivers will feel more comfortable with the full-length fabric roof folded right down. Sadly, that was not an option for us as it rained every time we ventured out.
Although there are two rear seats they are not easy to access. The lack of legroom means they are not really comfortable for extended periods for anyone other than a small child.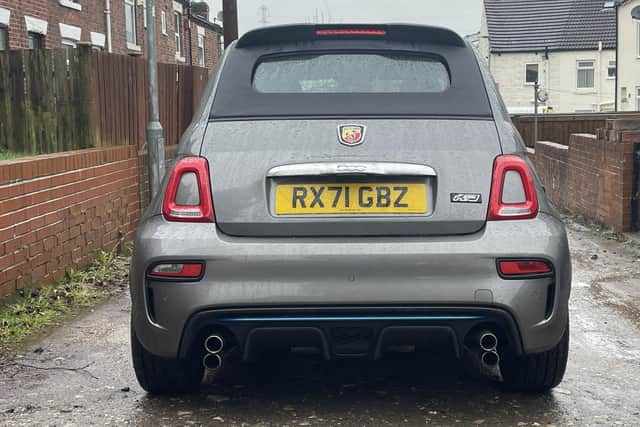 The boot is tiny and is only really suitable for a couple of small bags but to be honest, practicality is not really a reason to buy a car like this.
Its beauty is in the driving. The throaty exhaust will gladden your heart as your roar away down the road and the stiff suspension allows you to sling it around corners, safe in the knowledge it will keep you well planted.
The fabric roof, as is to be expected, makes for a noisy ride at speed but put the top down and with the wind in your hair - who cares?
This upgraded 595 was revealed in March 2022, a few weeks before Abarth's 73rd birthday.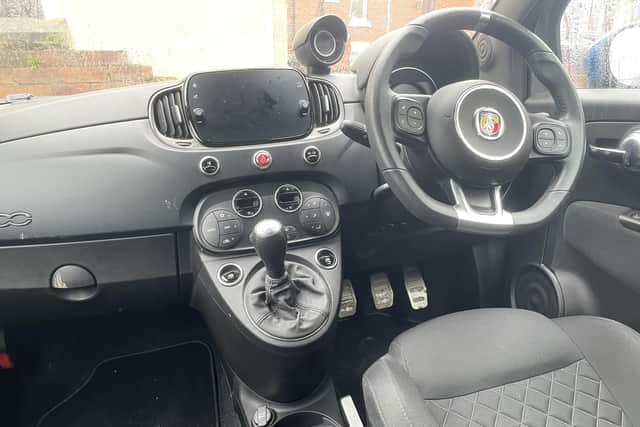 Carlo Abarth (1908-1979) founded the company in 1949 with racing driver Guido Scagliarini. His astrological sign, the scorpion was used as the company logo and it made racing cars and high performance exhaust pipes.
The 365C like the 365 hardtop version has a 165bhp 1.4 T-jet Euro 6D Final engine with a Garrett turbocharger.
The car we drove was the F595C model which emphasises performance as opposed to the Turismo which is more focused on style.
It accelerates from 0-62mph in 7.3 seconds and has a five-speed manual transmission. A five-speed automatic box with paddles on the steering wheel is an option
Other key features include DAB radio with 7in touchscreen and Apple CarPlay and Android Auto compatibility, and rear parking sensors.
Options on our car included snazzy blue bumper inserts and door mirrors, automatic climate control, rain and dusk sensors and black brake calipers.
On the road price for the F595C is £23,475. By the time the extras were included it came out at £24,875.
Price: £23,475 (£24,875 as tested)
Transmission: five-speed manual