Julie Marshall spends a week living with the new and improved Suzuki Swace
Stylish, practical and safe to drive. Julie Marshall spends a week living with the new and improved Suzuki Swace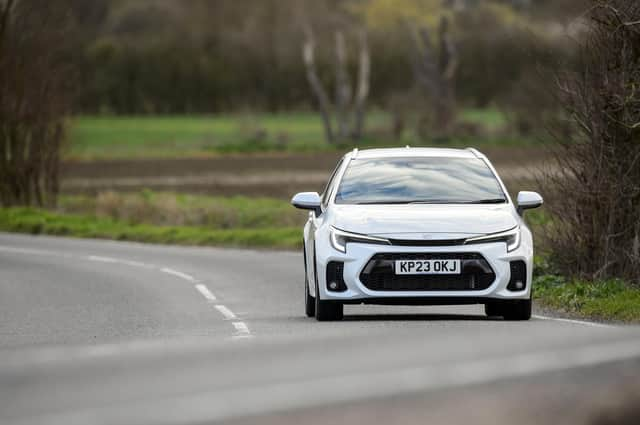 Earlier this year I went to the launch of the upgraded Swace, Suzuki's popular self-charging sporty hybrid estate.
I was impressed and after then spending a week with the top of the range Ultra model, even more so.
It's a very easy car to live with. Stylish, big enough to be practical but not overly long, and stacked full of kit.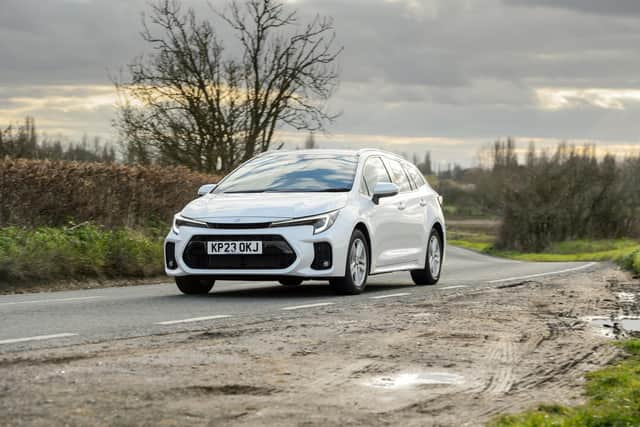 The Swace is one of the models to come out of a collaboration between Suzuki and Toyota.
Interestingly, a couple of weeks ago the Toyota Corolla Touring Sports, which is almost identical to the Swace, won the Auto Express Estate Car of the Year.
Anyone familiar with the previous model of Swace will find very little change with the exterior - the bumper and the lights got a bit of a makeover but that's about it.
Where things get a bit more interesting is under the bonnet.
The Swace is powered by a 1.8-litre four-cylinder petrol engine with an output of 96bhp. The electric motor output is 70kw resulting in a combined power output of 138bhp.
Acceleration time is 9.4 seconds and top speed 112mph
The model names were changed at upgrade. Gone are SZ-T and SZ5 to be replaced by Motion and Ultra.
As noted at the launch, the only downside of the Swace is the noise from the CVT gearbox. However, it is much quieter in Sport mode and after a few days I found it didn't really bother me at all.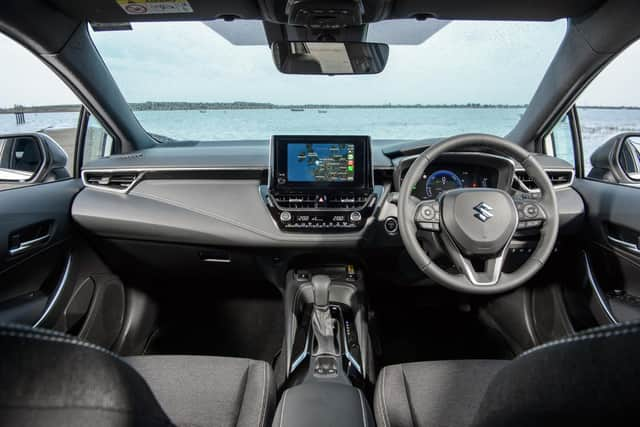 Once you've spent time getting the seat and steering wheel set up to your liking, Swace delivers a comfortable ride, even over the uneven surface that forms part of my regular test route.
A week of motoring on mixed roads - many of them urban and for short journeys - delivered a fuel economy in the mid 50s which is acceptable.
Official figures are 62.7mpg and CO2 emissions of 102g/km and there's no reason why these figures can't be matched with careful driving and over long distances.
The Swace is a good looker and sits low to the ground and has a wide stance. Internal space is adequate but the rear leg room is not as good as some others in the class.
The boot capacity is 596 litres and has a clever reversible floor with rubber on one side to keep muddy dogs and boots off the upholstery. The rear seats fold by way of a lever and the resulting space is long enough to take a bike without removing the front wheel.
Both trim levels get enhanced technology particularly with regard to proactive safety aids. The collision warning system has been updated to include motorcycle detection and safe exit assist has been added to warn if a door is about to be opened in the path of a cyclist or an oncoming vehicle.
Our Ultra added, among other things, automatic door locking, front and rear parking sensors, blind spot monitor and that must-have accessory the wireless phone charger - always a welcome sight as I'm always forgetting to carry the lead for my phone.
Engine: 1.8-litre petrol and 70kw motor