What happened last time football was put on hold
With top flight football across Europe in limbo due to the global coronavirus pandemic local historian Keith Johnson looks back at the last time a league season was brought to a halt in England
Friday, 24th April 2020, 4:45 pm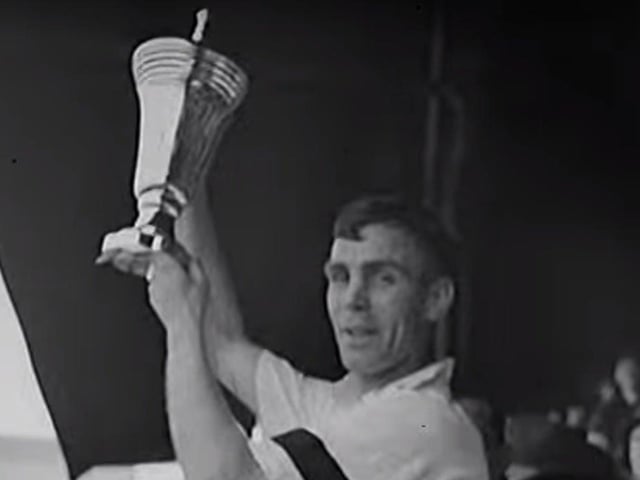 Tom Smith lifting the war cup for Preston North End in 1941
We have to go back to September 1939 to recall a time when the Football League had to curtail their fixtures and eventually deem the fixtures played as null and void as the Second World War began.
The season 1939-40 had been looked forward too with optimism by the Lancashire clubs within the old county boundaries.
Everton were reigning champions and Bolton Wanderers, Preston North End, Liverpool, Manchester United and Blackpool had finished the previous season in the top 15, while Blackburn Rovers were back in the top flight as Second Division champions.
Preston North End went on to win the War Cup Final after Arsenals Leslie Compton missed a penalty in the match at Wembley Stadium
North End who had finished ninth in the First Division had only lost their grip on the FA Cup, won in 1938, after a narrow 1-0 defeat to Portsmouth in the quarter-finals.
For North End, a home fixture versus Leeds United began the season on the last Saturday of August 1939. A hot, sunny afternoon proved frustrating for PNE, who dominated the Deepdale encounter from the start and when Leeds lost their goalkeeper after half an hour with a leg injury the odds increased.
With no substitutes in those days, the 10 men of Leeds, with George Ainsley their centre forward as stand-in goalkeeper, fought a stiff rearguard action. Preston, watched by 20,000 spectators, certainly had their chances with both Bobby Beattie and Jimmy Hunter squandering clear opportunities to score, and with Ainsley inspired between the posts North End's frustration increased. With time running out North End created one last chance that fell to George Mutch who, from six yards, shot wide of an open goal, the match ending scoreless .
Local rivals Blackpool had come away from Huddersfield Town with a 1-0 victory, whilst Blackburn Rovers returned from a lengthy trip to Portsmouth disappointed after a 2-1 defeat.
Preston North Ends wartime League Cup final winning squad of 1941
On the following Monday evening, three of the Lancashire sides were in action. Everton visited Aston Villa and won 2-1 as prolific goal scorer Tommy Lawton netted the winner, Bolton Wanderers also gained an away victory by 2-1 at Stoke and Blackpool continued their good start with veteran centre forward Jock Dodds getting the decisive second goal in a 2-1 win over Brentford, watched by a holiday crowd of 25,000.
On the Wednesday evening it was the turn of Sheffield United, who had beaten Liverpool at Bramall Lane 2-1 on the previous Saturday, to cross the Pennines and face North End.
The newly promoted visitors put in a lively performance and Preston had to thank goalkeeper George Holdcroft for a couple of crucial saves. The North End forwards appeared too lightweight against the visitors' robust defence, who dominated the aerial challenges.
The nearest Preston came to scoring was a header from Bobby Beattie which was just inches wide of the post. The home supporters in the 17,000 crowd leaving Deepdale disappointed after another 0-0 draw.
On the first Saturday of September, as the clouds of war gathered, the Football League had another full fixture list. Blackburn Rovers, after a 1-0 midweek defeat at Arsenal, entertained Everton at Ewood Park. Once again, Tommy Lawton came to Everton's rescue as he netted twice in a 2-2 draw.
For Blackpool, a home match with Wolverhampton Wanderers was the next challenge and Jock Dodds was the goal-scoring hero again, netting his second goal of the match in the 85th minute to clinch a 2-1 win.
For North End, their first away trip was to Grimsby Town, who had also failed to find the net in their opening fixtures. The visitors fielded the same 11 as in their previous two matches with long-term casualties Andrew Beattie and James Dougall still not match fit.
It meant a third appearance for North End's summer signings Emlyn Williams, from Barnsley, along with Jimmy Hunter and John Wharton, from Plymouth Argyle. With North End lining up thus:
White, Hunter, Mutch, Beattie (R), Wharton.
The unfolding war situation had a dramatic effect on attendances nationwide on the day, and a crowd of barely 6,000 turned up for the fixture. Grimsby took the game to Preston from the start and Holdcroft came to the rescue after 10 minutes when at full stretch he tipped a penalty kick round the post.
North End did respond with some attacking flair, but it was Grimsby who took the lead in the 25th minute with a volley from Fred Howe. Preston were certainly playing their part in an end-to-end tussle as their half-back line of Bill Shankly, Bob Batey and skipper Jimmy Milne probed and passed in an attempt to stretch the home defence.
However, the visitors, who had seemed the more likely scorers, were undone again by Howe on the hour mark as his long range shot sneaked past Holdcroft into the net to make it 2-0.
Despite some promising forward play by Hunter and Mutch, the visitors' challenge fizzled out and the match ended in a downpour of rain with Preston still without a goal. Immediately after the final whistle, the PNE team boarded their motor coach for their journey home, hoping to reach Burnley, where a meal awaited them while daylight still held.
The next day news filtered through that, after only three league matches of the 1939/40 season, the Football League programme was abandoned. It was bitter sweet for Blackpool, who sat at the top of the First Division table with a 100 per cent record after three successive victories. For North End, three games without a goal had left them fourth bottom, with Blackburn Rovers a place beneath.
It was time for the PNE players to play their part for their country. Within months Holdcroft, Gallimore, Batey, Mutch, Dougal, Wharton and McIntosh had taken up a variety of occupations in local engineering factories.
Hunter with his electrical skills was working at a coal mine and Jimmy Milne and Tom Smith could be seen on the streets in the blue uniform of the police war reserve. Andy Beattie (pictured, left inset)had joined the Army and Bobbie Beattie had joined the RAF, as had Bill Shankly, all three Scottish internationals ready to fight for their country.
The years of the Second World War saw regional leagues formed and clubs use guest players as appropriate. The highlight locally being North End's appearance in the Wartime League Cup Final of 1941 in which they defeated Arsenal 2-1 in a replay at Blackburn. Together in that side were Bill Shankly and a youthful Tom Finney.
When the war was over and the Football League began again in August 1946 PNE faced Leeds United at Deepdale in their opening fixture. Four players – Andy Beattie, Bobbie Beattie, Dougal and Shankly – who had played for PNE before the war were in the line-up again after seven long years, along with Tom Finney who was making his Football League debut.
Shankly played at centre-half and Finney scored in a 3-2 victory watched by more than 25.000 spectators. As for the other two 'replayed' matches Sheffield United won at Deepdale 2-1 and PNE went to Grimsby Town and won 3-2 with Willie McIntosh netting a hat trick.
Amazingly, veteran Shankly, who reverted to his right half-back role for the second game, played all but one of the league fixtures as PNE finished seventh in the First Division and all of the FA Cup ties, including a quarter final defeat 2-1 away at Charlton.
As for Blackpool they made an equally impressive start to the new campaign winning all their three 'replayed' matches and only lost in their fifth fixture away to Sunderland. They finished the season above North End in fifth place as Liverpool won the league title. It had been a long break and the crowds flocked back for their football action creating record attendances.