Voices from the Lancashire village of Freckleton across the ages
Over the past 25 years, Peter Shakeshaft has collected memories of life in Freckleton from across the centuries and his works have been published in a new book capturing the changing face of village life from the mouths of those who lived there
Monday, 7th September 2020, 3:45 pm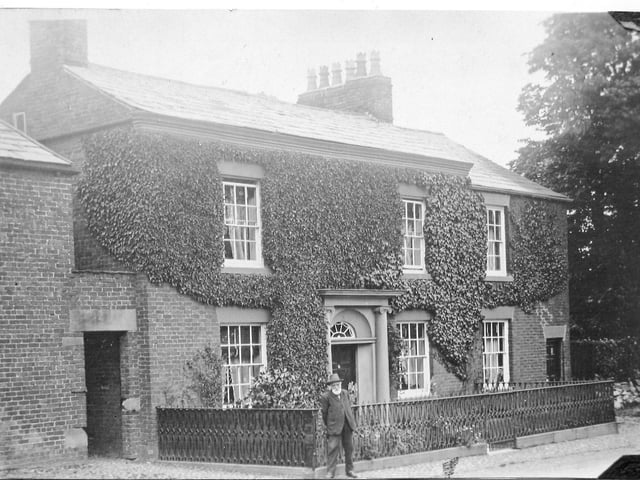 Thomas Cross Wignall standing outside Grove House, Freckleton. Three generations of Wignall family were leading members of the Freckleton Wesleyan Methodist community
Personal recollections are an important component to any community history as it enables an otherwise lost world of common thoughts about common things to be heard once again.
All towns and villages have their own unique history, arguably none more so than village of Freckleton, where it has been the people themselves, rather than a manorial lord or influential family, who have been responsible for ensuring the continuity of their community.
The 1801 census return noted the population of Freckleton was 541, and there were 114 dwellings, a ratio of just five individuals to each home. Many of these would have been thatched cottages, and Freckleton was still being described as a village of thatched buildings as late as the 1860s. In 1801, the only purpose-built place of worship was the original early-18th century Friends (Quaker) Meeting-House, but then in use as a township (village) school.
Elijah Rawstrone who in the late 19th century and early 20th century traded from his shop in Bunker Street, Freckleton. In 1911 he was described as a hardware dealer and licenced hawker
Township administration was carried out by a committee chosen at an annual meeting: a practice probably originating in the late 18th century as required under the requirements of the Poor Law. The committee appointed an overseer of the poor, a constable, and a surveyor of the highways.
However, by 1801 Freckleton was rapidly becoming a relatively industrialised village with the port a hive of activity, with vessels trading to south-west Scotland, Ireland and Wales.
Coal came by flats from the Wigan coalfields for distribution elsewhere in the Fylde. Shipbuilding was another important industry, with records of vessels being built at Freckleton from, at least, 1782. Other important industries included rope making and agriculture.
Substantial properties had been erected by Mayor family, then the most influential and important family in the village, who had erected their first flax factory in Preston (Old) Road sometime in the late 18th century.
In 1780 a toll road to Preston had been constructed across Freckleton, Newton, and Clifton marshes, and by the early 1820s a regular stagecoach service ran between Preston and Lytham. By 1821 the population had increased to 875, an increase of 56pc since 1801.
In 1814 the Wesleyan Methodists open their first chapel, a converted cottage weaving shop, followed by a purpose-built chapel in 1839, and the present building in 1884.
Holy Trinity church was erected in 1837 and Trinity School in 1839. The first Primitive Methodist chapel opened for worship in 1862.
In the 1820s the Mayor family built their new flax factory, later converted to cotton production: the successor building (the original having been destroyed by fire in 1863) was purchased by William Sowerbutts in 1866 and re-named Balderstone Mill. The mill closed in 1968.
The watershed event of the 20th century was the opening of a new by-pass – Preston New Road – in 1926. The year 1944 will always be remembered as the year of the Freckleton Air Disaster, when an American Liberator bomber crashed on to Trinity School. By 1961 the village population had increased to 3,309.
Freckleton's religious history was quite distinct from neighbouring villages. The Quakers had a presence in the village from the late 17th century, and built their first meeting-house in 1720 at which they established a school. The site of the meeting-house is now occupied by the present-day Village Memorial Hall.
William Coulborn (aka Cowburn), who died in 1811, at the patriarchal age of 91, had been a leading member of the Freckleton Quakers. In 1800 he requested assistance from the Quakers at Preston:
Dear friends the time is so hard that my incom will not afford me meates and clothes I have non worth anything and I am Near 80 years old I am not able to work so if you please to send me a fue clothes is all I want at Present to keep me warm and cleane if you whan to See me I will com over so I am your friend Wm Coulborn
Commitment to a particular cause was also noted by George Wylie Rigby who recalled in the mid 19th century: ... one local Wesleyan Methodist preacher was in the habit of taking off his boots on leaving Preston and walking barefoot to the Freckleton marsh gate before replacing them in order not to wear them out too fast as he was so very poor.
As far as is known no former Freckleton handloom weaver has left an account of their working life. However, in 1941 the Lancashire Daily Post interviewed William Kirby, then aged 73, who:
From his tenth birthday, when he first clattered his little clogs over the cobbled pavement as a half-timer at Balderstone cotton mill, has worked there uninterruptedly for 63 years.
To his knowledge, three generations of the Kirby's have been cotton weavers. His grandfather (Christopher Kirby 1813-1892) worked through the night on his hand loom in the attic at the old [Hall?] Cross Farm, weaving cotton which his wife wound through the day. They sold the cloth to the local mill, but when the power looms were installed this homely craft petered out.
As a half-timer, William Kirby had one shilling three pence (5.2p) a week and when he became a full-timer, at the age of 12, his income was seven shillings six pence (37½p).
The foregoing recollections are just three examples which us, to capture a glimpse of the past.
Although, to a present-day Freckleton resident the village of 1801 would be almost unrecognisable, the one common theme that residents of all eras would be able to share is pride in their community.
Speaking for the silence of former residents whose lives might otherwise be forgotten will be always be important. For all those who knew and know Freckleton would surely echo the sentiment "you can take a person out of Freckleton, but you can't take Freckleton out of a person".
l Voices of Freckleton by Peter Shakeshaft is available priced £15 plus p&p from [email protected]