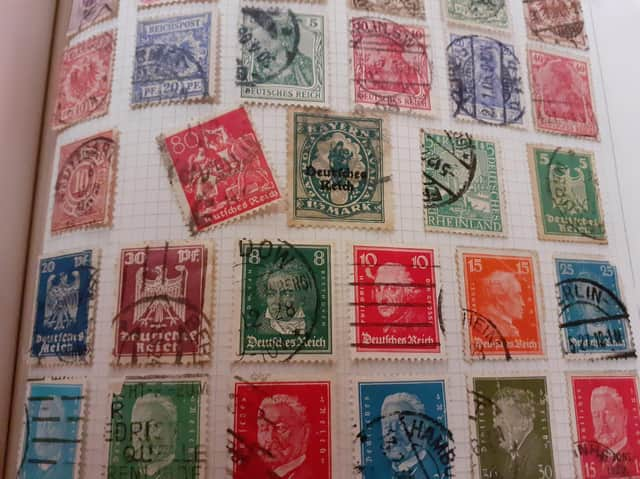 These colourful stamps are in very nice condition, and part of an album
Next time you buy a book of stamps, you might, like me, do a double-take: prices have recently risen by an inflation-busting 8,6%. But what about historic stamps?
Philately (stamp collecting), long seen as a safe investment bet, has seen a dip in popularity- and the production of stamps- this century.
However, it's still described as 'the world's greatest hobby', accessible to virtually everyone, young and old, rich or poor. After all, stamps have always been free when they arrive in the post!
Most people assume the Penny Black, the revolutionary first standard postage stamp issued in 1840, to be the most valuable. In fact, with over 68 million issued, many only fetch around £50. The less numerous Penny Reds, which followed, and Tuppenny Blues, usually fetch significantly more.
Aside from rarity, unused stamps in mint condition are the most valuable; if used, a clear, unsmudged postmark is preferable. Generally, stamps are worth more in their country of origin, although souvenir stamps have popular appeal.
New collectors can choose from hundreds of different areas, such as countries, sporting, artistic, wildlife, or even musical themes. Store them in transparent paper pockets, rather than sticking in a traditional album, to maintain their value.
Just a few pounds can bring the novice collector a folder full of bright and interesting stamps providing hours of enjoyment sorting and researching. These colourful stamps are in very nice condition, and part of an album on sale in the centre for £16.
Mistakes, such as a defective plate which produced smudged stamps, can send value soaring for those few stamps printed, and canny collectors hunt for high-value 'plate' numbers.
An 'inverted Jenny', a 1918 American stamp featuring a stunt plane printed upside down for just one sheet, could fetch you half a million pounds!
It's not quite the last post for stamp collecting.
After a decline in the early 21st century, a generation raised on email are rediscovering the novelty and charm of stamps.
Technology is also helping collectors communicate and trade globally, with an estimated 20 million collectors in China alone.