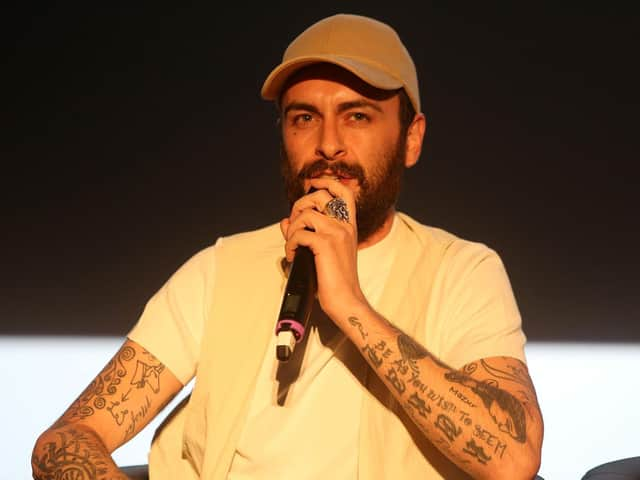 Joe Gilgun speaking at a preview of his show Brassic
To mark 150 years of the Chorley Guardian, we're featuring stories about inspirational people, places that we love, and community groups.
Chorley actor Joe Gilgun is one of a select few to have appeared in two of the UK's biggest soap operas, Coronation Street and Emmerdale.
Joe, 37, landed a role on the 'Street' at the age of 10 but left acting for a period after that, even studying fashion design at Runshaw College.
We're asking Chorley Guardian readers to nominate 150 reasons to celebrate Chorley to mark the Guardian's 150th birthday
Thankfully Joe returned to acting and his career has not looked back since.
Despite his stellar success in mainstream TV, some of Joe's best critical success has come following the comedy series Brassic, a Sky One Original co-written by and starring Joe.
It is based on his life growing up in Chorley and his personal struggles with bipolar.
The show follows Vinnie, played by Joe, as he deals with life while coping with bipolar.
From our archives ... actor John Savident (Fred Elliott, in Coronation Street) visited Southlands school in Chorley when Joe Gilgun was a pupil there, and playing Jamie in the Street. Also pictured is fellow pupil Nadia Barnes
Explaining how he tackled the subject, Joe said: "The nature of bipolar is one minute you're up in the air and the next minute you're down."
The show was very personal to Joe and the honesty of the work did not go unnoticed.
Joe said: "It's a character based on me. It's a partly autobiographical show."
Joe Gilgun, third from left, in the cast of PRIDE, a film about the unlikely collaboration between striking Yorkshire miners and an LGBT group in the 1980s
The actor, who also starred in hit films This Is England and Pride, was able to use his talent to shine a spotlight on a subject rarely covered in TV drama, and certainly not in comedy.
He said: "I understand that it makes me a bit vulnerable, being as honest as I have been.
"We expose all the bipolar stuff even down to the medicine. It's accurate.
"The thing is with depression, it's not always sadness; there's a lot of frustration involved.
Joe Gilgun as Eli Dingle (left) in Emmerdale
"It can make you very angry and hard to be around.
"And that's the reality of that condition. I wanted to be as open and honest as I could be about that. That is me."
If you'd like to nominate someone to be part of this Chorley 150 series featuring 150 stories of inspirational people, places that we love, or special moments in the life of the borough, then email [email protected]
From our archives ... Joe Gilgun, 14, when he played Jamie Armstrong in Coronation Street, demonstrated his skating skills in Preston.