This is how Lancashire looked in 1983
A selection of your photographs from days gone by.
Wednesday, 30th June 2021, 3:45 pm
Updated
Thursday, 1st July 2021, 1:42 pm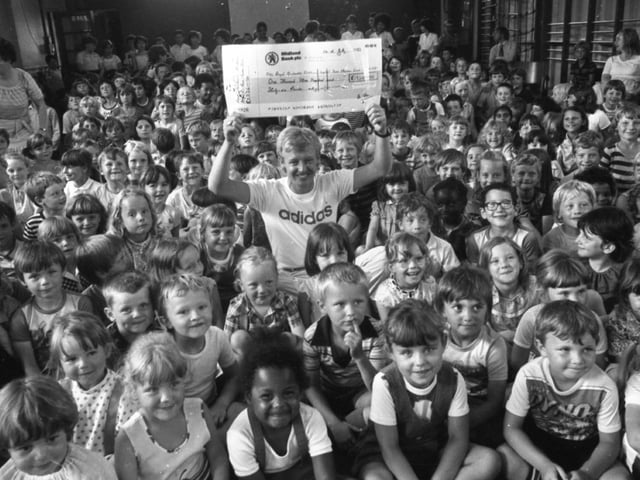 A hush-marathon by a bunch of schoolkids will help to boost the long fight against a killer disease. For around 300 children at Greenlands Primary School, Ribbleton, Preston, raised more than £1,300 for the fight against leukaemia, by holding a sponsored silence. And to put a smile on everyone's face when the cheque was handed over was comedian Les Dennis, who is starring in Blackpool. He is pictured holding the cheque which he received on behalf of the Manchester Children's Hospital Bone Marrow Transplant fund
Lancashire youngsters eagerly flocked to school on the day that sheep shearing became a lesson. For the lucky children had a rare demonstration of shearing right in their own village school playground. The 300 children at Buckshaw Primary School, Astley Village, Chorley, watched local farmer's son Mr Edwin Schofield, expertly clip two sheep, and were delighted to get up close and personal with two lambs also brought for them to see. Their teacher Miss Lawrence holds one of the lambs
Pupils at Broughton C of E Primary School are keeping their fingers crossed for a flawless performance when they take to the stage for their most ambitious production. The youngsters are to act out an adaptation of the children's novel Charlie and the Chocolate Factory. Michael Simpson, 11, will play Charlie Bucket, a boy from a poor family who finds a golden ticket for a trip round a chocolate factory. He is pictured above, along with a team of Oompa Loompas holding their tickling sticks
Something for everyone. That is the basis of Newton Field Day, which sets out to involve the whole community. This year's event included the usual colourful procession of floats - making their way along roads in which the tar was melting in the boiling sun!
An enthusiastic team of high flying plane buffs will have their feet firmly on the ground for an aerobatic escapade. For the Pioneer Model Aircraft club hope to fly one of their small replica planes from Kirkham to Blackpool. The sponsored flight will be piloted by 36-year-old Ray O'Brien, a veteran mini flyer. He is pictured above holding the replica plane, watched by other members of the club
A second major fire hit Blackpool's holiday industry within 24 hours when a blaze broke out on a big attraction in the resport's Pleasure Beach. Hundreds of visitors were evacuated from the Haunted Hotel sideshow. First reports said no-one was hurt as day trippers were moved form the danger zone by the three-storey block. Firemen pumped water from the nearby log flume and other water rides. Holidaymakers and Pleasure Beach staff worked together to move slot machines and other electrical equipment from arcades
Daredevil Karl Bartoni has all the traits of a seven stone weakling - and he admits it. His slight frame struggles to top 5ft 6ins, he is almost blind without glasses and he turns pale at the thought of going up a ladder. But all thoughts of inadequacy will plunge into insignificance when the 34-year-old takes on one of the most daring stunts ever performed - high above the hordes of Blackpool. He will dangle by the ankles from the top of Blackpool tower in a bid to become the world's most daring escapologist
Flying south? If you are then spare a thought for birdman Maurice Jones. For as thousands of families wing their way off to the sun, Maurice is staying put... to keep an eye on the wildlife. County bird recorder Maurice has to sacrifice his holidays to keep his field glasses trained on the latest feathered arrivals to the Fylde coast. His dedicated role, co-ordinating all the season's bird life, means giving up two days a week and the chance to grab a good rest. But the 46-year-old naturalist says that it's all worth while
The medieval maniac, the Blackadder, may have perished in the last episode of the zany TV series but the name lives on in staid St Annes. Fans of comedian Rowan Atkinson's hysterical historic character meet... Miss Blackadder. Housewife Mrs Jean Rigg's maiden name is Blackadder and she reckons it is no laughing matter. She is pictured holding a shield showing the Scottish family tartan, a crest of a black adder snake with a red rose in its mouth and bearing the clan motto which means 'Strive to the end'
A crowded swimming pool as children enjoy Fun Swim time at Fulwood Leisure Centre during the summer holidays
A crowded swimming pool as children enjoy Fun Swim time at Fulwood Leisure Centre during the summer holidays
These lovely girls, chosen from scores of entries from throughout the North West, form the semi-final line-up of the 1983 Garstang Country Princess Contest. The competition, sponsored by the Evening Post, reaches its climax at the Garstang Show when 20 grand finalists will take to the catwalk in the National Farmers' Union Ladies' marquee to complete for the title
Guest coach Mark Hornby, at the Junior Squash course at Queens Mill, gives tips to John Simpson, Peter Flowers, John Steven and Neil Taylor, Lancashire's most promising young players
Happy youngsters turned out in force to give community spirit on a Preston council estate a boost. Farringdon Park was a scene of an extra special play scheme. The Manchester-based Community Arts Workshop - backed and part-financed by Preston Council - moved into the local community centre. The aim was to encourage local children to make full use of their school holidays and more than 70 children aged from five to 15 did just that
These boys landed a perfect score - a summer holiday with a difference. While their classroom contemporaries looked forward to sea and sand, they went back to school. The group were among 170 children from Preston, Clitheroe and Blackburn who signed up for lessons at Stonyhurst College in the Ribble Valley. Pictured: Archery teacher Allan Lovegrove gives Mark Haydock of Whalley some shooting hints
These brave St Annes women are all life savers
Preston sea cadets are the best... and that is official. Local cadets were voted top of the form when they joined a special training course at the Royal Marine Barracks in Deal, Kent. Three town teams won the prestigious Tipner Cup in a contest to find the top groups on the course. In a separate competition, Preston representatives also proved themselves expert shots