This is how Lancashire looked in 1982
A selection of your photographs from days gone by.
Thursday, 24th June 2021, 2:03 pm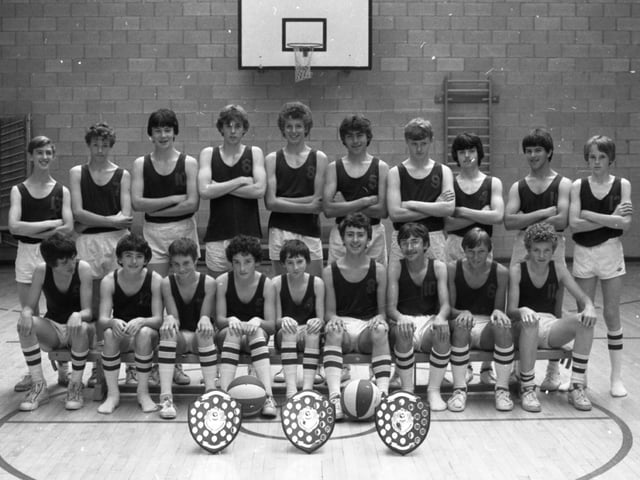 A small school with big sporting ambitions - that is All Hallows RC High. Although only having two full-time physical education teachers the school, situated in a beautiful corner of Penwortham, Preston, is beginning to compete with the area's bigger outfits And for the boys under 14s and under 16s basketball teams pictured above, that means winning!
The mystery of the Orient took over Preston's St George's Shopping Arcade as part of the town's shopping festival. A troop of Chinese performers put on a show of traditional dances and martial arts exercises - some of them more than 800 years old.
It was all the fun of the fair for these children when the carnival came to town. Swings, roundabouts and roller coasters were all part of Preston's big spectacular on Market Square and surrounding roads. These teenagers look exhilarated on the Coaster, watched by those waiting their turn
The first ever Preston shopping festival wound up with a grand finale on the Flag Market after a week packed with events to attract the shoppers into town. Hundreds turned up in brilliant sunshine to watch the displays - including this one from the Longridge Majorettes
The first ever Preston shopping festival wound up with a grand finale on the Flag Market after a week packed with events to attract the shoppers into town. Hundreds turned up in brilliant sunshine to watch the displays - including this one from the Longridge Majorettes
A seaside carnival raised a record amount for charity - even though the sun did not shine. The collectors at Morecambe Carnival, mingling with the crowds, reaped a grand total of £1,600. The event started with a parade of 80 decorated floats and vehicles winding its way through the hundreds of onlookers from Sandylands Parade to the Lancaster Road school field, and included the superstars from the Cartmel Day Centre, pictured aove
A seaside carnival raised a record amount for charity - even though the sun did not shine. The collectors at Morecambe Carnival, mingling with the crowds, reaped a grand total of £1,600. The event started with a parade of 80 decorated floats and vehicles winding its way through the hundreds of onlookers from Sandylands Parade to the Lancaster Road school field, and included these ladies from Preedy and Sons, making friends with the Dulux dog
A small school with big sporting ambitions - that is All Hallows RC High. Although only having two full-time physical education teachers the school, situated in a beautiful corner of Penwortham, Preston, is beginning to compete with the area's bigger outfits. One pupil, Glen Johnstone, represents South Ribble at cricket. He is showing off his skills above watched by Sarah Moss, Belinda Bamber and Jenny Beesley, who all also represent South Ribble in various Lancashire competitions
Threatening clouds failed to dampen the enthusiasm of crowds who turned out to join in the fun of Kirkham Club Day. Almost 50 local firms and organisations took part in the event, including the boys and girls of Wesham Football Club who danced their way around the carnival route
Six jobless youngsters are right on cue with their fund-raising pool game. The six friends are playing for a marathon non-stop eight days to raise funds for their local youth club. Pictured, from left: Kevin Whittaker, Melvyn Whittaker, Paul Harrison, Steve Whittle, Mark Tierney and Les Fares, are all members of Ribbleton Youth Club
These boy scouts certainly have something to smile about. The lads of the 1st Newton and Clifton scout group have just received new camping equipment from the Kirkham and Rural Fylde Rotary Club. President Mr Mike Tomlinson presented the scouts with an eight-man tent, three smaller tents, and two cookers worth nearly £300. He said the club had raised £1,600 at a fund-raising motor bike event and wanted to help different groups of people with the money
An old secondary school re-born as two primary schools - one State-run and one church - has won the official seal of approval. And more than 200 enthusiastic and well-rehearsed youngsters joined together to celebrate the opening of one of the schools. Fishwick County Primary School, which took its first pupils in January 1979, has now reached its full quota of pupils. Joining in the service was chairman of the governors of the adjoining St Teresas RC primary school - which adjoins Fishwick County Primary
Publican Jack Croasdale has found a novel way of persuading his customers to leave at closing time. Just one stare from his deadly pet spider prompts even the bravest late drinker to make a hurried exit. The landlord of the Ship Inn, Bunker Street, Freckleton, has installed Albert the killer tarantula on the bar of his pub to lend a leg or two with business
Playtime has been saved for village children - thanks to local toy hunters. Less than a week after fire wrecked the Institute buildings at Warton, near Blackpool, mums have returned for toddler time. Villagers who heard of the plight of the playgroup collected old toys and games to enable the fun to continue
It might have been a cold, wet and miserable day, but the thousands who turned out to celebrate Lytham Club Day found plenty to smile about. Like Simon Connell and friends on the White Church float
A sea dog called Paddy was back on dry land after being rescued by a yachtsman. And the mischievous mongrel got a special welcome home hug from his owner, nine-year-old Diane Smith. Paddy was swept two miles out to sea when the tide cut off a sandbank at Fleetwood and was rescued by a passing yachtsman. Paddy is clearly glad to be back to home comforts with Diane at Mowbray Road, Fleetwood
A Christmas pantomime has led to the launch of a new junior drama club involving about 30 keen youngsters. So many children said they wanted to keep acting after the Broughton Club Players' Christmas panto that it has now set up an evening meeting for them. The group is working on basic movement, play and poetry reading, improvisation and mime
Tony Craven with sons, Andrew and Christopher, with co-driver Peter Dixon, all of Hoyle Lane, Cottam, Preston, in a 1921 Albert Allweather, took part in the Manchester to Blackpool veteran and vintage run. The event, organised by the Lancashire Automobile Club, is the largest road rally outside of the London to Brighton
Rod Boothroyd is a wine-maker based in Cleveleys