This is how Lancashire looked in 1978
A selection of your photographs from days gone by.
Thursday, 27th May 2021, 12:54 pm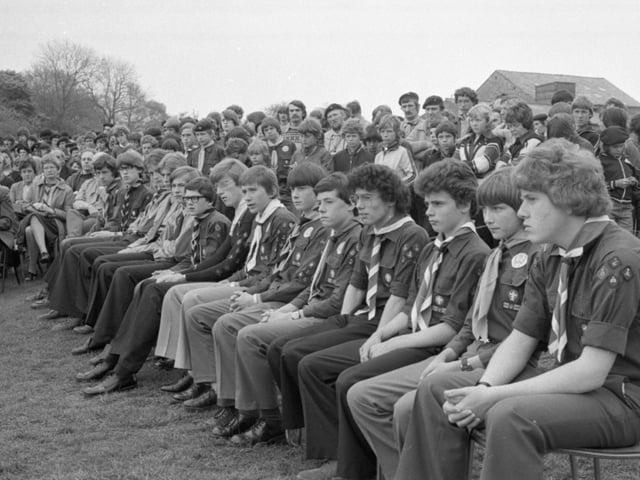 West Lancashire's top scouts line up for their big day - to be presented with their Chief Scout awards. Over 1,000 scouts packed the Waddecar County campsite in Clitheroe for the presentation by Mr David Hall, director of scout training at the headquarters training department, Gilwell Park
The Preston Under 15 schoolboys team which lost to West Lancs in the final of the Lancashire Schools FA Cup. Members of the team, pictured above, include: P Kenny, P Barlow, C Jones, M Wignall, N Richardson, G Humphries, V Blane, D Phillips, G Atkinson, A Thompson, S Farnworth, M Jackson, S White and P Whyton
Chancellor Denis Healey fired one of the first broadsides in the coming election campaign when he spoke at a rally of Post Office workers' conference delegates in Blackpool. He said the election would be the most important since the war. Pictured above delegates sit in rapt attention listening to his speech
When Josephine Bunkell takes her pet for a walk through the streets of Lytham, passers-by take a second look. For trotting along behind her on a lead is Sally the nanny goat! Sally was originally bought for her milk - needed in a special diet for artery trouble by Josephine's husband David. Now she has become one of the family
In the five years since the tragedy at Summerland, on the seafront at Douglas, on the Isle of Man, Mr Michael Joyce has spent much of his time making the new Summerland Europe's safest building. Mr Jones, partner in the Blackpool firm of architects MacKeith and Dickinsen, heads a six-man team that for the past three years has worked towards one goal - 100 per cent safety
The dust flew as Kirkham's Lord of the Manor took to battle against his old enemy - the local council. Elderly squire Eddie Sargeant armed himself with history books, old documents and parchments - unearthed from public records offices - to prove to the Commons Commissioner that his lordly title was authentic. And to prove that he was the rightful owner of the Fish Stones area of Kirkham
Pictured at the handing over ceremony of toys received through a collection organised by staff of Fulwood Leisure Centre, to Preston Royal Infirmary, are, left to right: staff members Mr Tommy Lonergon, Mr Paul Nichol and Mrs Ruth Duxbury; sector administrator at Preston Royal Infirmary, Mr SA Farrer (to rear of Mrs Duxbury); divisional director of social services, Preston, Mr Donald Pickering, and chairman of Preston's Leisure and Amenities committee, Coun Dennis Kehoe
Lostock Hall British Legion, winners of the Rothmans Ladies Darts League. Left to right: Eileen Chadwick, Barbara Cairns, Ellen Clayton, Vera Alty, Joanne Burke, Christine Ritchie, Jean Hesketh, Janice Alty and Jean McNally
Moor Nook County Primary School netball team, winners of the Preston Schools Tournament. Front, left to right: Pamela Till, Amanda Ashby, Tracy Jackson, Tracy Sherritt and Gillian Ward. Back: Mrs Christine Johnston, Maria Malley, Susan Crook, Tina Sharples and Wendy Tomlinson
Silence really was golden for children at Ashton High School in Preston. Almost 200 youngsters sat in absolute silence for more than an hour - and raised £100 for the NSPCC. Presenting the cheque to NSPCC regional organiser Mr Roland Foot, on behalf of the pupils is Beverley Ashcroft, watched by Christine Fox, Ian Small, Shuresh Patel, Ian Williams, Gaynor Whincup, Caroline Newton and Janice Kent, who represented their classes
Members of a choir assemble in Fulwood - recognise anyone?
A village councillor from the tiny parish of Newton-wth-Clifton, near Kirkham, staked a claim in the local history books when he became the first Mayor of Fylde from the rural areas. Retired poultry farmer Coun Jack Braithwaite took over the robes and chain at the annual mayor-making at the Fernlea Hotel, St Annes. Pictured: Mayor's attendant John Donellon adjusts the robes of new mayor Coun Braithwaite before his first speech. Looking on are (from left): Coun Mrs Mary Hall, chief executive Mr Roland Cork, and Coun George Bradley
Magician Paul Daniels gets ready for a new summer season at the North Pier, Blackpool, which also stars comic Marti Caine
The crowds turned out to see comic Ken Dodd tour Blackpool in an open-topped bus to draw fun-seekers to the resort's brand new £4.5m leisure complex - Coral Island, in the centre of the Golden Mile. Leading his way was a procession of horse-drawn landaus piled high with pretty girls, and a jazz band pounded a holiday beat
Veronica Merrifield makes merry with PC David Jackson on Emerson Road, as the Caribbean Carnival wended its way through the streets of Deepdale in Preston
The first troupe of dancers in Preston's Caribbean Carnival paid tribute to ancient Egypt and there was even a makeshift pyramid among the jogging pharaohs and Cleopatras