The unusual collectables niche of 'smokerama'
Our antiques expert Allan Blackburn looks at antiques connected with smoking...
Wednesday, 3rd March 2021, 3:45 pm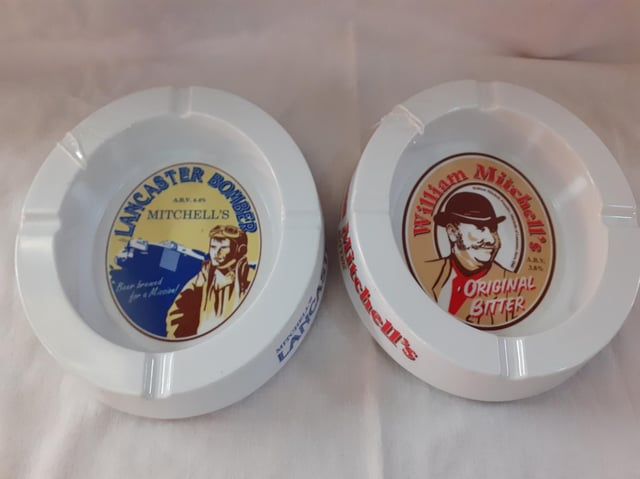 These ashtrays have a local connection but are quite common. They are two pounds each
We're into March, when sociologists say over 80% of our New Year resolutions will have fallen by the wayside! The good news is, any still going strong are likely to stick, so how are your good intentions holding up?
Giving up smoking is still a popular resolution, which lockdown may have tested! One way to enjoy the accoutrements of smoking while staying healthy is collecting satisfyingly-named 'smokerama'.
A fascinating subject covering centuries of British social history, it includes match strikers, ashtrays, vesta cases, cigarette cases, pocket and table lighters, pipes and pipe stands, tobacco tins, cigar collectables and a wide variety of advertising materials.
Previously seen as a market for older collectors, as the practice of smoking has declined in the last two decades, collectables from an age when smoking was seen as stylish and glamorous have increased in popularity, with prices rising fast.
Tobacco was first introduced to Britain over four hundred years ago.
By the 19th century, the 'gentle art of smoking' was a fashionable pastime for busy city gentlemen in their luxurious clubs.
Up until the 50s, it was even considered healthy, as seen in this almost unbelievable doctor-endorsed advertising poster!
Ashtrays are a popular entry point. With thousands produced for the pub trade to advertise products and events of the day, they are a good reminder of a time gone by, before the public smoking ban. These two have the added local interest of being from Mitchells of Lancaster and because, like many pub ashtrays, they are relatively common, they are just £2.
Many prestige designers produced lighters including Faberge and Cartier. Dunhill lighters, introduced in Britain in 1923 are regarded as the cream of the lighter crop, with early examples fetching thousands of pounds.
Zippo lighters remain among the most popular smokerama items today. Since 1955 each one has carried a date code; the age of more valuable pre '55 lighters can be identified by a number of features of the stamping.
Vintage cigarette packets have also soared in price, if pictorial and in good condition. 'Live' packets, with original cigarettes, command premium prices over empty packs, some reaching up to four figures.
Even e-cigarettes are expanding into innovative designs, so I'm sure there are already investors betting on them becoming collectable in the future. It's certainly better than seeing your money go up in smoke!