Chorley Pals: The poignant story of a bible from Croston which reconciled soldiers on opposite sides in World War One
Historian Stuart Clewlow recounts the tale of Lawrence Singleton and the gift he made to a German who cared for him in hospital
Sunday, 27th June 2021, 12:00 pm
Updated
Tuesday, 6th July 2021, 2:08 pm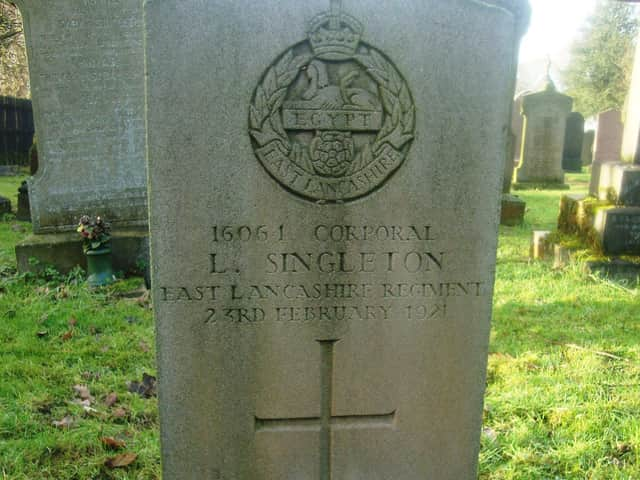 Lawrence Singleton's grave - picture courtesy of Stuart Clewlow
As the Chorley Guardian reflects on the 150 years since it published, we're telling the stories of people from our community who have touched peoples' lives.
At this time of the year stories resurface with regards to the Battle of the Somme (July 1st, 1916) and locally our thoughts tend to turn to the story of the Chorley Pals; a company from our borough who served in the 11th Battalion, East Lancashire Regiment.
Although the Chorley Pals have come to epitomise our local involvement in World War One, men and women from all across the borough and of course the country, were involved in many other regiments and organisations.
We're asking Chorley Guardian readers to nominate 150 stories with us as we mark our 150th anniversary
However, one interesting tale from one of our Chorley Pals is that of reconciliation.
Lawrence Singleton was born in Croston in 1898 and worked as a weaver.
Although underage, he enlisted into the Chorley 'Pals` (East Lancashire Regiment) in October 1914.
Before leaving the town to head off to war, Lawrence (who became a corporal) was presented with an Army Pocket Testament by the Bishop of Whalley, Dr Rawstorne.
Lawrence Singleton's Victory Medal from the Stuart Clewlow collection.
The little bible from Croston travelled with Lawrence through the trenches and remained amongst his possessions up to the point of him being wounded in action.
He was badly injured during the Allied advance in April 1918.
Having been taken to a hospital near La Basse, from April 11-14, Lawrence was cared for by Wilhelm Knorr of the 68th German Infantry Regiment.
Such was Lawrence's condition at the time that as a sign of gratitude for the care shown to him, he gave Wilhelm his little pocket testament which was gratefully accepted.
St Michael's Church in Croston - Picture courtesy of Stuart Clewlow
Fast forward to November 1935 and when members of the Royal British Legion from Brighton and District visited German ex-servicemen to exchange greetings,
Wilhelm Knorr gave up the testament, hoping it might find its way back to a relative of Lawrence.
Captain McCabe who was in charge of the visiting party, saw the inscription inside the cover and got in touch with the Bishop of Blackburn.
Dr Herbert, in turn, communicated with the Rector of Croston, the Rev R A Rawstorne, son of the Bishop of Whalley and so the testament eventually came back home.
As it happened Lawrence survived his wounds, presumably without Wilhelm knowing and in due course he was repatriated back to England.
Lawrence remained in the Army and transferred into the 3rd (Depot) Battalion of the East Lancashire Regiment.
However, sadly, having survived the wounds received on the battlefield, Lawrence died of sickness on February 23, 1921.
A poignant conclusion to the story is that Lawrence is buried in the churchyard of St Michael's Church in Croston, where he attended and received his treasured bible.
If you have a story you'd like to share as part of this Chorley 150 series, email [email protected]