Remembering Preston's favourite shops from the 1960s
With high streets up and down the land at a crossroads after lockdown, local historian Keith Johnson takes a look back at the changing face of Preston's shopping centre since the 1960s
Sunday, 13th September 2020, 7:00 am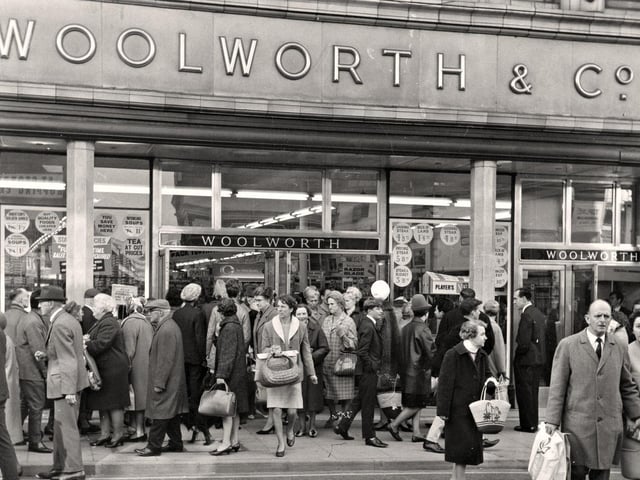 Christmas shopping at Woolworth
Preston town centre was a flourishing place 60 years ago with a wide variety of shops on the main streets.
It may be hard to imagine now, but Church Street was at the very heart of Preston's shopping trade. There were plenty of clothing and furnishing stores such as Johnson's, Darlington's, Middlebrook's and Coupe's for drapery, Starkies and Deacon's the men's outfitters, Sharp's and Swalbe's the ladies outfitters, Elsie King's the milliner's, the Northern Rainwear shop for the weather wise and Goobys the grandest of shops for trendy ladies until it was engulfed by flames in 1965.
Mark Williams and T C Rainford the butchers both had Church Street shops and there was Gleave the grocer, Cookson's and Sanders the confectioners, Willie Cunningham and Willie Forbes the ex PNE stars with their sports outfitters, Telehire was thriving with the latest black and white sets on display and the Universal Radio Store and Walter Swift were tuned in to local demand. It was Atkinson's for beds and jewellers, opticians, boot and shoe manufacturers, tobacconists and hairdressers all had premises.
Owen Owen, in Fishergate, in 1970
Fishergate has always been regarded by many as the leading shopping street in Preston. In 1891 Marks and Spencer's opened up their first store in Preston at 50 Fishergate, moving to 115 Fishergate at the end of the First World War and in 1929 moving to their current site on Fishergate.
A shopper from that era would barely recognise the premises which have been extended considerably down the years. In 1987 the company opened a satellite store in the new Fishergate Centre, but this was closed after six years as they decided to expand their Fishergate store on its first floor making it one of their biggest stores in the UK.
In the late 1920s there were only a few other large stores in Preston. The Co-op had their Central Stores on Ormskirk Road from 1926, Woolworth was open on Fishergate having transferred there in 1915 from original premises opened in 1911 in Glovers Court, while E H Booth's with their origins on Preston's Market Square had gradually extended their premises on Fishergate with quality goods on the ground floor and a cafe above.
In late December 2008 Fishergate waved goodbye to Woolworths as the popular store chain ceased a century of trading in Preston and the premises are now occupied by Next. E H Booths era on Fishergate ended in 1988, just four years after their cherished cafe closed. Nowadays the premises are home to the book sellers Waterstones.
When British Homes Stores ceased trading in 2016 it brought to an end 80 years of trading on the premises across Fishergate from Marks & Spencer. The premises, BHS modernised in 1936, had been occupied by local draper and home furnishing proprietor Alderman Frederick Matthews from 1900 when he took over the business of local draper William Gray, who had succeeded the Thorpe Brothers who traded from there back in 1840.
Another famous high street store to appear in Fishergate in 1937 was Owen Owen and in 1960, amid great fanfare, it was fully reopened after a major redevelopment, being transformed into a modern rustic brick and glass building.
Thirty years on it was taken over by the Lewis Group, but by 1992 it was announced Lewis's was to close and for a while the Preston store traded from the premises as did Tesco. Tessuti and JD Sports now share the space on Fishergate.
Boots is another familiar Fishergate store being extended more than 40 years ago as the New Cock Yard disappeared. In fact, Boots the Cash Chemist operated from No. 27 Fishergate back in 1898, being the pure drug company run by Jesse Boot, son of founder John Boot.
Queues for the Marks and Spencer sales in the 1990s
Then there was Lingards the men's outfitters, John Menzies on the corner of Miller Arcade, tobacconist House Of Bewley, Milletts who ended 50 years of trading on Fishergate in 1989.
And of course banks and building societies a plenty, many of them architectural gems a reminder of banking's prosperous days.
Mobile phone shops are now popular on Fishergate and back in 1880 by the side of Glovers Court the town's first Telephonic Exchange was opened by Mr Sharples. Since 1932 we have had a Bruccianni's providing ice cream and coffee. And these days they share the thoroughfare with the likes of Costa, Caffè Nero and Starbucks .
Friargate still remains an interesting place to wander, along the stretch to the Ringway is a modern almost traffic free thoroughfare. Cafes and burger bars mingle with clothes shops, opticians, travel agents and record sellers. While from the Ringway to the Fylde Road roundabout you can buy flowers, have your haircut, purchase a property, buy the latest hi fi, dine in a fashionable restaurant or even have your naval pierced. Not forgetting the two book stores of Halewood & Sons established back in 1867 where books galore record Preston's history.
Barbara Lillystone serves Sharon Wilkinson who was the last shopper at the Booths store in Fishergate 1988
While not forgetting the likes of Cavendish, Mears, Diane's, Melia's, Slingers, Bambers and PSD along Friargate the store most remembered is probably the C&A store built in 1961 on the site of the Royal Hippodrome which had closed in 1957. Nowadays it is a popular Wilko store following the demise of C&A in 2000.
Generations of Preston traders made Orchard Street a delight for shoppers down the decades. Forty years ago in 1980 those doing business, starting with No. 1, were Goodwins umbrella shop, the Provincial Building Society, the Yorkshire Bank, Thornleys the butchers, Athertons card shop, the Skipton Building Society, Victoria Wines store, Grandma Lee's bakery, Timpson's shoe shop, Clancys bakers, T C Rainford the butcher, Bambers cheese shop and Curtess Shoes on the left hand side from Friargate.
While on the other side of the street from the corner of Friargate it was with Foster's Menswear, followed by Wiggans bakers, the Bradford and Bingley Building Society, John Fane's off licence, Dewhurst the butchers, followed by another T C Rainford butcher's shop, Mark Williams butchers, the Bargain Basement store and finally the Sea Shell fishmongers. Cheapside which faces on to the Market Place has always had its share of high street names Burtons, the AA, Stead & Simpson, Barratts, Early Learning Centre and the Pizza Hut among the proprietors of 1988 along with Thomas Yates the jewellers of local fame.
Lancaster Road shopping probably had its heyday prior to the arrival of the Guild Hall in 1972 although a decade later the traders included Johnson's cleaners, the Tea Bar cafe, House Proud, Taylor's confectioners, Singers Army Stores, Pomfret the chemists, Its In The Bag, the Electra Centre and the popular Val Murray cosmetics store.
The Art Deco design Co-op store on Lancaster Road was also popular at that time as was their flagship store Lowthian House on Market Street opened in 1976, which is now a popular Iceland store as are their stores on Garstang Road and the Queen's Shopping Park.
When it comes to shopping centres Miller Arcade, built by the enterprising dentist Nathaniel Miller, was the forerunner in Preston when it opened in 1900. Those early traders included the Heath Brothers supplying tweed trousers, Bramwell the jewellers offering gold watches for £20, C H Sharp for dressing gowns and lingerie and Richardson the tailor selling made to measure suits for 35 shillings.
Christmas at BHS in Preston
Undoubtedly, the boldest move was the creation of St George's Shopping Centre in the very heart of town. It opened in November 1964 with many high street names occupying premises.
It had meant the demolition of the ancient passageway known as Bamber's Yard and among the warehouses had been familiar shops such as Boston's Cooked Meats, Thompson's confectioners, Riding's suppliers of provisions and Brewer's the grocers.
Not long afterwards St John's Shopping Centre was built with its location ideal for the new Tithebarn Street Bus Station with Fine Fare it's flagship store until closure in October 1983. In later years Kwik Save prospered there, followed by B & M Bargains until early 2020. Rediffusion, R S McColl, Bobby's and Sonia's ladieswear shops, Forshaw's flowers, H S Mosley, Dewhurst the butcher and Forshaw's and Kenyon's the bakers all trading there 40 years ago.
As the Guild Hall was constructed in 1972 we gained the Guild Hall Shopping Arcade. This flourished for a while and traders such as Laskys, Mister Jones, Baroness, Dan Kerr, Discount Sleep Centre, Stour Leather and Libra ladies outfitters all linger in many minds as does the former Morrison's store within. Nowadays the arcade faces an uncertain future after recent ownership troubles.
In 1986 work began on the Fishergate Centre which attracted many folk to that previously neglected side of town, while the increased competition forced the St George's Shopping Centre to have a modern upgrade suitable for the Mall visitors.
For a number of years Tesco had a flourishing store on Church Street and in 1994 they returned to the city with a short lived Tesco Metro store on Fishergate. They have now returned to city trading with Tesco Express stores, on Church Street and on Friargate.
Kwik Save, in Tithebarn Street