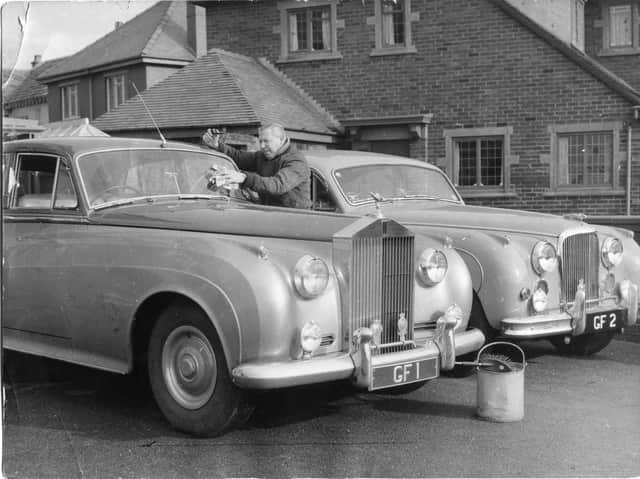 George Formby with his personalised Rolls Royce cars at his home
As life panned out it was a hectic last few months for George Formby, writes local historian Keith Johnson
On Christmas Day 1960 his wife Beryl, who had been his constant companion for more than 36 years, died aged 59.
She had been suffering from ill health for more than three years and had been seriously ill for four months.
George Formby, who started life as a jockey, and his wife Beryl at a charity horse race in 1938
Formby was appearing in the pantomime Aladdin in Bristol and hearing of her worsening condition drove through the night to be at her bedside.
Unfortunately, by the time he reached their home, named 'Beryldene' on the promenade at Fairhaven, near Lytham, she had passed away an hour earlier.
Born in Wigan in 1904 George Formby was a stable boy from an early age at a horse racing stable in Middleham, Yorkshire, where he became an apprentice jockey.
That career path halted as he gained weight and after the death of his father George Formby Snr, a favourite Lancashire music hall star, in February 1921 he took the path on to the stage.
Initially, not wanting to make his way on the back of his father's popularity he used the stage name George Hoy and having learned his father's songs as a boy while playing his mouth organ he soon became popular.
It took him just over a year to gain top of the bill status at the Burnley Palace Theatre and at that point he took up the stage name George Formby.
A chance meeting with a Beryl Ingham followed and they soon became inseparable, as did the ukulele he bought for 50 shillings from a friend.
He had appeared at the Empire Theatre in Preston in December 1921 as George Hoy supporting local music hall stars and he was welcomed at the Royal Hippodrome in 1924 where he was billed as a 'Chip Off The Old Block'.
George Formby and his fiancee Pat Howson
Although that tag would soon disappear as, with the help of Beryl who he married in September 1924, he created his own brand of comedy and a refreshing musical talent developed.
His film career began a decade later with 'Boots! Boots! and his lovable screen character led to such films as 'No Limits', 'Love On The Dole', 'The Window Cleaner' and 'Keep Fit'.
Cinema audiences flocked to his films and the thrills of a horse racing jockey and a daredevil motorcyclist were among the highlights.
In 1941 he was at Horrockses Stanley Street Mill to film some scenes for his forthcoming film ' Turned Out Nice again'.
George Formby died on March 6, 1961
The popularity of his films in Preston was reflected in February 1939 when both the Ritz and the Palladium screened his latest blockbuster It's In The Air' at the same time.
In fact for six successive years he headed the British film box office popularity poll and his last film was 'George In Civvy Street' made in 1946. During the war years he had refused many lucrative film contracts, including one from Hollywood, in order to entertain the troops.
After the war he had a number of health problems, although he did periodically appear in pantomimes, stage shows and television spectaculars and in the summer of 1960 he spent the season at the Queens Theatre in Blackpool starring in 'The Time Of Your Life'.
After the death of Beryl he was clearly distraught and although he returned to the pantomime in Bristol he was soon forced to retire from it with coronary problems.
He did, however, get local tongues wagging in mid-February 1961 when he announced his engagement to Pat Howson, of Penwortham, 36, a school teacher at St Wilfrid's School in Preston.
It was revealed Miss Howson had known the comedian for a number of years through her father's dealings with him as motor car salesman.
In fact, one of Formby's trappings of fame was his Rolls Royce cars which he upgraded every year with their familiar GF1 registration plate. Unfortunately, within days he suffered a severe coronary thrombosis and was taken to St Joseph's Hospital in Mount Street, Preston.
Miss Howson visited him daily for the next fortnight and he appeared to be on the mend, so much so that he had asked his fiancee to buy a wedding ring so they could be married on his release from hospital.
Although he appeared to be recovering, and that familiar cheeky grin had returned to his face, he suffered a relapse and died on March 6, 1961, shortly after Miss Howson had visited him.
The couple' had plans of moving into a fully furnished mansion in Lea to start their married life when he died.
His funeral attracted huge crowds and 1,000s lined the route on his journey to Warrington Cemetery and the family grave.
There were a number of public remembrance services held for the comedian across Lancashire, and Preston held one at St Wilfrid's Church with a Requiem Mass attended by 250.
Among the mourners were his fiancee, along with Mother Ignatius and Sister Winefride who had nursed him at the nearby St Joseph's Hospital during his final days.
A week later the Post reported the comedian had left the bulk of his fortune, estimated at £150,000, to Miss Howson, with bequests to his mother and to his valet Harry Scott, who would receive £5,000.
The estate included his home at Fairhaven, a yacht called Lady Beryl and a Georgian mansion at Lea.
The will was contested by the Formby family and had never been fully resolved when Pat Howson died a decade later of cancer.
At a public auction held in June 1961 George Formby's Fairhaven home was sold for £9,000 and there was much interest in his six ukuleles and 12 banjoleles, which sold for more than £700.
Among the bidders was chart topping singer and song writer Lonnie Donegan who was appearing in a Blackpool summer show.