Preston's art treasure put under lock and key
Not since the Second World War, when art treasure in Lancashire was locked away for safe keeping have we been faced with a prolonged period of not being able to view those treasured items within county's museums and art galleries
Monday, 13th April 2020, 5:00 pm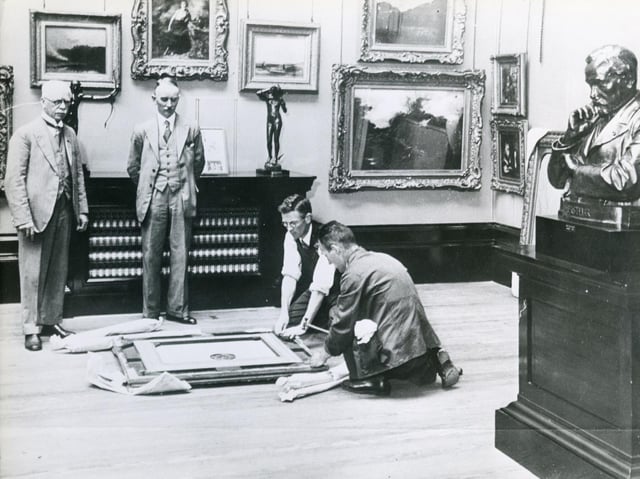 Artwork being taken to places of safety from Preston Art Gallery a few days before the outbreak of the Second World War, looking on are Coun J Harrison, chairman of the free public library committee, and Sydney Paviere, gallery curator
In Preston we have often taken for granted the ability to wander and wonder among the collections and exhibitions of art work and memorabilia, writes local historian Keith Johnson.
The Harris Library, Museum and Art Gallery in the market square has been a great source of local pride ever the landmark building was officially opened in late October 1893.
In the 20th century many of the treasures of the Harris were extended thanks in particular to one man Sydney H. Paviere (pictured inset) who was a well known figure in the Harris Museum and Art Gallery from 1926 until his retirement in 1959 from his role as curator and art director.
Harris Art Director Sydney Paviere pictured in 1927
He was previously in the employ of Lord Leverhulme overseeing his private collection until his death in 1925.
Before Paviere arrived the Harris had already got a fine art collection thanks partly to the Richard Newsham bequest of oil paintings and water colours by 19th century artists.
Paviere went about displaying both the art works and other collections in a more favourable manner.
The first artwork he purchased on behalf of the Harris in 1927 was George Spencer Watson's controversial painting 'Nude' which did raise a few eyebrows, but attracted visitors aplenty to the Harris.
George Spencer Watsons controversial painting Nude
He ensured that local artists had an opportunity to display their work and exhibitions became commonplace. He was particularly interested in researching into artists of the past with local connections and especially the Devis family of painters. Through his efforts valuable paintings and sketches attributed to the Devis artists were purchased. Some of the now valuable watercolours by Anthony Devis costing less than £1 when he purchased them for the Harris.
In late April 1939 an understandably topical at the time painting entitled 'Why War?' by the artist Charles Spencelayh was purchased for £315 and it remains on display today.
Although, as war raged that painting and many other valuable works of art were packed up and hidden securely away until peace was restored.
In the post war years Sydney Paviere visited many an exhibition to uncover paintings worthy of adding to the Harris collection. The princely sum of £1,000 was paid in 1944 for the much loved painting of the artist Sir James Gunn's wife called 'Pauline in the Yellow Dress' – a purchase he regarded as his finest and within three months of being displayed it had attracted more than 100,000 visitors to the city centre gallery.
Chloe the child with the red balloon - by Pandora Moore
In 1945 his was one of the voices campaigning for a better deal for museum workers at the Museum Associations annual conference, remarking that museum directors earned £500 annually while corporation officials earned £1,200 each year, with a museum technical assistant earning less than a road sweeper.
By 1950 he felt he had reorganised the art gallery and museum to his liking with the works of art on the second floor and the museum on the first floor. It was due to his inspiration that the finest collection of Victoriana in Britain was built up at the Harris, which he started with a rare collection of glass to which he added a wealth of pottery and porcelain, followed by costumes, dolls, toys and games.
In 1954 the painting 'Chloe' – the child with the red balloon - by Miss Pandora Moore was purchased for 100 guineas and crowds also flocked to see that. In 1959 Mr Paviere and his purchases were in the headlines again with two new pictures to display. It was announced that for £2,000 a portrait in oils called 'Dorelia' by Augustus E John had been purchased and for just £250 a controversial painting of the 'Crucifixion' by Carol Wright had also been obtained.
For a couple of years after his retirement from the Harris in 1959 Mr Paviere held the position of honorary curator at Rufford Old Hall. He died in 1971 leaving the town a precious legacy of fine pieces of art which remain much loved today.
Tulketh Hall by Anthony Devis
These days the annual Harris Open Art Exhibition instigated by Paviere in his time attracts hundreds of entries, reflecting the enduring popularity of painting by local artists.
It is thanks to the likes of Mr Paviere and those that have followed in his role that the artists of Preston have been encouraged and there are many notables as the annual Harris art exhibition shows.
The following local artists all born in Victorian days are among those who left a cherished legacy on the city's art scene.
James Brindle (1893 - 1977)
Despite being deaf and dumb carved out a career in the art world. He was a founding member of the Preston Arts Society in 1924 and he developed his techniques at the Harris Institute.
After working in a cotton mill until he was 37 he spent upwards of 20 years working as a poster artist and later he developed a passion for marine, coastal and river scenes, often travelling the country for the right locations.
Unloading the Banana Cargo at Preston Dock by James Brindle
He painted many local scenes including an outstanding scene on Preston Docks as a cargo of bananas was unloaded. In tribute to his memory an exhibition of his work was held in the Harris Art Gallery shortly after his death.
Ted Robinson (1896 - 1985)
Robinson was another member of the Preston Arts Society who eventually in 1976 had his own one man exhibition in the Harris Art Gallery.
One of his most treasured works is the almost life size portrait of football great Sir Tom Finney in his prime completed in 1951 that is on display to this day.
He produced many portraits that have become family treasures, including one of the last Chief Constable of Preston Frank Richardson all created in his Bernard Studios on Cheapside.
John Anthony Park (1880 - 1962)
Park was another Preston born artist who began his working life in a cotton mill.
His painting of fellow Prestonian adventurer Alfred Aloysuis Smith in the late 1920s is a fine example of his talent and was bought by the Harris for just £15 in 1931.
His talent took him to many countries and his works were appreciated around the world. Snowfall scenes in St Ives, on Exmoor and in Essex gained much acclaim and harbours, rivers, ships and boats were painted with great skill.
A self portrait from 1935 is among the treasures of the Harris. He returned to live in Deepdale in 1959 after 50 years of globe trotting.
Mayor was another artist whose talent was recognised both locally and nationally. Born in Preston she was a notable dancer in her younger days, a talented musician and a painter who developed her skills in the art circles of France.
She delighted all with her portrait paintings of people of her time including stunning likenesses of herself.
During the war years she fund raised for refugees and the Red Cross and held exhibitions of her portraits, landscapes and flowers at her Grosvenor Place, Ashton home to raise cash.
Often exhibiting in the Harris Art Gallery she was honoured by the Grundy Art Gallery in 1959 when they held an exhibition of her works. The Harris is one of many art galleries that purchased her works.