Preston rugby player, 23, collapsed and died from 'natural causes'
Local historian Keith Johnson looks back at the tragic case of a young rugby player who collpased and died during a match.
Thursday, 8th April 2021, 7:00 am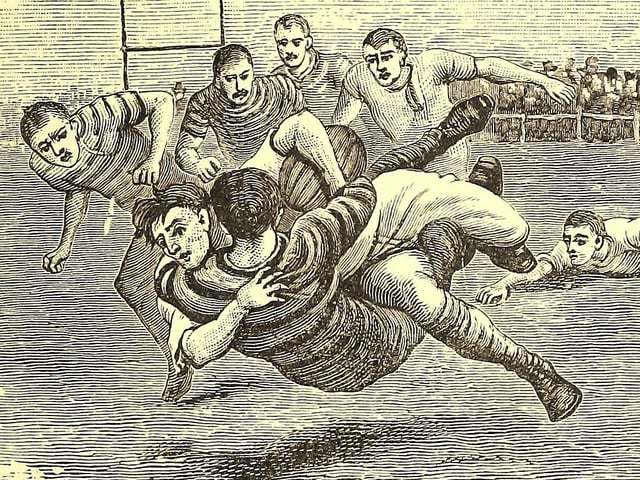 There was plenty of rough and tumble in the early days of rugby
The Preston Rovers rugby union club had became well established during the 1870s and they had quite a following when they appeared on their home turf, adjacent to the Bridge Inn at Penwortham.
At the beginning of November 1877 the club journeyed to Pleasington to play the Blackburn Rovers rugby team. Amongst the Preston side that day were Charles Nicholl, an engineer, and Henry Smith a shipwright, who had travelled together from Preston on the 2 o'clock train.
With little time to spare they headed to the nearby Butlers Arms where they joined their team mates and changed into their kit. Smith who had had no refreshments taking the opportunity to drink a pint of beer before heading for the nearby playing field. Quite a crowd had gathered at the cricket ground as the match kicked off at 3 o'clock in the afternoon.
Blackburn had the upper hand in the early stages and recorded the first try a couple of minutes before tragedy was about to strike. With play at the other end of the pitch Charles Nicholl noticed Smith fall to the ground, firstly on his knees and then on his face. He immediately ran to his aid and turned him over, thinking he was having a fit. He then sent for some brandy and gave him some, which he gurgled in his throat. With the help of others Smith was taken to the inn, appearing to have had a attack of apoplexy. With great concern for the well being of the player the match was immediately abandoned.
He was obviously in a serious condition with his neck quite blue after the fall and Dr. Cameron of Witton was fetched as quickly as possible. Unfortunately, by the time he arrived Smith had died.
On the following Monday afternoon an Inquest was held at the Butlers Arms before Coroner Henry Unsworth Hargreaves into the sudden death of Henry Smith, aged 23.
The hearing called various witnesses including Charles Nicholl who stated that he had never seen the deceased look better or appear livelier than recently. Although Smith's mother had told him that a few days earlier he had complained of pains in his stomach, and that three months earlier he had complained of pains down his left side, but had not considered it serious enough to visit a doctor.
According to Dr. Cameron there were no marks of violence on the body, although there was a discolouration from the right eye, extending round the neck and down the side.
It was confirmed by a number of players that in the few minutes that play occurred Smith was not involved in any scrimmage or any jostling, only a couple of runs in pursuit of the ball.
After a briefing from the coroner the jury had a short deliberation. When they returned they brought in a verdict of 'Death from natural causes'.
Rugby was gaining a reputation as a rough and tumble sport so there was some relief amongst club officials that violence had not contributed to the untimely death.
The following Saturday the Preston Rovers returned to action away to Fairfield in Liverpool where the gained a resounding victory in memory of their fallen team-mate.
Certainly, rugby was becoming well established at that period and amongst Preston Rovers fixtures later in the season was a clash with Preston North End at the Deepdale enclosure. At that time PNE, who had formed as a cricket club in 1863, had yet to take up Association Football.
The two teams enjoyed a bruising tussle with North End claiming victory after running in three tries to their opponents one. As for Preston Grasshoppers rugby union club, established in 1869, they were becoming a formidable force amongst the growing number of northern clubs.