Life and times of Red Rum in Lancashire 25 years on
October 18 marks the 25th anniversary of the death of arguably the greatest racehorse of all time. Mike Hill dips into the archives to remember Red Rum
Sunday, 18th October 2020, 7:00 am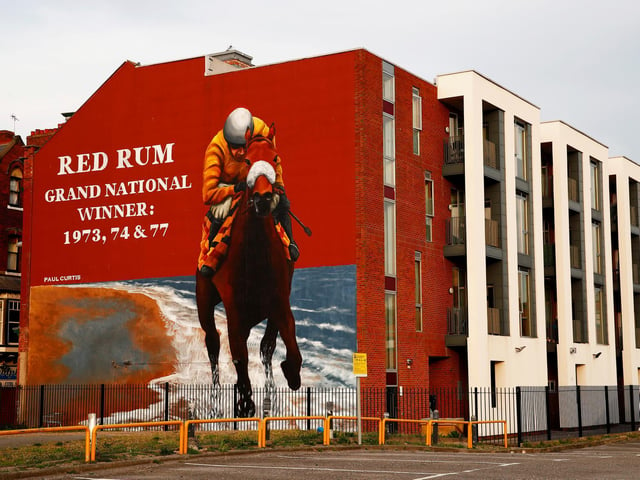 A mural on Southport Promenade of Red Rum, the horse made famous after winning the Grand National on three occasions
There has never been a racehorse who has captured the nation's hearts quite like Red Rum.
Still the only horse to win the Grand National three times, the thoroughbred became a household name for his exploits on the racetrack.
Stabled in a Southport back street, Red Rum was a familiar sight training on the resort's famous golden sands. Between 1973 and 1977 he won the Grand National three times, finishing runner-up on the other two occasions.
Red Rum unveils a statue at Southport Theatre in 1979
Such was Red Rum's fame, when his retirement was announced in 1978 it was the lead story on that night's BBC news and made the front page of the following morning's newspapers.
By that time the steeplechaser had earned celebrity status and continued to make regular television and public appearances.
He became the first animal to switch on Blackpool illuminations in 1977, and helped open countless supermarkets, bookmakers, summer fetes and other events always drawing a crowd.
Red Rum died on October 18, 1995, aged 30, and he was buried at the winning post of the Aintree Racecourse.
Red Rum switches on Blackpool illuminations in 1977 with jockey Tommy Stack
Red Rum switches on Blackpool illuminations in 1977 with jockey Tommy Stack
Red Rum meets the crowds at the covered market in Preston in 1977
Crowds gather as Red Rum opens the Steeplechase ride at Blackpool Pleasure Beach in 1977
Red Rum meets the crowds at the covered market in Preston in 1977
Red Rum at the covered market in Preston in 1977
Red Rum meets the crowds at the covered market in Preston in 1977
Red Rum inspects the Steeplechase ride at Blackpool Pleasure Beach in 1977
Red Rum with trainer Ginger McCain at his stables at Southport
Red Rum on Southport Sands
Red Rum at a bookmakers in Bamber Bridge in 1981
Red Rum training on Southport beach Photo: Allsport UK/ALLSPORT