Lancaster collector's 'time capsule' jewelled casket covered with autographs of famous people including Walt Disney is up for auction
A jewelled casket covered in a time capsule of autographs of famous people from the 1930s owned by a collector from Lancaster is up for auction through 1818 Auctioneers.
Friday, 6th November 2020, 3:04 pm
Updated
Friday, 6th November 2020, 3:08 pm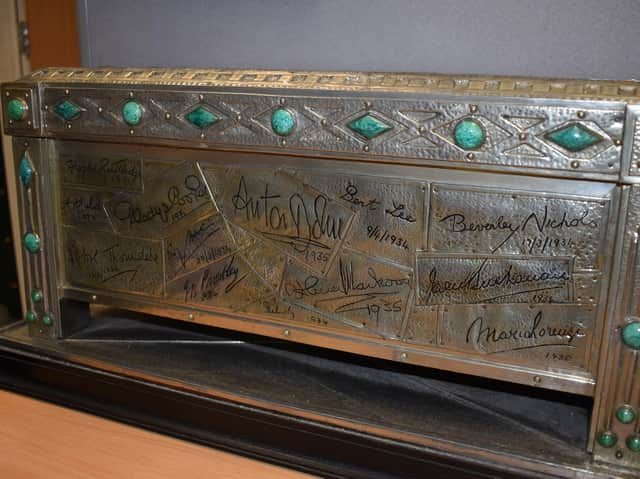 Up for auction at 1818 Auctioneers, a jewelled casket covered in a time capsule of famous people from the 1930s.
It belonged to autograph hunter, Miss Nellie Hartley who lived at 43 King Street in the centre of Lancaster. It is expected to make over £300 at a timed online auction which went live on November 5 until Sunday November 22.
Nellie Hartley wrote to dozens of well-known people asking for their autograph, from global and local celebrities to lords, ladies and prime ministers.
Unusually she requested they signed an enclosed pewter tag which was then engraved and attached to the outside of a large table top casket measuring 52cm by 58cms.
Up for auction is a jewelled casket covered in signatures including that of the Prime Minister Neville Chamberlain dated 1936.
When there was no space left on the outside of the box, she had the tags mounted on wooden panels that slot inside the box.
The box also contains approximately 30 letters from people who sent a note with their signed pewter label.
Decorated with green hard stones, auctioneer and valuer Bill Nelson said the handsome box is in an Art Deco come Arts and Crafts style.
Amongst the 92 plus signatures, is Sir Malcolm Campbell's, the great speed ace of the 1920s and 1930s, Bing Crosby's, one of America's most popular entertainers of all time and Walt Disney, the famous American motion picture and television producer and showman.
Jewelled casket for auction through 1818 Auctioneers. Walt Disney's signature on a pewter label, dated 1934.
There are also the signatures of Dame Sybil Thorndike, an outstanding figure in British theatre at the time, as well as the then Prime Minister Neville Chamberlain and politician Lloyd George.
Bill Nelson explains the attraction of autograph hunting, and says:
"By the beginning of the nineteenth century signature collecting had become very popular. We don't know what inspired Nellie but we know that she wrote to lots of people, and the box includes many of their responses, including praise for her idea of an autograph casket. I think she had a lot of fun and came up with an attention-grabbing way to display them.
"It's very hard to value something as unique as this. We expect it to make between £300 and £500 at our timed online Antiques, Vintage & Collectables Auction which is live now until Sunday November 22.
"Collecting autographs is a way of feeling close to a special person or event, and a great way to record history from a certain time. In Nellie's case, the glamour of the inter-war years," added Bill.
For more information about the autograph covered casket, please visit https://www.1818auctioneers.co.uk/ or call 05395 66201.