Lancaster author's words endorsed by forces sweetheart Dame Vera Lynn
Writer Jenny Martin was born in Lancaster in 1938.
Thursday, 9th July 2020, 12:34 pm
Updated
Thursday, 9th July 2020, 12:38 pm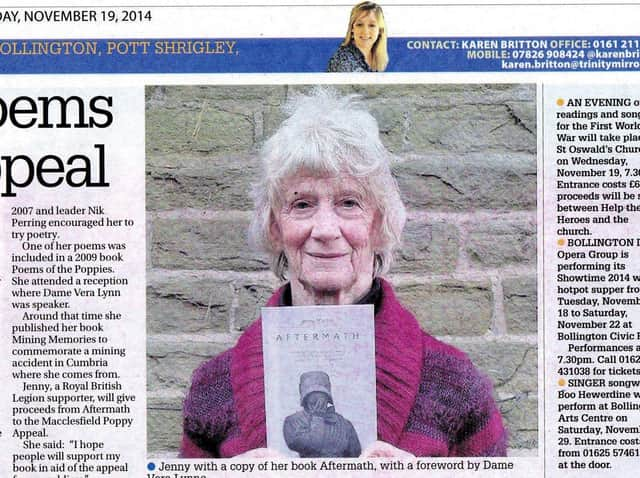 Jenny Martin has been featured in a newspaper talking about her book of poems.
She lived on Park Avenue and stayed throughout the school holidays with her aunt in Windermere while her father served in the British Liberation Army and her mother went out to work to pay the bills.
More than 60 years on, Jenny's poem, 'Brief Encounter', merited inclusion in the poetry anthology, Poems of the Poppies, published 2010 by SilverWood Books to raise funds for the charity FLOW for All which helps those affected by war.
It earned her a seat at the table three places from Dame Vera at the launch in the Grand Hotel, Brighton.
The front cover of Jenny's collection of poems and short stories, with a foreword by Dame Vera Lynn.
Jenny's inspiration for the poem was her memories on the journeys between Lancaster and Windermere and of the famous Carnforth station tea ladies who patrolled the platform handing jam jars of tea to the soldiers wishing them 'Good luck. Safe return'.
Her father received one on his way to a Normandy beach in 1944. He got back. But Jenny's mindset remained that of an abandoned small child who had survived the war on 'half a parent'.
Then in 2000, on a visit to the Western Front and the Normandy beaches, she was jolted out of it by sad remembrance tokens - like the card attached to a little bunch of wilted flowers: 'Dear Daddy I loved you so'.
She set about raising funds for the British Legion with, among other things, several booklets and two SilverWood books: 'Aftermath, a poetry and short stories collection to mark the centenary of the start of World War 1', and 'In Our Fathers' Footsteps', a biography based on her and husband Paul's experience of war to mark the centenary of the end of the First World War.
Forces sweetheart Dame Vera Lynn poses for photographs in central London. Photo: SHAUN CURRY/AFP via Getty Images).
Jenny will always be proud of Dame Vera's lovely foreword to Aftermath .
By way of thanks, Jenny sent her a copy of In Our Fathers' Footsteps.
She received a warm letter of appreciation from Dame Vera who, as Jenny learned from a Burma veteran via his son at the book launch, was there for the troops: 'Home doesn't seem so far away now. '
Jenny points out that her microcosm of Dame Vera's great achievements was a team effort: author Nik Perring; Bollington Library Writing Group leader, for persuading Jenny to try writing poetry and editing her books; former chairman of the British Legion's Macclesfield branch, Len Johnson, now in his nineties, who persuaded her to ask Dame Vera for a foreword to Aftermath because 'I know she'll do it'; Helen Hart of SilverWood Books for the opportunity to meet Dame Vera and publishing the books with such beautiful covers and above all, Dame Vera herself .
Brief Encounter by Jenny Martin
Your Daddy's off to his training,
there's a war on, you must not cry,
they said when he left on a troop train.
Training-war-train-do-not-cry
baffled my three-year-old mind.
Three years with a few brief encounters
when he returned home on leave
shrouded in battle dress khaki
apart from his boots. They were black
like Lancaster's soot-soiled stonework,
sky split by searchlights at night,
sleep nightmared by air-raids and sirens.
Morecambe Bay's radiant sunsets
On our brief encounter before D-Day
near calm Windermere Lake
evening's candle- and lamp-light
We left Windermere station together
but my father would stay on the train
on his way to a Normandy beach.
At Lancaster we would leave him: life's colours
Before then the train stopped at Carnforth
where tea ladies sought out the soldiers.
With a smile one handed my father
a jam jar of golden brown tea.
Good luck, safe return, she wished him: dead colours revived in my mind.
Carnforth tea ladies long departed.
Who cares today for our soldiers? Or their families' once living colours greyed-out in their minds?