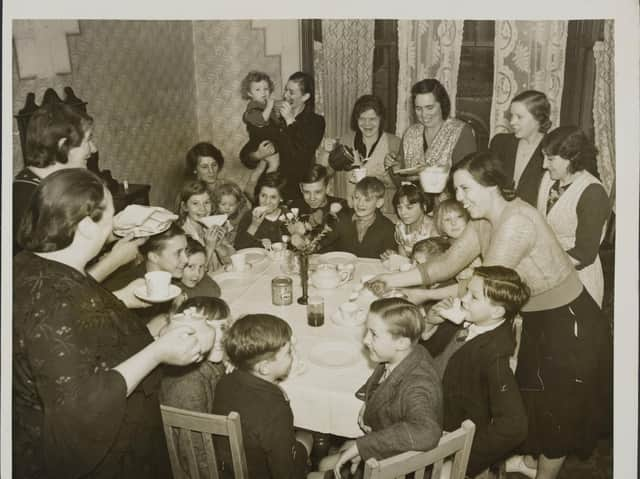 Mothers and children who were evacuated to Blackpool. Photo: Getty Images
Many people found sanctuary in Britain when Hitler began his invasion of neighbouring countries in World War II.
People were evacuated from the war torn regions and many found themselves on British shores, including refugees from Belgium and Holland - some of whom ended up in Lancashire.
The refugees, who included a six-month-old baby and an 86-year-old grandmother, had been bombed and machine gunned during their escape across the Channel in a small trawler - the first of several Belgian vessels to arrive in Fleetwood.
An evacuee plays on the sand at Blackpool in 1940. Photo: Getty Images
Seventy eight men, women and children were taken to Preston Prison, not for wrong doing of course, but for immediate shelter.
One of the women who helped to find them accommodation in the town was Lillian Margerison, of Hothersall, Longridge.
At that time Miss Margerison was deputy county organiser of the Women's Voluntary Services.
In an interview with the Lancashire Post in the 1980s she recalled: "We had been informed that they were coming, but their actual arrival was sudden.
"We took them into the empty prison and accommodated them in the infamous B-block.
"There were so many refugees that it took us some time to get them sorted out.
"I remember one old granny who had brought many of her possessions and refused to be parted from them."
Many of these refugees were fisherfolk. There was insufficient accommodation for them in Fleetwood, so they were sent to Preston where the Mayor, Alderman Walter Morris, welcomed them at the railway station.
About 300 more Belgian refugees arrived in Preston a few days later.
Later they were billeted in the new semi-detached houses which ad been built but never previously occupied in the Gaythorn Avenue area off New Hall Lane.
Throughout the war the Belgian men folk helped the war effort by trawling from Fleetwood and several experienced close encounters with German U-boats.
A Belgian school was set up for pupils to continue their education despite being so far from home.
Some of the Belgians sheltering in Lancashire died during the war and were buried in a special plot in Preston Cemetery.
At one time there was a Belgian meat shop in Church Street which sold horse flesh to the refugees - a regular part of their diet.
Across the summer 1945 the Belgian refugees started to head back home with the war in Europe over.
On August 10, 1945 the first party of 250 left by train from Preston railway station with a further 200 following the week after.
Mr E. Goddyn, the group's liaison officer and interpreter, arrived in Preston with his son Andre who, at 15, earned the distinction of being the first foreign boy to win a scholarship in Britain
Mr Goddyn said: "We are very grateful, especially to the authorities for finding us accommodation, and to the people who have treated us so kindly.
"We take with us some very pleasant memories."