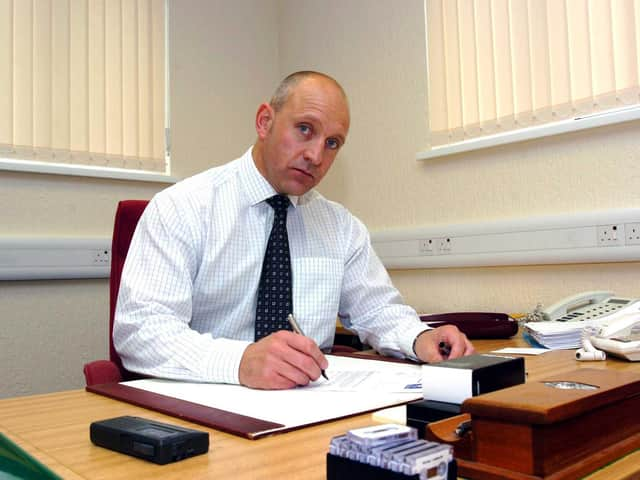 New governor of HMP Kirkham Steve Lawrence
Kirkham prison fights back after Corry jibe
A prison mocked on Britain's top television show as the "Kirkham Intercontinental" is fighting back.
HMP Kirkham was hit with the jibe amid a storyline in Coronation Street about the ease of escaping from the open prison. Official figures on the number of absconders have done little to alter its image ever since.
A horse called... Garstang
However, new statistics released by the Home Office show in the last year bosses at the prison have cut the number of those escaping from 219 to 138.
But, despite the drop, the category D open prison still tops the charts for the number of prisoners absconding over the past six years with 1,044 criminals having gone on the run.
Much of the recent success has been put down to new governor Steve Lawrence, who has brought in a tighter programme to stop offenders stepping out of line.
Fylde MP Michael Jack welcomed the fall in this year's statistics. He said: "I would suggest the problem of absconders is now being tackled."
Paul Goggins, the Prisons Minister, highlighted the fact Kirkham now had a detailed strategy.
Jailbreak prisoner's stop for refreshments
Breaking out of jail proved thirsty and hungry work for prisoner Jonathan Phoenix.
The 28-year-old fugitive took refuge in a house and helped himself to a box of chocolates, a drink of juice and a pair of running shoes.
But his break for refreshments proved his downfall, because DNA from saliva left on the juice bottle linked Phoenix to the crime.
Phoenix, 28, of Wrexham, North Wales, pleaded guilty to burgling a house in Preston Street, Kirkham.
Wendy Lloyd, prosecuting, said that on October 5 last year Sarah Holland locked up her home and went to work. When she returned she noticed her bedroom window had been forced and the patio doors were open.
Phoenix had absconded from Kirkham Prison where he was serving a sentence for burglary.
Blackpool magistrates committed him for sentence at Preston Crown Court.
Racing enthusiasts in Garstang will soon be able to follow a horse named after the quiet market town.
Garstang, a two-year-old colt by Atraf out of Approved Quality, is in training with Bobby Elliott at South Moss Racing Stables in Formby - and connections have high hopes for him in the coming flat season.
Garstang has been showing up well on the gallops and has been pencilled in to make his racecourse debut in the first two-year-old race of the year.
The race in question is a Class One event, the £20,000 Bet Direct 'Red To Bet' on ITV Juvenile Conditions Stakes over five furlongs at Lingfield Park.
Eddie (his stable name) was born and bred at Barnacre - three miles from Garstang - by local owner and breeder Stella Barclay.
And if you missed the picture highlights from 2004 you can catch up here