Lancashire nostalgia in 2004: Friargate balls; Lanky sex appeal; and Liam Gallagher look-a-like
Here's a look at some of the stories that were making the headlines back in 2004:
Thursday, 18th March 2021, 10:05 am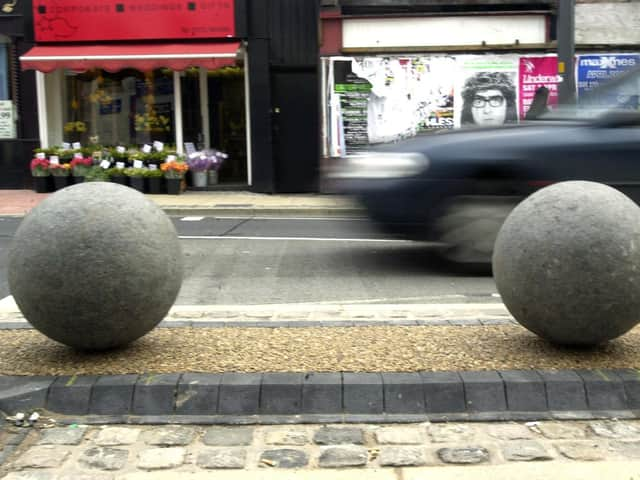 The people of Preston are not bowled over by the new Friargate balls
Friargate balls get a big thumbs down
Goodness, gracious - great balls of...stone?
The new look for Preston's city centre Friargate has been unveiled for the first time.
Lancashire lad Paul Crone thinks there's nothing saucier than a Lanky twang
Shoppers were bowled over to find the spherical objects lining the streets of Preston as part of a scheme to give the area a makeover.
The artistic stones, which line the pavements leading on to the roundabout with Fylde Road, are designed to prevent people parking on the pavement and act as a decorative feature.
Work has been carried out on Friargate as part of a £500,000 revamp.
Just days after their installation, passers-by and stragglers from nearby pubs have already been spotted trying to move them, putting cones on top and trying to jump from one to another.
Oasis tribute band Whatever who are looking for their Liam Gallagher
Paul Morris, assistant director (infrastructure) from Preston City Council, said: "This is an important scheme. We are trying to improve the area."
Peter Baker, 22, Manager of First Direct Computers, Friargate, said: "I think it is fairly ridiculous. They just look odd, I have seen people jumping from one to another and can imagine after a night out this will be done quite a bit."
Lancashire lilt a turn-off when it comes to sexy phone voices
Apparently the nation is left cold when it hears the dulcet tones of Lancashire come over the telephone wires.
The Red Rose twang scored a miserable ninth in a new nationwide poll to find the sexiest phone voice. Only Liverpudlian voices proved less attractive.
Even the brash Cockney brogue and rough Glaswegians accent thrashed the Lancashire lilt in the sexiness stakes.
But the county's celebrities believe there is nowt wrong with the Red Rose dialect when it comes to wowing the opposite sex.
As supermarket boss Reg Holdsworth, Chorley's former Coronation street star Ken Morley cut a swathe through the women of Weatherfield so he should know sexy when he sees it.
He says: "The Lancashire accent hasn't had any detrimental effect on the locals because they are still fornicating with each other at an alarming rate.
"So either the dialect doesn't bother them or they must never speak to each other!"
Granada TV presenter Paul Crone says: "Quite frankly, there's nothing saucier than a woman with a Lancashire twang on the end of a phone line. That floats my boat any day of the week."
O brother, where art thou, is Mick's lament
Someday they will find him... that's the dream of a Preston-based tribute band of Oasis lovers who are looking for their very own Liam Gallagher.
The group, called Whatever, after a song by their heroes, have been together for around two years. But they still can't find their perfect Liam.
Guitarist Mick Jordan, who fills the Noel role, appealed for "Liam' to get in touch and said: "Where are you, Our Kid?! The music is getting good but we are missing our frontman.
Someone out there must know someone who maybe doesn't have the confidence. But as a band, we are willing to give anyone an audition. We are not giving up."
The group, has already had - and lost - one Liam. Ironically, it was Mick's brother, Sean.