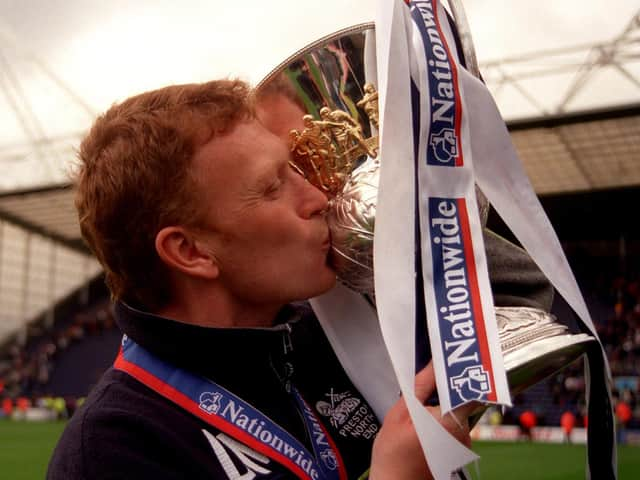 David Moyes, manager of Preston North End, appears certain to be moving on to manage Everton Football Club
The final curtain call for the man who made North End great
David Moyes was the man who re-built Preston North End and dragged Deepdale out of the dark ages.
And there's not a Preston fan on the planet who will forget the Millennium Stadium experience last May when the tough-talking Scot took North End within a whisker of the Premiership.
Preston will become England's 50th city to mark the Queen's Golden Jubilee celebrations
Preston were on a one-way ticket to Division Three when Moyes grabbed the tiller in January 1998 with thoughts of top-flight football fantasy.
Mid-table respectability in four months, play-offs in his first full season, a championship the year after and last season beaten play-off finalists.
If that wasn't the rapid career path of a future big club manager, than what was?
Amazingly, a decade before, Preston had been forced to go cap in hand to gain re-election from Division Four on gates of 3,500, but Moyes changed all that when he took charge.
Preston girls ask TV producers to stop labelling Northern women as 'happy slappers' - as seen in programmes like Fat Friends
Until Moyes took the helm, North End hadn't had a sniff of the big time since Sir Tom Finney last laced up his boots way back in 1960.
Moyes, though, not only engineered a spectacular Deepdale revival, he took the club to a new level and the rise of North End took the nation by surprise.
Now, with Everton waiting in the wings, Moyes looks certain to realise his Premiership dream.
An amazing day in Preston's long history
It's the City of Preston!
The town became England's 50th city to mark the Queen's Golden Jubilee celebrations.
Proud Preston beat off 25 rivals, including Lancashire neighbours Blackpool, Blackburn and Bolton, to clinch the prestigious title.
The "mark of special distinction" will be granted by personal command of the Queen.
Although the title bestows no special powers or functions, political and business leaders hope to capitalise on city status to attract millions of pounds of investment and new jobs to Preston.
It was second time lucky for Preston after it failed to become a Millennium city.
The winning bid was backed by the Lancashire Evening Post, which helped put together a 24-page colour supplement which was given to Whitehall as part of the official campaign.
We looked at the future of the town through the eyes of children, focussing on aspect such as commerce, shopping, sport and science.
Preston will officially take on its status when a formal "letter patent" is signed by the Queen, who finishes her jubilee tour in the city in August.
We might like a drink but we're not happy slappers!
We're loud and proud - just don't call us slappers!
That was the cry from Preston lasses in a united attack on TV producers for the way they are portrayed on the screen.
Young women in our city have condemned programme makers who show almost every Northern woman as kebab-munching loud mouths.
The editor of Radio Times wrote a scathing piece saying she was sick of the Northern woman being portrayed as "a loud-mouthed, cheery slapper who gets brain-meltingly drunk when she is out with her similarly tarty friends."
Alison Graham, a Northerner herself, has attacked shows like Bob and Rose, Linda Green, Fat Friends and Playing the Field for creating a stereotypical image of our women.
Some of the more unrefined Northern characters on TV over the years include Steve Coogan's Pauline Calf, Denise from The Royle Family and Coronation Street's Bet Gilroy.
Mrs Graham argues that not every Northern woman is single, smutty and addicted to booze.
She said: "It is obvious that television thinks there is but one personality among Northern women.
"She goes for a kebab, perhaps even a curry if she is celebrating something really special, then she will sing at the top of her voice in the street before vomiting, crying and moaning about the rotten fellas who have ruined her life."