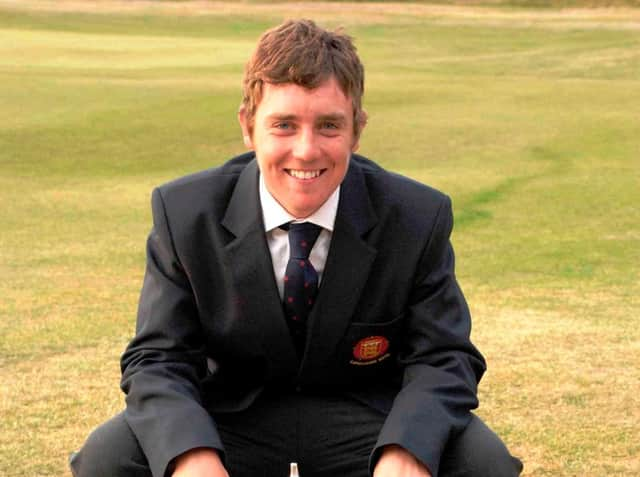 Not quite an eight-year-old Tommy Fleetwood in this picture, but still quite young!
Golfing big-time predicted for Tommy
Little Tommy Fleetwood may only be small - but he has caused a big stir on the Fylde golfing scene.
He had turned up to appear in a pro-am at Fairhaven - at the tender age of eight!
PGA North Region professionals could not believe their eyes when Tommy, who stands knee high to a bunker, strode out on to the first tee in a Compsty Winter Series fixture.
But after he'd smacked his drive 150 yards down the middle of the fairway, they soon realised this was no ordinary kid.
And after admiring his classic swing, it came as no surprise to learn that last year he was the youngest player ever to qualify for the Golf Foundation Weetabix Championship regional finals and won two Under 18 tournaments.
Young Tommy plays off a 25 handicap at Formby Hall.
Robert Hilton-Jones with Rosie the sheep and council worker Lila O'Hagan, who 'abducted' Rosie
Are empty shelves a masterpiece?
This is the latest artistic masterpiece set up at a Lancashire gallery.
The work is called Library - but for those of us outside the art world, it just looks like a row of empty bookshelves.
Artist Keith Wilson has unveiled his latest work at the Harris Museum and Art Gallery in Preston - a long row of emptied shelves and books.
The piece - described as a major work - runs through three huge rooms on the top floor of the Harris, which is owned by Preston Council.
Keith is also the man who is set to make a splash with a piece of work called Puddle, an art installation on the Flag Market in front of the Harris.
As well as Puddle and Library, Keith Wilson is known for another work entitled Tree.
A happy ending to the tale of Robert's sheep abduction!
One man and his sheep have taken on the system in a fight to stay together!
Robert Hilton-Jones and Rosie the fake sheep have been in business for 10 years, despite several attempts to tear them apart.
Robert, who owns Stuarts Leathers on Friargate, Preston, has been warned by the town's council that Rosie is causing an obstruction on the pavement outside his shop.
After several unsuccessful attempts, council workers (with police backup) managed to snatch Rosie in a comical but heart-rending tug-of-love.
Council worker Lila O'Hagan said: "We sneaked up to the shop and my partner, Brian Riding, cut the chain with bolt cutters. I grabbed the sheep and legged it.
"Robert spotted us and came flying out of the shop and chased me up the street.
"I had the sheep under my arm, Robert was chasing me, and the police were chasing him. At the time it was fairly hair-raising but looking back it was comical.
"He dived into the back of my wagon with his suit on and grabbed the sheep but the police stopped him. He had tears in his eyes - he thinks the world of that sheep but he's been told time and time again that he can't block the pavement."
Robert said: "Rosie has now been restored to her rightful place and she's none the worse for wear."