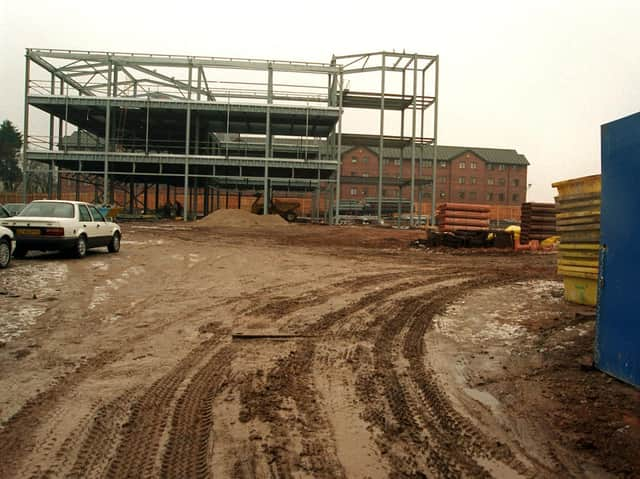 Work has started on the University of Central Lancashire's latest building
University study centre to be campus prize
Work has started on an ambitious new £8.5m hi-tech study centre at the University of Central Lancashire.
The four-storey building on the Preston campus will feature state of the art radio and television studios for media students as well as a mock hospital ward and medical laboratories.
PNE legend Andy McLaren died aged 74
Students and lecturers will be able to browse through shops on the ground floor while computer boffins can surf the Internet in a cyber-space cafe.
Other facilities also include a huge lecture theatre with a moveable stage and seating for more than a hundred people.
The Greenbank building's modern design heavily features glass and should become the showpiece of the university.
It will be the new home of the university's business school and chiefs hope it will help attract top flight applicants.
The project is part of a campus wide facelift costing £21 million. Future plans include pedestrianising Adelphi Street and shutting off the heart of the campus to traffic.
UCL has around 20,000 full and part-time students.
Preston North End soccer star dies alone in his Chorley flat
A former Preston North End soccer star has been found dead alone at his home in Chorley.
Police said it appeared Andy McLaren, 74, of Moor Road, had been dead for some days before his body was discovered.
His estranged wide has been traced and the county coroner has been informed.
There are no suspicious circumstances. An inquest will be opened once formal identification has taken place.
Mr McLaren won more than 20 caps for Scotland and formed a formidable striking partnership with PNE legend Tom Finney.
Mr Finney said he was very upset to hear of his former playing colleague's death.
He said: "We started together as young boys at Deepdale in 1937. We served on the ground staff and played in the B team together. We were in the first team in the wartime cup in 1940-41 when we won the league and cup and met up in Egypt when we were serving in the forces.
"He was in the RAF and I was in the Army and we played in the Wanderers team that entertained the troops in Egypt.
"After the war he played for several seasons at Preston before he moved on to play in Burnley and Sheffield."
They say our local accent can be something of an Andy Cap
By 'eck! Who's right about accents going against you?
The Institute of Personnel and Development found in a survey the right accent was seen as crucial to employers.
A London recruitment consultant said: "They communicate background, education and birthplace and, frankly, some backgrounds are more marketable than others. I would advise anyone with a 'redbrick' or industrial accent to upgrade. Politicians and lawyers do it, so why shouldn't others?"
Another consultant said people with Scouse accents sounded "whiney" and those with Brummie accents "stupid".
But when the Lancashire Evening Post asked people in Preston what they thought, they said prejudice against regional accents had died out.
Personnel manager Maureen Rothwell has interviewd many people for positions at Blackburn Council.
The 36-year-old, of Blackbull Lane, Preston, said "It's how you present yourself that matters, together with your career prospects and education.
"I have interviewed scores of people and as long as you have a clear, confident voice, it doesn't matter about the accent."
Eric Close, of Deborah Avenue, Preston, said: "I have a Liverpudlian accent and feel quite at home in the North West. There is a definite north and south divide, but no prejudice."