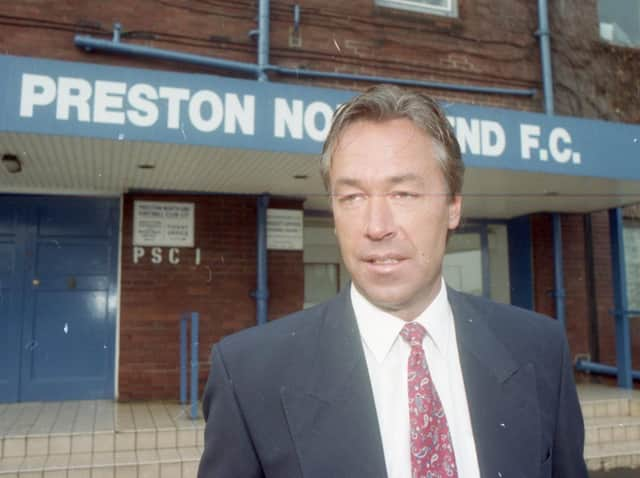 Ex-Cambridge manager John Beck has been unveiled as the new Preston North End manager
Preston North End name new manager
Preston North End confirmed John Beck as their new manager, with caretaker boss Sam Allardyce returning to youth coach.
The former Cambridge United boss took charge at Deepdale with Gary Peters, his assistant at Cambridge, brought in as his No 2.
Beck was introduced at a press conference at the Trafalgar Hotel at Samlesbury and straight-away told fans not to expect too much too soon.
"Success doesn't come overnight," he said. "What we have got to do it assess the situation first and probably consolidate at this stage.
"If we were to make the play-offs, it would be very exciting for everyone. But I'm not going to make any rash predictions."
Beck and Peters are seen as the "dream ticket" by North End in their quest for higher status after 22 years outside the top flight.
"We firmly believe that we have secured the services of one of the country's finest football talents - a management team with an imposing track record," said chief executive Paul Agnew.
"We would like to express the club's sincere thanks to Sam Allardyce."
Parents panic in hunt for craze toy
Thousands of parents across Preston are calling International Rescue in the hunt for the elusive Tracy Island toy.
The incredible success of the relaunched 60s TV series Thunderbirds has led to massive demand for a plastic children's toy shaped like the International Rescue team's island headquarters.
The £32.99 toy is the most-wanted Christmas present in the country.
In Preston the shelves are bare. Rare deliveries of the island are snapped up before they can be unpacked.
Demand for the toy has outstripped supply so overwhelmingly that a survey found shelves at Asda, Toys 'R' Us, Argos, Woolworths and Michael Mears Toymaster toy shop were bare.
At Index, in the Fishergate Centre, a delivery of 30 were sold in minutes.
It's raining dogs not cats in midnight mystery canine caper
Confused cat burglars dropped a dog through a hole in a Preston pet shop roof - and then left without taking a thing in a bizarre break-in.
The barking-mad midnight raiders smashed through corrugated sheeting at Hall's Pet Shop, in Fishergate Hill and bundled the unfortunate animal onto the floor below.
Shop owner Bill Hall, 68, who discovered the friendly but frightened animal as he let his own dog out, was mystified as to how the greyhound-type mutt had managed to get through closed doors - until he spotted the hole in the roof.
Police were called in but nothing had been taken.
Mr Hall, current owner of the store which has been in the family since 1888, said: "I was taking my own dog out and opened the door into the patio. It was pitch dark then suddenly this other dog greeted me.
"We were puzzled as to where it had come from. But it was revealed in the morning that there was a gaping hole in the roof. The police and ourselves think they just dropped the dog in through the hole."
Animal lover Mr Hall already provides a "bed and breakfast" service for about 20 moggies at his pet shop and believes the greyhound owners may have selected the pet shop in the hope of finding a good home.