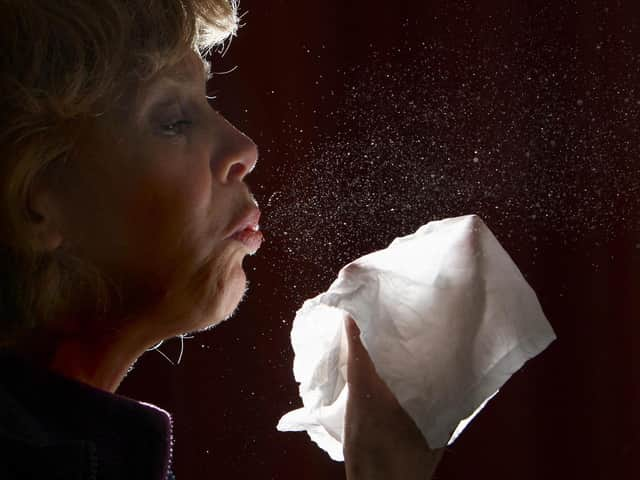 Thousands of people in Lancashire are at risk of catching flu
Lancashire is in the grip of a flu epidemic which is threatening thousands of people.
The virus is attacking all ages, from young children to pensioners, and knocking them out for up to a week.
Home Secretary and Ribble Valley MP David Waddington who was opposed to the building of two homes on Ingol Golf Course
Around 10,000 elderly people die from the effects of flu every year in Britain and doctors fear the latest epidemic could hit pensioners hard.
The epidemic is believed to have started in South West England and Wales where the number of cases is up 65 per cent on the same time last year.
Figures are being compiled by a national Flu Monitor, supplied by 200 doctors who provide weekly lists on the number of patients passing through their surgeries.
Epidemic levels are judged to be 200 points. The national average is 231. The North West is 207 and climbing.
Dr Peter Morgan-Capner, consultant virologist at Royal Preston Hospital, said flu was particularly dangerous in elderly people or those with chronic heart or chest disease.
He said: "It can lead to other complications like pneumonia, which can be fatal."
In Chorley, hundreds of secondary school pupils have gone down with the virus.
Victory for residents in Ingol golf course houses fight
Residents were toasting victory after winning a long-running battle against the threat of housing on a Preston golf course.
A Government inspector has rejected an appeal by millionaire Lancashire businessman Trevor Hemmings and his development company, Lanley Builders Ltd, against refusal by Preston Council to grant planning permission for two homes on land at Ingol golf club.
Worried locals, who bought their expensive luxury homes as part of a "unique golf village" concept, feared that the go-ahead for building would have provided the green light for further housing on the course.
Home Secretary and Ribble Valley MP David Waddington (pictured), who has supported his Ingol constituents in their fight, said he was "delighted" at the appeal outcome.
Ward Coun Joe Hood, Preston Council Conservative group leader, added: "This is wonderful news which I'm sure will be received with jubilation by all concerned.
"It is the culmination of a long and hard fight and proves that our objections have not been frivolous.
"A precedent would have been set which the entire town would have lived to regret if approval had been granted."
Wife-swapping party shock in Southport
Southport's hotel bosses claim the resort's reputation for family fun is being damaged by reports that wife-swapping parties have been planned there this Christmas.
They say an advertisement in Forum magazine said a small hotel, complete with pool and sauna, had been booked for the parties under the name of Merseyside and West Lancashire Forum Society.
The organisers, known only as Bob and Sue from Merseyside, asked interested couples to write to a box number in Cardiff.
But Southport's assistant chief of tourism, Derek Pedder, said that the council would be taking all possible steps to stop the parties going ahead.
He said: "If we hear of them happening, we will take every action we can within the law to call a halt to them because we don't want such activities taking place in Southport.
"It is very worrying that an advert like this should have come out. Southport has a reputation as a family resort and that's the way we want to keep it."
No-one from Forum magazine was available for comment.
Thanks for reading. If you value what we do and are able to support us, a digital subscription is just £1 per month for the first two months. Try us today by clicking here