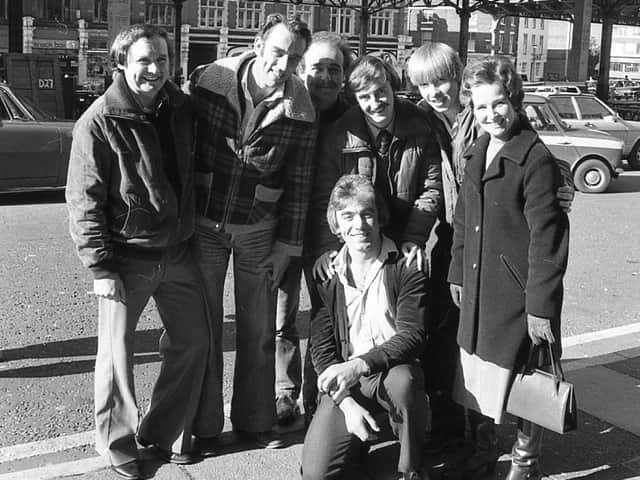 The delegation of market traders who presented a new petition to the council
Preston stallholders put in new petition
Defenders of Preston's outdoor Fish Market presented an 11,000 strong petition demanding that it be retained in its present form.
And that means that more than 16,000 have now signed, pledging their opposition to all plans to develop the historic market site into a shopping complex. A previous petition gathered more than 5,000 names.
The mammoth petition, bulging out of a box file, was handed over to deputy council leader Coun Jim Cox, on the steps of the Town Hall, by market stall holders' leader Maurice Cresswell.
In doing so, he emphasised that none of the signatures had been canvassed.
The petition was handed over as councillors prepared to consider detailed proposals for the market's redevelopment.
Details of the six short-listed schemes have not yet been released but it is known that one involves glassing in the fish market area and turning it into a high class 12 shop centre.
Coun Cox pledged to Mr Cresswell that full consultation with the public and interested parties would be undertaken before any final decisions were made.
The future of Britain desolate on EEC split
Withdrawal from the Common Market would darken Britain's future for decades to come said Mr Edward Gardner, MP for South Fylde, speaking to sixth form students at Hutton Grammar School.
Mr Gardner, who is an old boy of the school, said: "Pulling Britain out of Europe would desolate our industries, increase our unemployment and reduce our stature in the world to insignificance."
He said that those who contemplated taking Britain out of Europe ought to face the facts.
"What is going to happen to all this European trade and the people it employs if a Labour Government were to break the link that makes it possible?
"Isolated from Europe we should no longer be able to influence legislation or rules which govern our trade."
Dizzy blonde Caroline Norris could not resist driving her car.
The fact that she had not passed her test seemed a mere technicality. Four times the barmaid took to the road in her pride and joy... and four times the same policeman, Philip Noland, spotted her.
The 19-year-old, of Maple Grove, Ribbleton, appeared before magistrates at Preston fearing a hefty ban - but earned a reprieve when sentence was adjourned. She pleaded guilty to two counts of driving without supervision charges, and another two for not having insurance.
Caroline was stopped on a fifth occasion by the same officer - but this time she was able to inform him with delight: "I've passed my test."
"He congratulated me," she said.