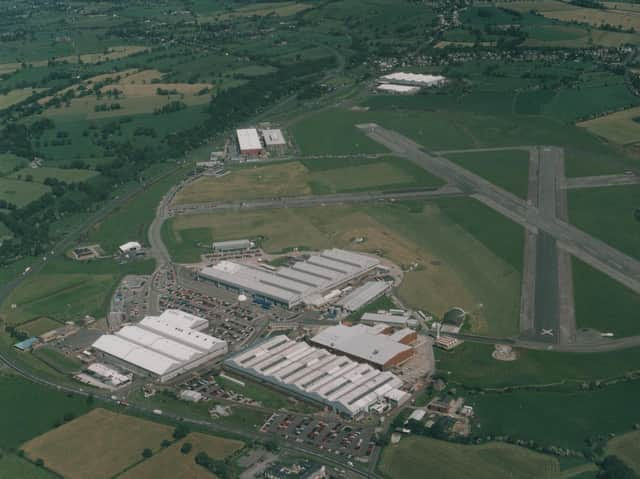 Unusual property for sale - Samlesbury airfield near Preston
Anyone want to buy their own airfield?
For sale: 35,000 acres of industrial land with several large buildings in a predominantly rural area near Preston. Only local councils need apply.
This is an advertisement you are not likely to see - because the desirable property is Samlesbury airfield which the Department of Environment is offering to South Ribble Council.
But there are one or two snags.
The first is the sitting tenant - the British Aircraft Corporation, which has a factory there.
And South Ribble's recreation and amenities committee was told by finance director Mr Jim Wilson that the council was not all that well placed just now to go round buying airfields.
But members heard that BAC's 20-year-old lease was up next year, and ordered officials to find out what the company's intentions were.
Another snag however, is that the DoE is going through a legal process of offering its property to other government departments and then local councils before putting it on the market.
It did the same thing recently with BAC's major Lancashire factory at Warton.
The snake that went up a ladder
Snakes and ladders was never like this. But Alexander, the Indian python, knows all about the game.
Six weeks ago he had zoo officials and police at Southport hunting for him when he did a disappearing act. But the 12 foot snake turned up, and solved the mystery. For it seems he never left home at all.
It turns out he found himself a quiet spot in the roof loft of the reptile house when he climbed up a ladder standing around after repairs.
Explained zoo owner Mr Doug Petrie: "He was changing his skin, so he had to come out for a drink. He chose a tank of warm water in the aquarium and found it so comfortable he fell asleep. I couldn't believe my eyes when I spotted him lying there quite happily.
"We've now found that he'd gone up into the loft - to slough off his old skin."
Well, it's like this officer...
It was just like the telly... Police cars screeched to a halt in quiet Greyfriars Crescent and doors flew open as police officers raced up the drive of number 21 to apprehend the dead-of-night intruders.
But it was hardly a fair cop. For Eli Sumner and his wife Isobel had returned early to their Fulwood, Preston home after a disastrous start to their annual holiday.
Joiner Mr Sumner was making a professional job of breaking through his own front door when the law arrived. His neighbour, Mr Harold Hunt, was holding a torch for him as officers dived out of the shadows.
"They must have thought we were a right pair of villains," said Mr Sumner, whose front door key was safely locked up 90 miles away in a Carlisle garage, along with their broken down car.
But 65-year-old Mrs Sumner soon saw the funny side of things, despite their ruined holiday.
"I didn't believe it at first," she said. "It was like Z Cars or something. The first policeman even said ;Good evening' just like they do on the telly."
Luckily the officers saw the funny side too, and even Mr Hunt, whose son is in the force, managed a smile.