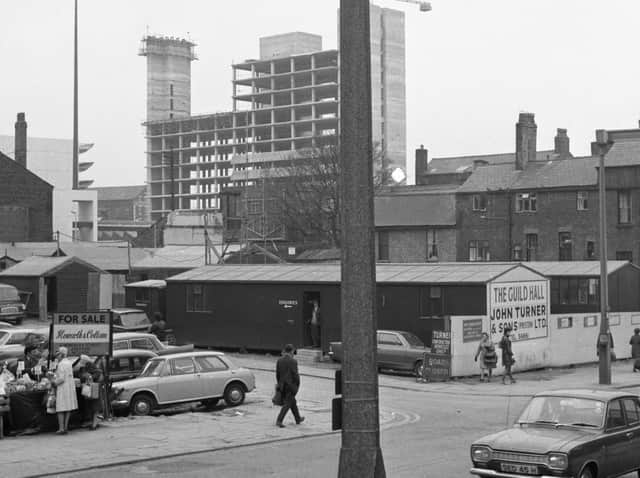 What does the future hold for the once popular shopping area of Church Street?
Shadow looms large over street's future
Church Street holds a significant place in the history of Preston Like the parish church and the prison standing at either end, "the street" is itself a time-honoured institution. But does its future lie between the devil and the deep blue sea?
With talk of the new city, by-pass traffic schemes, centralisation of shopping, and the echoing noise of demolition, Church Street seems destined to be left out on a limb, a quaint rather than necessary street, with empty shops gaping like decayed teeth in a dental chart.
Or that's what it seems from the outside. But one thing is certain. Church Street is not going to take the threat to its existence lying down. And many traders feel that their salvation lies in their own long-established business reputations.
Mr Philip Schram, the Canadian-born managing director of a sewing machine shop, said: "Church Street is no different from anywhere else. If shopkeepers give a good service, they will do alright."
Shoppers seem to agree that there is a future for Church Street, But they admit it is not a paradise for window shopping.
Mystery flashing lights out at sea
A lifeboat was launched after strange flashes of light were seen in the sky over the Irish Sea. The lights, which were spotted by many people along the Lancashire and Irish coasts and in the Isle of Man, remained a mystery.
On the Lancashire coast, five people in a car reported spotting a flash of light and a cone shaped object falling at high speed in the sky.
The mystery light was so powerful at Ramsey in the Isle of Man, that it lit up the bay for three seconds.
The lifeboat at Donaghadee in Northern Ireland was launched after the lights were seen but the crew could find no reason for them.
Formby coastguards received several calls from people who saw the mystery lights.
It is believed that there were no aircraft in the area at the time to cause the strange lights.
Liberation supporter says 'I'd burn my bra'
A woman told delegates at a Morecambe conference that she was prepared to go on the promenade in front of Easter holiday crowds and publicly burn her bra if she felt it would help the Women's Liberation Movement achieve its object.
Pat McIntyre, of Teeside, told the 79th conference of the Independent Labour Party that she would wholeheartedly join in the fight to raise the status of women from being "second class citizens".
There was discrimination against women from the time they were children, through the schools and at work.
"I am totally opposed to the way this society has degraded women to such an extent that they were looked upon as mere sexual objects," she added.