How you can see inside Preston's Harris Museum during lockdown
The Harris Museum, in Preston, is closed to the public for the first time since the Second World War but, as the museum's Caroline Alexander explains, there is still plenty going on inside during the lockdown
Saturday, 23rd May 2020, 3:45 pm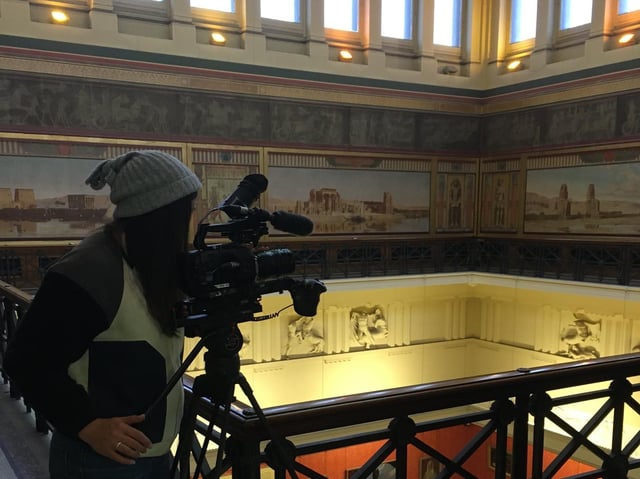 Capturing the Harris Museum on camera
Although the Harris is closed our staff teams are still a hive of activity making our exhibitions available online.
You can see this amazing drawing by Henry Fuseli in a virtual tour of The Artful Line. Fuseli was a Swiss artist who loved supernatural subjects. If you're inspired by this beautiful drawing then why not check out some of the drawing tutorials also available on The Artful Line page of the Harris website.
This exhibition features works on loan from the Courtauld Gallery in London. It's part of an ongoing project which celebrates Preston's shared heritage with Courtauld textiles. This year marks the 40th anniversary of the closure of the factory at Red Scar.
Patriotic teapot made for Dyson and Horsfall, a mail-order company in Preston painted with the slogan War against Hitlerism
Another of our virtual exhibitions is Taken in a few seconds /// By the reflection of light. This is a solo exhibition by artist Abigail Reynolds presenting some of the oldest artefacts in our collection in a totally new artistic context.
Abigail's work is closely linked to books and libraries – making her a perfect artist for the Harris to work with as a gallery and library combined. She has selected rare historic books and the oldest photograph in the Harris collection and combined them with her own moving image work to give voices to these objects.
If you've ever fancied going behind-the-scenes and exploring the secret places and treasures of the Harris – then take a look at Abigail's exhibition online. We can't talk about the Harris and its collections and not mention Pauline in the Yellow Dress. We've all just enjoyed celebrating the 75th Anniversary of VE Day.
At the Harris we did this by sharing a wonderful tutorial by local dressmaker Karen Harvey on 1940s fashions which you can still enjoy online. Karen talked about the make-do-and-mend spirit and wartime rationing of clothes and fabric.
Exhibits can be viewed online at Harris Museum website
Pauline in the Yellow Dress by Sir James Gunn was a sensational painting when it was first exhibition. It was 1940 and London was at the height of the Blitz Bombings.
Some people thought Pauline's fabulous frock with its great swathe of yellow fabric was too extravagant for the hardship of the times. In fact, Pauline's dress was an old one from the 1930s which she was continuing to wear.
If you like Pauline in the Yellow Dress and the glamour of 1930s fashions then you might like this wonderful tea set by Clarice Cliff in our Ceramics and Glass Gallery.
In 1927 Newport Factory in Staffordshire gave a young employee called Clarice Cliff a range of faulty blank ceramics to try to decorate for sale. Cliff chose an unusual bold and geometric pattern to cover flaws in the pots.
Tea set by Clarice Cliff in the Harris Museum's Ceramics and Glass Gallery. It was painted with Gibraltar seascape, and dates from 1932
To the company's surprise, Cliff's designs were instant bestsellers she became one of the most famous names in British ceramics. Another great ceramic in the spirit of our recent VE Day Celebrations is this patriotic teapot made for Dyson and Horsfall, a mail-order company in Preston specialising in Christmas catalogues.
Before the war the company had a popular line in aluminium teapots, but with the war effort requiring people to surrender metal items they produced this ceramic teapot in 1939.
In addition to ceramics, the Harris has a large collection of fashion and textiles. This stunning orange sari with gold embroidery was purchased in Preston in the 1980s and later donated to the Harris.
During the 1990s the Harris worked on several projects to acquire examples of men, women and children's clothing from the South Asian communities to represent different styles of dress from across this region.
The collection includes saris, shalwar kameez and a wide range of jewellery. You can see more of the Harris's fashion and textile collection on Google's Art and Culture We Wear Culture website.
Finally, let's take you back in time to one of the most ancient items in our collection. This Roman shoe fragment was found during the excavations of the walls of Ribchester fort in 1888. The excavations were led by the Reverend Jonathan Shortt, the first curator of the Preston Museum on Cross Street and the Harris Museum.
The sole was found with studded nails still embedded, but these haven't survived. These early objects in the Harris collection are of particular interest to us at the moment as we work on our plans to totally refurbish the Harris as part of our ambitious Re-Imagining the Harris project.
* Visit the Harris Library online and see the virtual tour at www.theharris.org.uk