How two Lancashire colleagues' hand-painted rabbits became a worldwide sensation
Our antiques expert Allan Blackburn looks back at the history of the Pendlefin bunnies...
Wednesday, 22nd April 2020, 11:45 am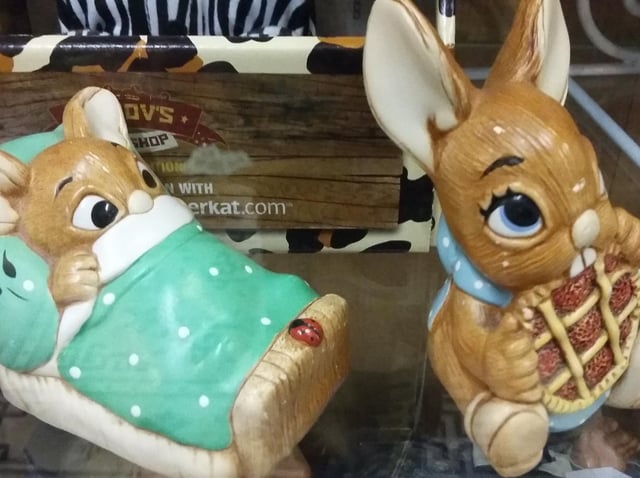 These jolly examples are part of the colony who hop in and out of the centre
Post-Easter, this week's enduring, local collectable is Pendelfin bunnies.
Robust, colourful and characterful, these idiosyncratic hand painted rabbits have enjoyed enduring worldwide popularity for decades, and make excellent children's collectables; perhaps you had some yourself?
In 1953, friends and freelance artists Jean Walmsley Heap and Jeanie Todd, former colleagues at Burnley Building Society, started making plaques as Christmas presents for friends. These became so popular, they were soon working full time.
Creating the Pendelfin Company, they named after Pendle Hill, which overlooked the shed where they made their 'elfin' creations. Inspired by the area's folklore, Pendelfin's first models were witches, pixies and elves. Only produced for a short time, rare pieces like the Pendle Witch, their very first, are much sought after.
By 1955 the well-known rabbit figures were introduced, starting with blue-dungareed Father Rabbit, then Mother, and their brood of Robert, Midge and Margot. Original Dungaree Fathers and 'thin necked' Mothers (before a design defect was corrected) can fetch hundreds of pounds.
Hundreds of designs followed across the next six decades, with up to 5,000 models made and handpainted each week in Burnley. Most smaller figures are worth £20 at most, but rare examples from the 1950s and 60s can fetch into the thousands.
Rarity has a real bearing on your Pendelfin's value. Like Mother Rabbit, many short lived designs were curtailed by production problems, making them particularly sought after. Another such figure is the Pendelfin kitten, whose tail unfortunately kept breaking off. After two years, it was relaunched without the tail as a Manx kitten- very resourceful!
Condition is important, but so is authenticity. All the figures feature a paint tint called Pendelfin White, registered exclusively to Pendelfin, which can aid collectors in spotting fakes or copies.
Figures which are over 50 years old can show their age, and Pendelfin's handpainted stoneware is vulnerable to discolouration, chipping and wear. Bright and cheerful, and a real North West success story, Pendelfin's charm continues to endure among generations of young collectors.