This is how Lancashire looked in 1994
A selection of your photographs from days gone by.
Thursday, 7th January 2021, 12:29 pm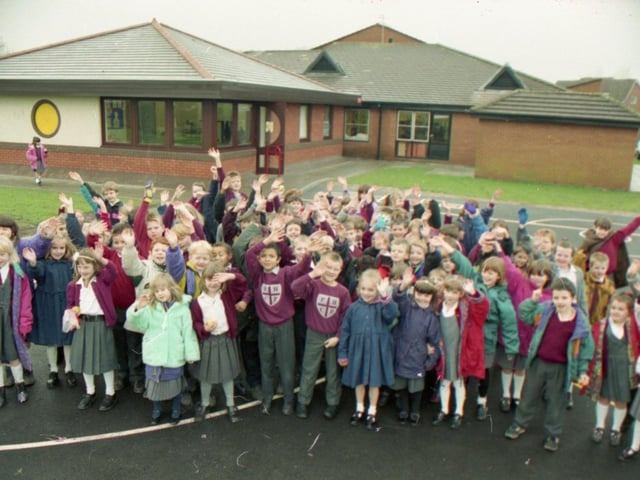 For years, children at a Preston school were crammed into a playground too small to let them enjoy games. Staff at Ingol Pool House County Primary School had asked for extra space as the number of pupils rose. But the education authority had no cash to pay for it. Now the youngsters can enjoy their breaks in a specially-built playground after teachers saved £12,000 to pay for it
Big-hearted young bookworms have raised more than £700 for charity by taking part in a national readathon. All year seven pupils at Burscough Priory High School on Trevor Road, Burscough, took part. Pictured: Burscough Priory High English teacher Sara McClymont presents the cheque to head Roger Leighton, with some of the pupils who buried their noses in books for the charities concerned
Female basketball players from Blackpool were celebrating after beating off rivals in a North West college tournament. Blackpool Sixth Form College were the victors in the North West Ladies College Basketball Tournament, at Preston's West View Leisure Centre, after beating South Trafford College 15-10 in the finals. Pictured: Jeremy Mannino and his successful Blackpool Sixth Form College basketball team
A touch of fantasy is being used by a landlord to advertise his high street pub and boost takings. Brian Eaton of the Swan Hotel on Poulton Street, Kirkham, is pulling in the punters by claiming to have had a visit from a pop legend. He has put up an unusual sign outside his pub claiming: "Elvis caught eating Shergar butties in Swan cellar."
Young artists from a Lancashire school have been invited to display their work in a university exhibition. Preston's University of Central Lancashire has invited talented pupils from Carr Hill High School in Kirkham to put on a display, sponsored by Midland Bank. From left, Carr Hill students Claire Fieldhouse, Daniel Maddock, Nathan Holtappel, Carolyn Baker and Claire Devaney, with Midland Bank area manager Chris Hurley
More than 2,000 energetic people passed through the doors of a Preston leisure centre in search of a way to work off the extra pounds put on over Christmas. The crowds flocked to the special event, Family at Leisure, organised by staff at West View sports centre in Ribbleton. The day-long fun day, aimed specifically at families, provided a host of attractions and activities for people of all ages
Lancashire has found the man to lead fire safety in the county. Graham Thompson of Blackpool has been appointed as the new assistant chief officer for Lancashire County Fire Brigade. He will concentrate solely on fire safety in the country's busiest shire brigade
A top-class centre designed to creature future international-standard gymnasts has opened in Southport. The centre will be known as the Southport YMCA Gymnastics Centre of Excellence. Classes have already begun at the centre. Pictured Michael Brooks, seven, and fellow gymnasts at the new centre
Pupils at a Southport school are getting prepared for a major hockey tournament. Two teams from Farnborough Road Junior School in Birkdale are taking part in the Junior Sevens Tournament. Pictured: Pupils from Farnborough Road juniors join goalkeeper David Yates, 10, to prepare for the hockey tournament
Children at a Lancashire school are boldly going where no other school has gone before. Wide-eyed pupils at Inskip Primary School, Inskip, near Preston, watched in amazement as a helicopter circled their school and landed in the playground as part of a project on search and rescue
A defiant couple struggling to keep developers off their parking space have accused Wyre Council bosses of going back on a long-standing pledge over the site. John and Wendy Carmichael, of Wyresdale Crescent, Scorton, are fighting to save the council-owned garage and parking space their family has used for 30 years
Students from all over Lancashire at the 1994 Lawtec Students Business Conference. Seated (left to right): Emma Armstrong (Blackpool Sixth Form College), Fiona Lyon (Our Lady's High School, Preston), Sarah Gili-Ross (Lytham St Annes High School), Vicki Jones (Ormskirk Grammar School). Standing (left to right): Fatima Ahmed (Newman College), Pauline Taylor (assistant manager customer services, Natwest, Blackpool), Theodosis Fessas (Lancaster and Morecambe College), Matthew Ward (King Edward VII School, Lytham), Dr Barry Hankinson (managing director, Creative Training plc), Derek Gibbs (Preston College), Gavin Blackstone (Carr Hill High School, Kirkham), Robert Booth (St Mary's RC High School, Blackpool)
Road safety could soon be part of the curriculum for these schoolchildren. The county council has launched a new document Road Safety and Schools - a Guide for Teachers and Governors, in a bid to incorporate it into day to day teaching. The guidelines were welcomed by pupils and teachers at Archbishop Hutton School, Warton. Pictured is Pat Kendrew with headteacher David Ingram and pupils
Teacher Sammy Clarke has been rubbing shoulders with the stars. Sammy swapped her role as deputy head teacher at Overton St Helen's School, near Morecambe, for a week in the spotlight at Blackpool's Opera House as part of a placement scheme. Pictured: Sammy Clarke teaches Joseph Edmondson, 11, the song Any Dream Will Do, as pupils watch
He may have been dead for hundreds of years, but English Literature students at Preston College claim everybody has a lot to learn from Shakespeare's plays. The group of first year A-level students have to study several Shakespeare texts in depth, and they think banning primary school children from seeing Romeo and Juliet is outrageous. Pictured: Steve Sinnott, 17, gets to grips with Romeo and Juliet, as the rest of the class looks on
Bill Beaumont, the former England rugby captain and a captain on the BBC's Question of Sport, declared the sports hall at Morecambe High School well and truly open after a 25 year wait. Students took part in a range of activities to mark the opening