How history was made when Lancashire Police appointed first British female chief constable
History was made 25 years ago this week when Lancashire become the first British constabulary to appoint a female police constable. Mike Hill looks back on the arrival of Pauline Clare in the top job
Friday, 12th June 2020, 7:00 am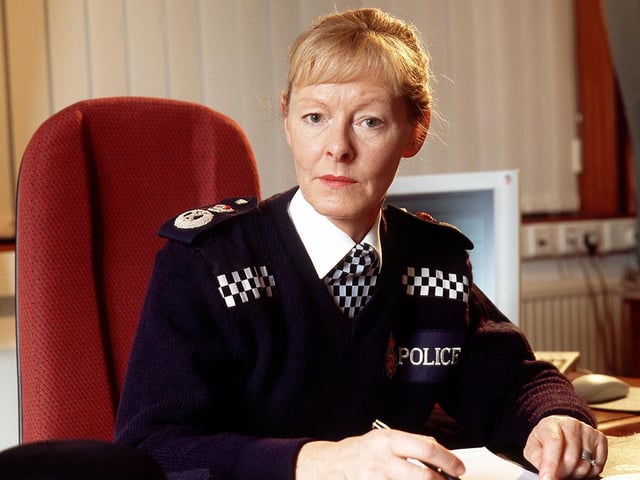 Former Lancashire Police Chief Constable Pauline Clare. Photo: BBC
Pauline Clare was unequivocal when she was appointed chief constable of Lancashire: "I think I got the job because I was the best candidate."
It was a sign of the times that the then deputy chief constable of Cheshire felt moved to make the statement on becoming the first woman to hold the top job at an English force. Addressing her first press conference after conformation of her appointment, the 47-year-old added: "I am a very determined person and I set my sights a very long time ago on being chief constable of Lancashire, and I hope I have gone through the relevant experience and skills.
"I did have an eye on that and I have achieved it. I think it is extremely significant. Being the first woman is making history and I am very conscious of that and delighted to be the first one."
At the launch of a crime prevention video. L-R: Alfred Meakin of Avenham Media, Pauline Clare, Alan Tallentire, Chairman of the Association of Town Centre Management, Ronnie Flanagan, and Mike Shuck of the British Retail Consortium
Chorley-born Mrs Clare rose through the ranks first in Lancashire after starting her career as a 17-year-old cadet before spending 20 years with Merseyside Police. She served as Lancashire's chief constable for seven years before stepping down when she reached the then retirement age for chief constables of 55 in 2002. The same year saw her awarded the CBE. Her years in charge saw Mrs Clare championing the cause of getting bobbies back on the beat and led a shake-up of the force's structure in a drive for greater efficiency. Her term saw levels of violent crime and burglaries fall after making the crimes a top priority.
When she stepped down, Mrs Clare said: "As the first woman in that position I was a role model, not just in the police service, but for other organisations. I also think there were a few people around waiting to see how I performed – whether it was a terrible mistake appointing a woman in a man's job. I have been conscious that they have been there throughout and that is an additional responsibility."
Outside the police headquarters at Hutton. Photo: Lindsey North
At the re-opening of Poulton Police Station with, from left, Sgt. Bob Erett, Public Enquiry Assistant Ros Mallinder and Pc Colin Gaskell.
Pauline Clare at St. Aidans School to join a debate held by the Wyre Police and Community Forum. The picture shows Mrs Clare discussing the content of the debate with Forum Chairman Group Cap. Harry King.