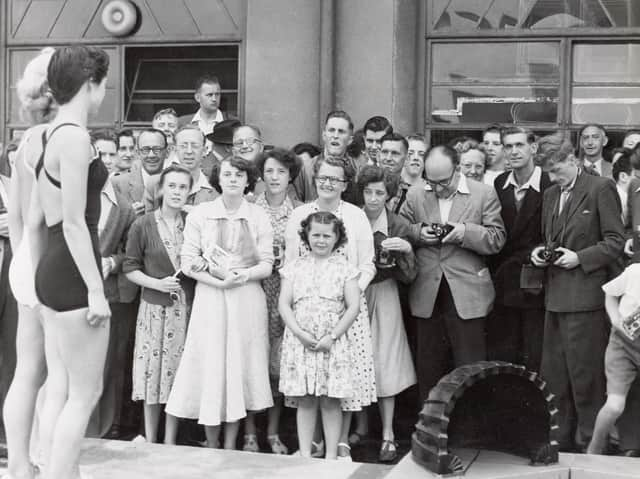 Contestants in Miss Great Britain competition, in Morecambe
When the Sunday Dispatch newspaper joined forces with Morecambe and Heysham Corporation to create a new tourist attraction for the town in 1945, few would've bet more than a couple of shillings that it would still be going strong 75 years later.
But Miss Great Britain celebrated its diamond anniversary in 2020 and has cemented its status as the country's longest-running beauty pageant.
When recalling its history, it is little mentioned that impresario Eric Morley was instrumental in the origins of the Miss Great Britain pageant and that this, not his Miss World contest which came six years later, was his first foray into the beauty queen business.
Miss Great Britain competition, in Morecambe
As publicity officer for Mecca, the huge dance hall and bingo entertainment group, Morley agreed that heats of Miss Great Britain should take place in his dance halls, thus bringing in new audiences to his venues as well as giving the pageant some instant prestige.
But on August 29, 1945 there were no such luxurious surroundings for the contestants of the very first Miss Great Britain pageant, or the National Bathing Beauty Contest, to give it its title as it was known until 1954. Watched by a crowd of 4,300 people, the finalists paraded round the lido in a continuous downpour.
Morecambe's Super Swimming Stadium was opened in 1936 and was said to be the largest outdoor pool in Europe at the time. It had been built in direct competition with Blackpool's South Shore Swimming Coliseum, which had opened a decade earlier. The stadium provided the perfect backdrop for the first National Bathing Beauty Contest and remained so until the site's closure in 1975 and subsequent demolition.
As Charles Eade, the then-editor of the Sunday Dispatch, explained: "Britain was at war at the time and many of her loveliest girls were in the Services, but we decided to run a contest that year on modest lines and test the public's reaction. Male members of the Forces were known to have more than a passing interest in 'pin-up girls', so it was agreed to let them judge the preliminary heats."
Lydia Reid, left, was the first Miss Great Britain in 1945
Lydia Reid, a typist from Morecambe, made history by becoming the first winner, taking home a prize of seven guineas in cash and a new swimsuit. A year later Morecambe Council, thrilled with the success of their new venture, increased the prize money to £100, and by 1950 the winner was receiving a cheque for £1,000, a reflection of what was now the town's biggest tourist attraction.
In 1951, Morley created the Miss World contest, and it was agreed that the winner of Miss Great Britain would qualify for the international pageant as part of her prize. But by 1958, Morley was fed up with the British girls' lack of success in Miss World, and made the decision to break ties with Morecambe Council to go it alone.
He was blunt in his assertion that Miss Great Britain did not attract contestants of a high enough calibre, and therefore he wanted to set up his own contest over which he would have sole control.
Leading up to that point he had been highly critical of the judging methods and scoring employed at Miss GB, and in the choice of judges, "red-nosed comedians" as he put it. He wanted his own pageant so he could take complete control over every aspect of it.
Heat of the Miss Great Britain contest at Morecambe
Thus the Miss United Kingdom contest was born, specifically to select a contestant of – in his words – "a higher calibre", to go forward to Miss World. Morley chose the nearby seaside resort of Blackpool in which to base his new pageant, the start of a rivalry with Morecambe which would reach such intensity that in later years he would ban from his own contests any girls who had chosen to compete in Miss Great Britain.
Indeed, when Morley began yet another new pageant – Miss Britain – Morecambe Council took him to court to argue that it was too close in name to their Miss Great Britain contest.
The judge ruled against the council, and their relationship with Morley was forever soured.
Miss Great Britain was first televised in 1970, a Yorkshire Television production for ITV, and drew an audience of millions. In 1981 the television rights were bought by the BBC, although the show came to an abrupt halt in 1985.
Michael Grade, the-then BBC Controller of Programmes, announced his intention to ban beauty contests from the screen, calling them "an anachronism in this day and age of equality, verging on the offensive".
Thus Jill Saxby – who later married the snooker star Willie Thorne – became the last Miss Great Britain to be crowned on television in 1985. Tom Flanagan, director of publicity and amenities at Lancaster Council at the time, was incensed at the BBC's decision and the resulting lack of exposure for Morecambe, but was determined to carry on with the contest and the council voted narrowly in its favour.
The tide was turning though and once it was clear that the contest was no longer the tourist attraction it was, the contest was put up for sale following the 1989 final.
Coun Eileen Blamire, chairman of the city council's arts and events committee, was determined the town would never stage the event again. We were all so naïve in our 20s and 30s," she said. "But when women started going on to platforms to protest, I started thinking.
"We woke up and asked ourselves what we were doing, spending time watching women being paraded like this? And then it seemed bygone, outdated and boring. It didn't take a revolution; it was dead, and the audiences were gone."
The title was snapped up by, ironically, Eric Morley's brother-in-law, Harvey Pritchard, a local millionaire, but he failed to pay the council their £48,000 asking price and it was put up for tender once again.
Holiday camp giants Pontins paid £10,000 for the title but for logistical reasons they were unable to stage a contest, meaning that the 1989 winner, Amanda Dyson, reigned in total for seven years, until a canny businessman by the name of John Singh bought the trademark and began to franchise it out to a series of organisers over the next 20 years. His nephew David remains the owner of the title to this day.
Since 2013 the pageant has been staged by former beauty queen Kate Solomons-Freakley and her friend and colleague Jemma Simmonds, who run The Kreative Group in Leicester.
To mark the 75th anniversary this year they launched a Ms Great Britain division, for women aged over the Miss Great Britain upper limit of 27. And next year sees a new Miss Great Britain Classic title, for those aged 40 and over.
The pageant has seen its fair share of trials, tribulations and tragedies: the sacking of Danielle Lloyd in 2006 over allegations that she was in a relationship with one of the judges – an unfounded claim that meant her title was restored to her some years later; the storming off stage of the losing finalists in 1975; the resignation of Tracy Dodds in 1982 when topless photographs were published; the scandal when 1955 winner Jennifer Chimes left her husband to marry comedian Max Wall; the decrowning of Zara Holland in 2015 after a controversial appearance on ITV's Love Island, and the tragic suicide of Sophie Gradon, Miss Great Britain 2009, who appeared with her on the same show.
The contest has also seen some famous faces over the years: Hollywood movie star Anne Heywood won the title in 1950 under her real name of Violet Pretty; 1957 winner Leila Williams became the first female presenter of Blue Peter; comedian Marti Caine competed in 1961, while Nina Carter, a future Page 3 girl, appeared in the 1971 final.
Debbie Greenwood, winner in 1984, became a breakfast TV hostess, and another Blue Peter presenter, Zoe Salmon, competed in the first Ms category this year.
Miss Great Britain 1945-2020: An Official History by Sally-Ann Fawcett is available from 2QT Limited priced £15