'Football was in his DNA'
Sport historian Terry Ainsworth pays tribute to his good friend Dickie Danson who was a 'football man from head to toe'.
Thursday, 1st April 2021, 3:44 pm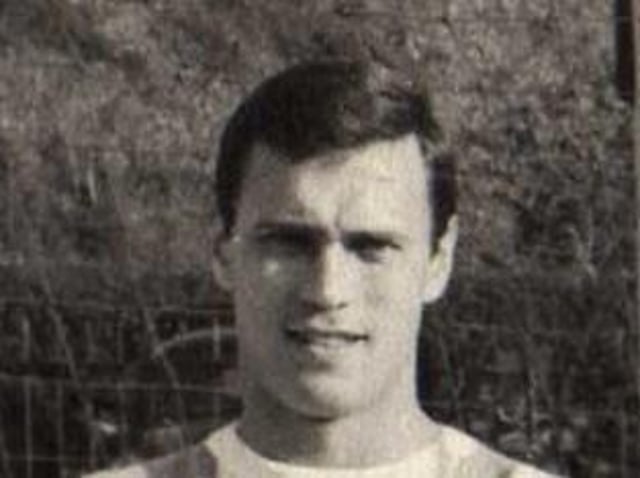 Dickie Danson.
Football stalwart Dickie Danson, former assistant manager, director and head of youth at Morecambe FC, and Dolly Blues boss, has passed away.
Dickie Danson was a good friend of Terry Ainsworth, sport historian and here Terry remembers his friend 'The Special One' in his own words.
Terry said: "To have known Dickie Danson both on the field of play and then, as we hung up our boots, as a friend in our more mature years, was to have had the privilege of being in the presence of someone who epitomised everything good about the beautiful game.
North Lancs & District Football League Under 18s 1958-59. Dickie Danson is pictured centre on the front row.
"From his schoolboy soccer exploits, which promised so much, to his successful managerial roles, Dickie lived for his football, it coursed through his veins, it was in his DNA and shone brightly through his enthusiasm, dedication and loyalty, ingredients, sadly in short supply in today's game.
"I well remember my first meeting with Dickie on the Quay Meadow and Dickie's own words explain the circumstances as well as speaking about our ongoing battles."
Dickie once said: "I first got to know Terry when I played for the Lancaster Schoolboy Champions, Ripley St Thomas against the Lancaster Royal Grammar School who with Terry and Alan Spavin in the team beat us in a highly competitive game.
"Eventually I played for Morecambe Juniors and Terry was a member of Wilson Huck's highly touted and successful Red Rose Boys Club side. In the senior league we faced each other on a regular basis and as a left half I often had to face Terry who was inside forward for the all-conquering Lancaster Lads Club team, Caton United and Lansil.
Galgate 1965-66. Back row from left: Barry Hanson (manager), Alan Rogerson, Dickie Danson, Bill Varey, Charlie Timperley, Terry Oliver, Billy Wylie, John Bowker (trainer). Front row from left: Alan Moorhouse, Alan Jackson, Bill Potter, Terry Ainsworth (captain), Gordon Howarth.
"I had always admired Terry's silky skills and the way he could control a game as well as the danger he threatened in the opposition penalty area. We always had highly competitive games and I had to be at the top of my game in all our meetings.
"When Barry Hanson took over at Galgate I identified Terry as the first one we should sign for Galgate if we wanted to be the best and go to the next level. I was also instrumental in persuading Billy Wylie, Charlie Timperley and Gordon Howarth to join us and with Terry setting the highest standards as captain and covering every blade of grass on the field we produced one of the best ever teams in the North Lancashire League.
"His fluid movement, incisive passing and clinical finishing saw him not only as a feared opponent but a highly valued teammate. Terry was influential to Galgate with his great vision for picking out a pass and indeed was a player ahead of his time and the injury he suffered at the age of 24 was a tragedy not only for one of the finest footballers of his generation but it deprived Galgate and the league of a very rare talent."
Terry said: "Already in 1965 Dickie was showing his talent for scouting, coaching and managing.We did play one game together for the North Lancs League Under 18s in 1958-59 as you can see with Dickie captaining the team. Even at that stage Dickie showed maturity beyond his years, he was cut out to go into management and coaching. His inspirational play was instrumental in Galgate producing one of the best and most successful teams of the post war era.
Morecambe FC's Dickie Danson receives his award from the Football Association.
"Galgate or the 'Silkboys' as they were known, carried off three of the four available trophies on offer and set many records in an outstanding year including the most goals scored in the top division (151), a record that has stood for over 120 years.
"Unknown to most of his team mates during that season Dickie would work on Saturday mornings at Halton Engineering until noon and then dash back to Galgate to mark out the pitch and put up the nets ready for the game. Even then he was at the centre of everything at the club, a Football Man from head-to-toe. It wouldn't have surprised anyone if he had made the halftime tea.
"What a pleasure and a privilege to play on the same team as Dickie, an outstanding footballer who never gave anything less than 100 per cent. During the week I would call to see him at work in Halton and we would discuss our opponents for the upcoming Saturday and never tire even after two hours of analysing their strengths and weaknesses. Dickie made sure we were ready for anybody on any given Saturday on the Recreation Ground, Galgate.
"The halfback line of Terry Oliver, Bill Varey and Dickie was top class and with a fine goalkeeper in Charlie Timperley and scoring forwards like Gordon Howarth and Alan Jackson we won three trophies out of four scoring 196 goals in all competitions in the process."