Euros 2021: Warm-up with a look back at how we celebrated England v Spain in Preston during Euro '96
On the crest of a wave after their memorable 4-1 against the Netherlands, hosts England beat Spain 4-2 on penalties to move into the semi-finals.
Saturday, 12th June 2021, 4:55 am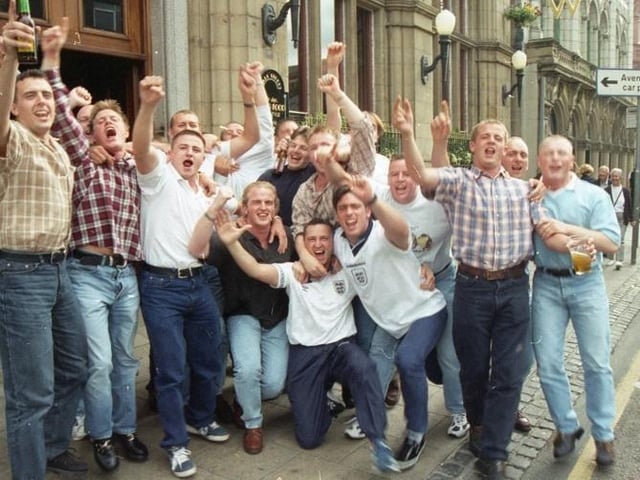 Preston lads celebrates England's win on June 22 1996
And there to watch it at Wall Street in Preston were these fans, who had quite a night!
Terry Venables' side had produced a truly thrilling display in their final group game and now had an ever more enthusiastic nation behind them.
Their momentum was checked by a well-organised Spanish side, however, with only the spot-kick heroics of Stuart Pearce and David Seaman enough to take them past Javier Clemente's charges and into the last four.
No one had played a more pivotal role in England's resurgent tournament than Alan Shearer, and Spain were all too aware of the threat posed by the burly, yet mobile striker.
Immediately gifted little room in which to work, Shearer made a rare escape into space on four minutes but his fierce shot was well stopped by Andoni Zubizarreta.
Spain swiftly gained a foothold, however, twice denied by an offside flag before carving open the England defence just before half-time
Extra time was required and the golden goal was in play for the first time
Javier Manjarín was clean through but hesitated long enough for Seaman to advance and block with his legs.
England edged in front when Fernando Hierro struck the bar with Spain's first attempt and were 2-1 ahead by the time Pearce stepped up.
One goal was all that was needed. It was not forthcoming, though, and EURO '96 had its first penalty shoot-out.
His team-mates followed suit before Seaman stopped Miguel Nadal to cement his country's progress.
The lionhearted left-back, who had missed in England's shoot-out loss to Germany in the FIFA World Cup semi-finals six years earlier, dispatched emphatically and celebrated with gusto.