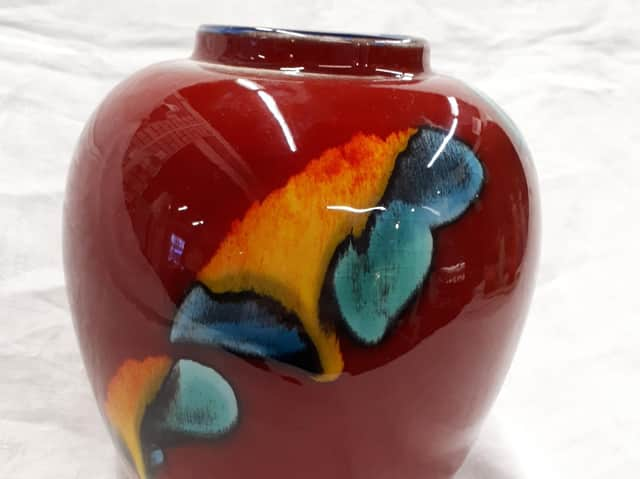 This "Volcano" vase is 55 pounds
A visitor to the centre asked me before lockdown; "Why is this pottery called Poole, when it's made in the Potteries?" It' sounded like a good quiz question! And a great opportunity to look at a British brand which has always put itself at the forefront of innovative design.
Now operating from the Staffordshire Potteries, the pottery was based in Poole, Dorset, for over a hundred and thirty years.
It was founded when Jesse Carter, a builder's merchant and ironmonger, bought a run-down tile manufacturing company on Poole quayside in 1873. Originally named the Carter Co., the company primarily manufactured tiling and architectural products.
By the 1920s, the pottery was gaining a reputation for original and innovative decorative ware, which lasted until well into the 1960s and 70s. Contemporary shapes, abstract patterns, and experimental glazes, they are considered among the most avant garde works to emerge from a commercial pottery.
These are excellent examples of Poole's diverse and elegant designs. The penguin stands a striking nine inches high, and is priced at £33. The red vase is from Poole's popular Volcano range, depicting a dramatic design resembling lava over cold stones. Each piece of Volcano pottery is handmade, and no two glazes are the same. It is in the centre for £55.
The Poole range is vast, so more widely made pieces can be found relatively cheaply: some post-war floral decorated wares, or the distinctive twintone dinner and tea services (made right up until 1981), for example.
The main areas of collecting Poole Pottery, and which command the highest prices at auction, are the wonderful art deco designs from the 1920s and 30s, and the more individualistic designs of the Delphis studio of the 1960s.
Specific designers can increase value, check the base for artists' initials.
Statement Poole pieces command high prices, into several thousand pounds. A two-foot high 'Bush Velt' earthenware vase, designed by John Adams and depicting a lion attacking an antelope fetched £7,800 in 2019. This was the highest price at auction for Poole pottery for a number of years.
After struggling in the early 21st century, Poole became part of the Denby group in 2012, moving to the potteries.