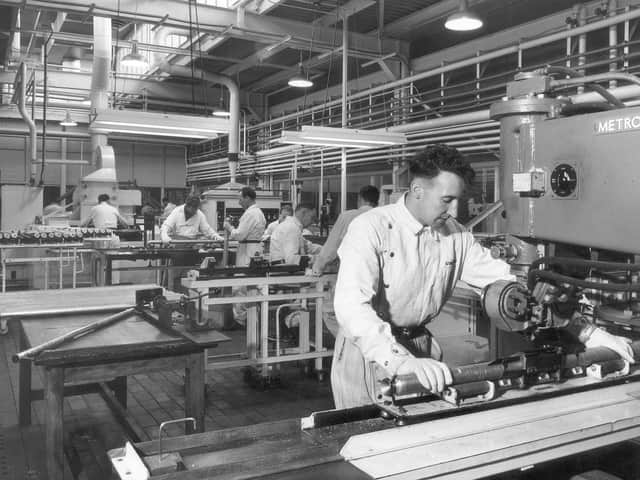 Magnox fuel production in the 1950s
Into the heart of the smiling Fylde comes atomic energy. This morning, little Salwick, a farming hamlet tucked away by its windmill and old church, a few miles from the busy Preston-Blackpool highway, awakened to find itself famous.
Outside the gates of the factory, right in the shadow of its buildings and it's Wellsian equipment, I found farmer John Fare, busy sowing oats.
"Happen we are going to be in the news then?" he said when I told him of the plan to use the factory for work in atomic development. And John Fare whipped up his horses and returned to his sowing.
Construction work at the United Kingdom Energy Authority Springfields site at Salwick in 1960
This Springfield factory is a perfect example of incongruity. Its low, red-brick buildings, its pumping equipment, its squat chimneys and the surrounding 10ft fence of spiked iron railing is in complete contrast to the scattered houses of the hamlet, the old Lund Parish Church, and the equally old and semi-derelict Clifton windmill which stands in the farmland and meadows around it.
At the single wicket-gate giving access to the factory, I gave proof of my identity and was escorted to the administrative block by a works policeman. He handed me carefully over to another official and so I came to Mr George Jones, general manager of the factory.
He had the most charming way of saying "No" in half a dozen different ways. Officially, he could say nothing beyond confirming the Minister of Supply's statements that atomic work is to be carried on.
"I have known this for some time," he said, "but the Ministry announcement has taken me by surprise. Just what we are going to do I cannot say."
Magnox fuel production in the 1950s
Mr Jones was most agreeable, but he pointed out that I might reasonably be an international spy. Spies, he said, don't come in black coats wearing obvious disguises these days, and a reporter seeking information might easily want it for other purposes.
It is a fairly reasonable assumption that Salwick will, in the future, be a place of interest to more than one foreign power, and I don't blame Mr Jones in the least for his caution. And what do the people of Salwick think of the idea of atomic development on heir doorstep?
This hamlet with no shops, no post office, no police or fire station, and a railway station that was closed before the war and only reopened because of the coming of the factory, seemed to be going on as usual.
Mrs M Higginson lives in the farmhouse right opposite the entrance to the factory, built partly on land requisitioned from the family farm. "I'm not worried about them bringing atoms here," she told me. After all, the factory has been here five years and we've got used to it. If we can get used to bombs we can get used to anything."
Construction work at the United Kingdom Energy Authority Springfields site at Salwick in 1960
And the local parson, Rev E F Stoney, the Vicar of Lund for 22 years, and successor to two previous vicars who between them held the living for a total of 103 years, said: "Atomic energy? Why we could do with some of that around here – everything is so sleepy.
"The factory is already here and there is nothing we can do about it now. It isn't of benefit to the people who reside here, because we all live by farming. The folk who used to work at the factory, and will be getting jobs here again, all belong to Blackpool, Preston and Kirkham."
Mr Stoney was much more interested in showing me the ancient font, built from a heathen altar set up a Ribchester in Roman days, than talking about atomic factories, or anything else to do with the march of science.
Look at his old church and his incredibly peaceful vicarage, surrounded by lovely countryside, I didn't blame him in the least.
The factory itself covers 200 acres of farmland. Why it was built in this lovely spot goodness knows – some Government official just came down, decided the prospect was pleasing and then the builders arrived.
There was considerable opposition in the district to the building of the factory and this was carried to the extent of appeals to Government departments and MPs, but without success.
The factory has been operated during the war for the Government by ICI, and has been engaged in work connected with chemicals and bombs.
Apart from being a splash of industrial red brick and steelwork on the pastoral green of the countryside, it is not unduly dirty in appearance, and production processes carried on have been reasonably clean, though fumes from the factory while it was in full production were at times unpleasant.
The erection of the factory began in 1940 and at peak production it employed upwards of 1,000 workers, most of whom travelled by special buses from Preston, Blackpool and other towns. For the past 18 months only a maintenance staff has been working.
Actual details of the type of atomic work to be carried out at Salwick are secret, but it is likely to be in the industrial application of atomic energy, and Minister of Supply John Wilmot visualised large atomic stations generating heat and power as was now done through fuel or hydro-electric stations.
Mayor of Preston E H Rhodes said: "Whatever it is used for I welcome it because of the employment it will provide."
This article was first published by the Lancashire Post on March 29, 1946