'Dave was a truly gifted and talented sportsman'
Sport historian Terry Ainsworth pays tribute to David Lamb, another of his football friends who has sadly passed away.
Friday, 23rd April 2021, 11:36 am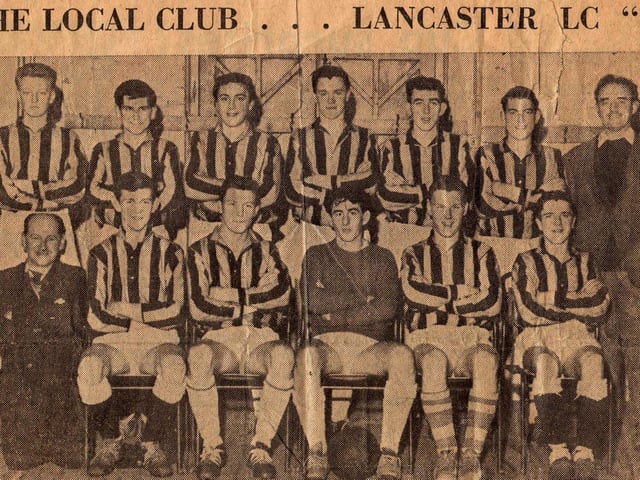 Lads Club Juniors A team 1962-63. Back rwo from left: Norman Corless, J Theobald, Paul Aspinall, Graham Taylor, D Atkinson, Tommy Angus, Jim Atkinson (trainer). Front row from left: Jimmy Birkett (linesman), Chris Denny, Arnold Smith, Dave Lamb, D Ashton, Johnny Young.
I want to recount some of his career for all his friends throughout Lancaster and Morecambe. Dave Lamb was an extremely talented and versatile footballer who played many positions including centre forward, goalkeeper and full back.
He attended Ryelands Junior School where he captained the team and after leaving Skerton School he began playing for Lancaster Lads' Club Juniors in the North Lancashire League learning and developing his game under the auspices of Jimmy Downham where he became a fantastic header of the ball.
Dave Hodkinson, who also won an England cap, remembers playing with Dave, not only for Skerton, but for Lancaster City Reserves and said his enthusiasm and whole hearted approach as well as always giving 100% made him stand out in any team. He said: "It was possibly fullback, where he played for England Boys' Clubs, that he was best known but he played for Lancaster City Reserves at centre forward scoring three goals against Accrington Stanley Reserves at a Peel Park."
Lancaster Lads' Club Old Boys pictured on Ryelands Park before their 4-2 victory over Bulk St Annes in a North Lancashire Division 1 game in January 1964. Back row from left: Les Sallis, Dave Lamb, J Renshall, W Halbard, Graham Taylor, Lawrence Merrill, A Patterson (trainer). Front row from left: Johnny Young, Brian Metcalfe, Jimmy Fagan, Tommy Anderson, Dave Griffin.
The Guardian report said: "Outstanding for City Reserves were Dave Lamb who scored a hat-trick and Maurice Vickers who scored four". Once again playing at centre forward Dave played for Storeys against Carnforth Reserves in Division 2 of the North Lancs League and scored four in a 5-4 victory.
On April 20, 1963, Dave played for England Boys' Clubs against Scotland at East End Park, Dunfermline. Six days later on April 26 he was selected to play for England against Wales at the Welfare Ground, Ebbw Vale.
In the programme against Wales the pen picture feature said: "Left-back DAVID LAMB (Lancaster) has had trials with Bolton Wanderers and Blackpool and is a 17-year-old process worker (Storeys). He is also a keen cricketer, having played for the Lancaster City Schoolboys XI".
Very few local players achieved the distinction of playing for their country and to be selected demonstrates what a talented player Dave was. Dave told me many years ago that when he went to the Lancaster Castle Station to travel to Scotland, Jimmy Downham was waiting on the corner of Dallas Road to wish him all the best, Dave never forgot that wonderful gesture.
On April 20 1963 Dave played for England Boys' Clubs against Scotland at East End Park, Dunfermline and can be seen fourth from the left on the back row.
Although Dave had the talent to play for two First Division clubs his heart was in Lancaster and all he wanted to do was play football with his mates. Consequently he played with distinction in the North Lancashire League with Storeys, Lancaster Lads' Club Old Boys and Newton.
A Lads' Club team in 1962-63 shows more of Dave's versatility when he donned the goalkeeper's jersey, most likely because, as captain, he was needed by his club in an emergency.
Dave was a good friend and a truly gifted and talented sportsman who could have played anywhere he chose and he will be sadly missed by his many friends.