Comforting collectables to glaze upon!
Our antiques expert takes a look at how to snap out of 'Blue Monday' with these useful and homely antique items..
Thursday, 21st January 2021, 4:36 pm
Updated
Thursday, 21st January 2021, 4:38 pm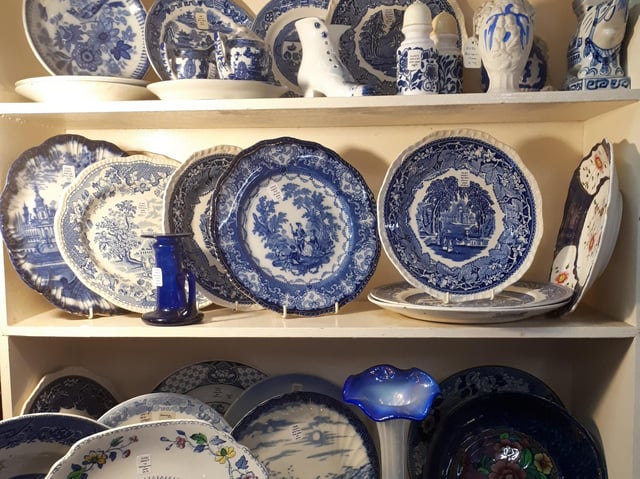 Blue and white pottery give a welcome, spring cheeriness to winter days
This week saw 'Blue Monday', officially the most depressing day of the year, due to a combination of winter weather, long nights, the fading of Christmas holidays and of course this year, the continuing lockdown.
But there is hope on the horizon, so it's a good time I think to look to some perennially popular blue and white wares that promise brighter days ahead.
A classic combination that never goes out of style, blue and white china has seen a resurgence in popularity in recent years. The term covers a wide range of white pottery and porcelain decorated under the glaze with a blue pigment, generally cobalt oxide.
Blue and white porcelain is synonymous with the Ming Dynasty of the 14th-17th centuries, after the cobalt pigment for the blue began to be imported from Persia.
When trade opened, the Chinese exported to England, America and across Europe. Success bringing imitators and competition, giving the emerging middle classes affordable access to this popular tableware.
The majority of the blue and white ware on the market from the 18th century onwards is of English and European origin, when transfer printing led to a huge expansion in production.
Chinese scenes, floral motifs, scenes incorporating classical architecture and pastoral themes are prevalent in designs from Minton, Spode, and Wedgwood.
It is estimated up to 500 companies could have made some variation of Willow pattern, the ubiquitous English tableaux inspired by Ming designs, over its 200 year heyday. As a general rule, this means plates with a less common design than Willow are usually higher value, but rare versions of Willow sought by collectors can fetch high prices.
The selection pictured gives a good guide to the range carried in the centre, bringing a welcome, spring-like cheeriness to winter days.
Plates, platters, and dishes are probably the most widely collected form, as the surface shows the pattern to its best advantage, with the 'mismatched' cake stand providing a popular modern take on blue and white. Ginger jars, vases, teapots, ornaments, and other tableware are also available, prices generally range from £5 to £85.