Capturing rural life with pottery...
Our antiques expert Allan Blackburn looks at the quaint collectables of holiday cottage pottery.
Wednesday, 24th March 2021, 2:23 pm
Updated
Wednesday, 24th March 2021, 2:24 pm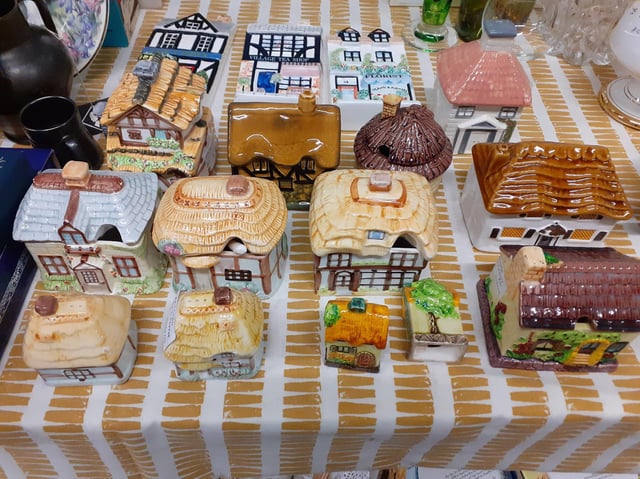 Just some of the many examples of Cottage Ware available
Passing the Spring Equinox, meaning the days are finally longer than the nights, and heading for Easter, is a natural time to be thinking of holidays, even if options are still somewhat restricted.
With the domestic 'staycation' market reporting a boom in provisional bookings, who hasn't dreamed of staying in a chocolate box holiday cottage? The same nostalgia and romanticism lies behind the appeal of this week's collectable: 'country cottage ware'.
Capturing a not entirely realistic view of rural life, many good British potteries, including Spode, Coalport, Royal Worcester, and Sylvac, started producing miniature pottery versions of rose-clad cottages and half-timbered buildings in the 18th century.
Royal Winton cottage ware can fetch around £100, whereas less finely decorated pieces such as those produced by Wade Heath and Beswick from the 1930s, can be found starting from a few pounds. Great for collectors: for relatively little outlay, one can build up a veritable village!
Moving from the mantelpiece to the table, cottage ware is not restricted to teapots, as can be seen from this colourful selection currently in the centre. Hugely appealing to those uprooted by 19th century industrialisation to the cities, its popularity rose again in the inter-war Depression era. No need for a mortgage, the pieces pictured are all priced at £10 each.
People usually purchased two or three core items such as a tea or coffee pot, milk jug, and sugar bowl. Aspirational extra items included a hot water jug, biscuit barrel, cheese or butter dish, jam and preserve pots, cruet sets, and dessert plates, through to ashtrays and chamber pots!
Many people will recognise the characteristic 'cottage ware' style of the unusual three story teapot pictured; homely thatched cottages in warm autumnal hues of orange, brown and yellow.
Widely produced by companies in Britain and overseas, look for early, lighter coloured glaze originals by Staffordshire's Price Kensington pottery.
With so many manufacturers, pieces, marker's marks and back stamps, red herrings, and beguilingly blank pieces, the detective work involved in dating pottery is just is one of the reasons why these cosy collectables are so much fun!
Going back to the source is often recommended to avoid misinformation: many individual potteries have their own written histories and old catalogues.
There are also plenty of good reference books: perfect for a little holiday reading, whatever the British weather!